Your tastes in technology are expensive; your intranet shouldn't be. After all, the purpose of a SharePoint collaboration site is to improve your revenue by streamlining your business processes. If your intranet costs are out of hand, this can't be the case.
Support
With over 15 years of experience working with businesses like yours, we're not just SharePoint experts, we're enterprise productivity experts. We'll be with you every step of the way from planning to deployment to make sure you have the intranet of your dreams.
Features
SharePoint's easiest out-of-the-box feature is document management. Dock elevates your SharePoint to a full-fledged intranet with a host of features that can be customized for your team's needs for SharePoint content management.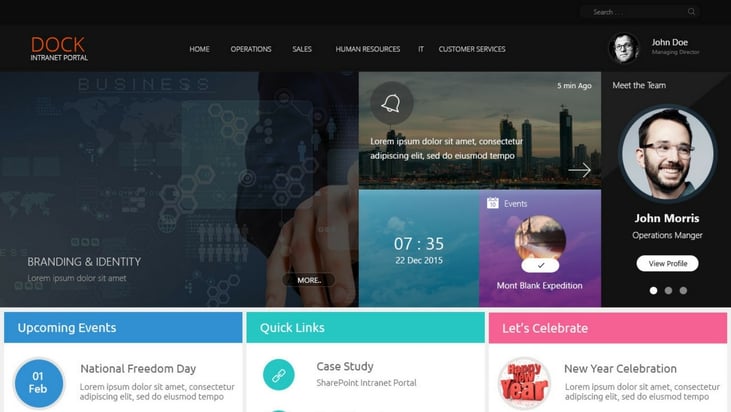 Easy to Use
Dock intranet is designed with the users in mind. It's easy to understand, with simple navigation and intuitive organization. Your users will never waste time searching for missing files again for your SharePoint team collaboration improvement.

Customizable Nature
Another stand out feature of Dock is our customizable nature. Many SharePoint intranets offer you light customizations, where you can input your logo and change the color theme with a pre built SharePoint template. Dock is proud to be completely customizable. We'll help you pick out departmental portals for each of your team, update the appearance of your Dock, and get you completely set up for launch day.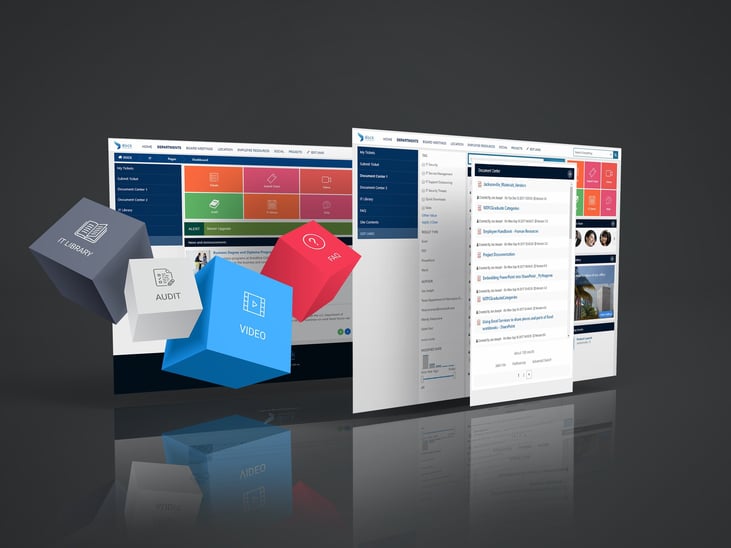 Support with Free Training
We'll continue to support you with free training throughout your subscription to Dock.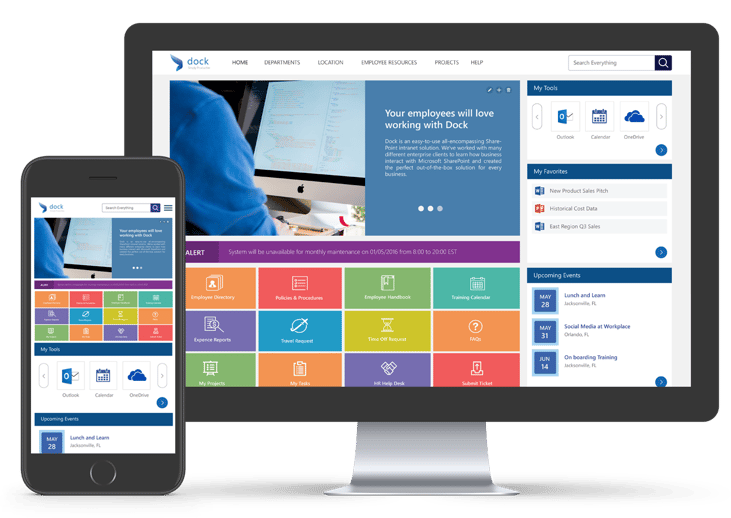 Compatible with Microsoft Updates
We'll make sure that Dock is always compatible with Microsoft updates, as well as provide out own updates quarterly with new and improved features.
We Understand the Needs of Businesses Small and Large
At Dock, we're a business just like yours. We understand the needs of businesses small and large, and work hard to create a product that is both helpful to and accessible by businesses of every size and in every industry. A small, 10-person manufacturing warehouse would not use the same exact intranet processes as a 5000-person accounting company with over 50 offices in over 10 states; so they shouldn't pay the same amount either.
Request your free demo today!