June 25, 2019 11 AM EST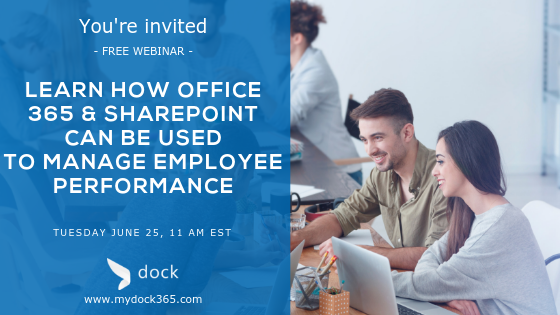 We know it is important for every organization to make sure that their employees' performance is aligned with organization's core values, goals and strategy. In this webinar you will learn how Office 365 & SharePoint can be used to effectively manage your employee performance.
Webinar Agenda
Create performance questions dynamically

Self-reviews and managerial reviews

Generate performance forms based on the type, department etc.

Scheduling and managing performance reviews from one simple interface

Automatic reminders

Recurring performance reviews
We conduct live webinars regularly on common SharePoint topics with an aim to help businesses grow! Stay tuned for our upcoming webinars!!
Another option to view a webinar topic is by registering and we will email you a private link to view the recording at your leisure. However, we don't want you to miss out on this! Enable your business to innovate and grow with Dock 365!
Our webinars are exclusive to those who have registered for an event.