How to Maximize Collaboration & Business Productivity by Leveraging SharePoint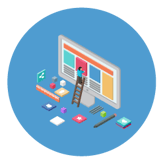 In business, employee collaboration with colleagues inside and outside of the company is the name of the game. Finding a balance between readily sharing files and protecting corporate assets is crucial.
In this webinar, we will showcase our pre-built intranet portal, some example designs and how you can utilize the SharePoint as a platform to build business productivity solutions like CRM, Project management and training portals.
Webinar Agenda:
Learn about our Pre-Build SharePoint intranet portal
Intranet portal examples
Customized portal process & walkthrough
Q&A



We conduct live webinars on a regular basis about common SharePoint topics because we're passionate about helping businesses thrive in the workplace!

Please feel free to keep coming back to visit this page to check for updates. Another option to view a webinar topic is by registering and we will email you a private link to view at your leisure.
However, we don't want you to miss out on this! Our SharePoint and Office 365 experts are available to answer any questions that you may have when you join us live on webinar.
Our webinars are exclusive to those who have registered for an event.


More about our software and process
We have over 15 years of experience building customized portals for large enterprises! So, I guess you could say that we have picked up a thing or two along the journey. We want to bring those insights, innovation and systemized processes, that we have learned over the years to the table and on a large scale for more people to utilize and be able to benefit from.

This type of technology & software is normally upwards of hundreds of thousands of dollars and requires beefy server costs. However! Now, with this platform we have built, crafted and perfected, those costs don't even come close to how much more affordable, secure and fast it is now!
Join our Sharepoint experts on the live webinar and we will go over any questions you may have and share with you what has been going on behind the scenes in the industry.


Huge collaboration insights
Insights from our experts could be a huge advantage to your infrastructure and systems for people to utilized and be empower in order to perform at much higher capacities at scale.

Don't delay bringing your team together and being on the same page at all times any longer! It is now time to embrace this type of technology and workplace innovation, which has now been made so clean, simple and easy to use and deployable for you! You don't want to miss this.

Click below and register for the upcoming live webinar!


Share Dock with your Co-workers!