SharePoint Intranet & Office 365
Document Management Platform Demo
March 8 @ 3pm EST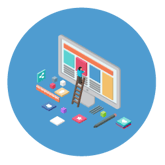 Join our monthly live webinar. Learn more about your SharePoint intranet with Dock for the ultimate document management platform to improve business productivity and communication. Invite your management to join in various departments to learn how Dock customizes portals to your specific business needs.
We conduct live webinars on a regular basis about common SharePoint topics. You can keep coming back to visit this page to check for updates. Don't miss out! Our SharePoint experts are available to answer questions you may have about the topic when you join us live on RingCentral.
Our webinars are exclusive to those who have registered for an event. Another option to view a webinar topic is by registering and we will email you a private link to view at your leisure.
We're passionate about helping businesses thrive in the workplace.
Share with Co-workers