Access Webinar Recording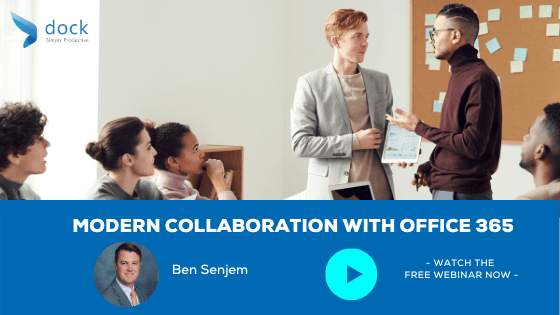 Modern workplaces can offer great possibilities to employees when it comes to collaborating and getting work done. It is now easier to meet and stay connected with people across organizations, as part of creating better business opportunities.
Office 365 makes great contributions when it comes to modern collaboration. Being a SharePoint and Office 365 powered intranet portal, Dock 365 has great relevance in the current business climate.
The webinar will help make you aware about various highlights of the modern workplaces, and the critical role that an intranet plays in this digital evolution. Office buildings are no longer the boundaries of your organization's workplace. Get to know the contributions of Office 365 in modern collaboration.
Webinar Agenda
Detailed overview of the modern workplace concepts.
Dimensions of modern collaboration.
The role of the intranet.
The potential of Office 365.
Power of SharePoint and Office 365.
How Dock 365 can help you dominate.
Other potential services.
Complete the form to watch the recording.