JULY 23, 2019 11 AM EST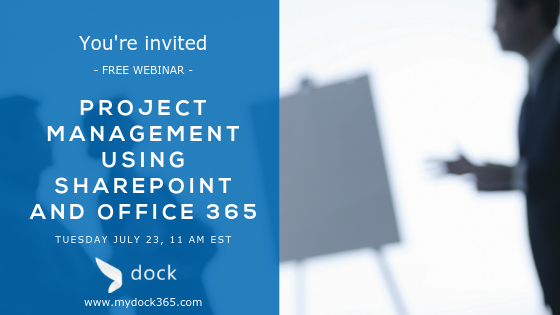 A complete project management solution is a must-have for all aspiring businesses. SharePoint and Office 365 consists of features that can make project management an efficient and easier task. Dock NextGen Project Management Solution is powered by SharePoint and Office 365, and it delivers a centralized database, streamlined processes, and advanced customization features to make it perfect for your organization.
Webinar Agenda
How Dock NextGen transforms project management?

Explaining the intuitive dashboard.
See how it showcase detailed information about each projects.

Accumulating Status, Due Date, Priority, Risk and other vital data.

Board View and Calendar View explained.

Reports area for employee information and project reports.

Project Management Mobile App for monitoring tasks while away.
We conduct live webinars regularly on common SharePoint topics with an aim to help businesses grow! Stay tuned for our upcoming webinars!!
Another option to view a webinar topic is by registering and we will email you a private link to view the recording at your leisure. However, we don't want you to miss out on this! Enable your business to innovate and grow with Dock 365!
Our webinars are exclusive to those who have registered for an event.