Sales Portal Benefits
Dock's sales portal is a mini-CRM that helps your sales team manage and collaborate on contacts, leads and opportunities. Track every communication from introduction to closure, with Dock's easy-to-use sales portal including a sales-only calendar and document library.
Use PowerBI to analyze the team performance
Effectively capture team activities for proposals
Convenient place to store all your quotes and contracts
Quotes & Contract Management
Using SharePoint online, your sales team can access quotes and contracts from any device by accessing the cloud-based employee intranet. The online collaboration tools will allow your sales teams to work on the same documents to increase productivity, which is one of many advantages to your SharePoint intranet portal benefits.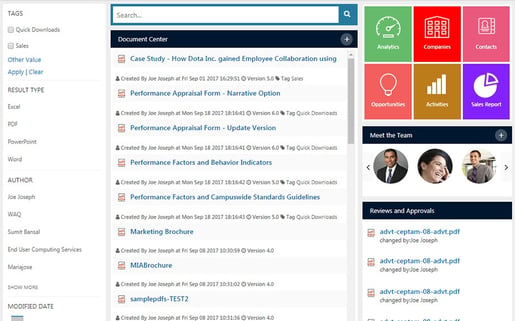 CRM Management Power App
CRM Management
CRM Power App Screenshots
Manage Projects, Collaborate, Measure and Close Sales
Sales data management is complex but the software to handle it doesn't have to be. Dock 365 allows you to accurately track sales activities, companies and more. Ready to get started and want to learn more? Book a demo with one of our SharePoint site experts today!
Request your free demo today