A subpar approach to your organization's contract lifecycle management can result in some very expensive, avoidable repercussions. There is a whole host of risks associated with ineffective contract lifecycle management and poor contract tracking. Once a contract has been signed, you may encounter the following risks if you employ suboptimal contract lifecycle management:
forgotten deadlines (i.e., contract expiry and auto renewal dates)
missed milestones
poor rates of

contract compliance
violations of confidentiality
However, a contract lifecycle management system can support you by appropriately managing and tracking all of your organization's contracts and their associated deadlines, which will improve your process and reduce lingering financial and legal risks.
Content-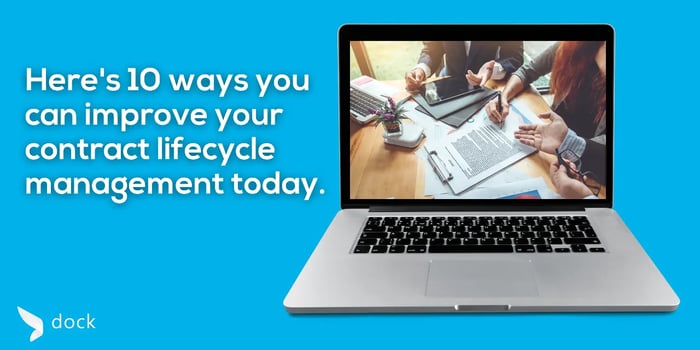 Now, let's dive into 10 ways that you can improve your contract lifecycle management today.
1. Adopt a centralized, cloud-secure contract repository
One of the easiest ways to improve contract lifecycle management instantly is by storing all of your company's contracts in a single source of truth. This supports you by avoiding the time-consuming process of looking for contracts in a disjointed, manual storage system with documents spread across filing cabinets, shared drives, and email chains. The security provided by cloud software enables users to protect their contracts in a searchable platform, reducing the likelihood for lost and misplaced contracts. In addition, a cloud-based repository allows your team to access contracts from any location on any digital device.
2. Configure automated reminders for milestones, auto renewals, and expiring contracts
Designing reminders for your contract milestones like auto renewal dates and contract expiry dates will support a proactive approach to your contracts for your whole team. This means you'll give the right people a sufficient amount of time to review a contract prior to its auto renewal date so they can renegotiate and get the best deal possible. In addition, by giving yourself enough time, you can terminate a given contract ahead of its auto renewal date.
To minimize the likelihood of forgotten contract milestones, then we recommend including key contract dates into your digital calendar and configuring automated reminders for each of them.
Learn all about automated reminders here.
3. Take your paper contracts online
By transitioning to digital contract management as opposed to traditional, paper-based contract management, you increase the security, searchability, and accessibility to your company's contracts. This improves your organization's ability to maintain archived contracts for prolonged periods of time. In addition, digital contract management increases the ease of data retrieval and analysis due to custom, savable filters, and text-based search capabilities. This means you can find exact clauses and keywords exactly when you need them most.
4. Design preapproved, compliant contract templates
It's essential to maintain current contract templates for the contract types you build most. Keeping these contract templates in your centralized contract repository will help your team work independently by having the ability to self-serve on the contract templates. Giving employees outside of legal the ability to build contracts will help to save your legal team's time so they can give more of their attention to activities requiring their legal expertise. Oftentimes, lawyers get swamped with requests to review regularly built contracts when they could instead be using their legal knowledge strategically on challenging tasks and initiatives.
5. Delegate contract access appropriately
With permissions-based access controls and role-based access, you can keep your sensitive contract data protected at all times and ensure that your documents are only found in the hands of authorized users.
6. Monitor contracts during the signature phase
During contract signing it's necessary to monitor the status of each contract and gain clear, timestamped insights into who has signed what and when. Contract management software allows you to do just that.
With contract management software, you can leverage leading electronic signature integrations like DocuSign, Adobe Sign, and Sertifi to support you through this process in an efficient and secure manner. Electronic signatures improve the customer and vendor experience due to faster, secure signing. In light of the shift towards a remote workforce, electronic signatures are key for propelling business activities forward.
7. Evaluate your achievement of contract objectives
Create a summary of all of your contract management achievements with a customized, sharable report. By designing a summarized report of your contract achievements, you can demonstrate to your leadership team how your contract management strategies are performing and supporting business growth.
8. Automate contract tracking procedures
Key dates, deadlines, obligations, deliverables, and milestones can easily slip through the cracks with manual contract strategies and a below-average contract lifecycle management approach. Instead of leaving your contracts up to chance, you leverage automation to support your contract tracking and monitoring. Based on the type of contract, the document might contain several deadlines that you need to prepare ahead for. When your contract portfolio becomes oversaturated, it becomes increasingly challenging to stay up to date on every deadline. The more your contract portfolio grows, the more you'll find that automation is the solution needed.
Contract management software offers automated calendar reminders to support your whole team with keeping tabs on upcoming deadlines and key dates, eliminating the tendency to forget auto renewals and contract expiry dates – a pain-point commonly found in manual contract tracking.
9. Automate reporting
Reporting plays an important role in contract lifecycle management, however, it's an activity that is sorely overlooked far too often. When contract managers find themselves consumed with other contract activities, reporting gets thrown out the window. However, reporting is essential to creating and maintaining awareness of the performance of your contract management strategy. With custom reports, you can review exact data points that reveal the strengths and weaknesses of your contracts.
We recommend scheduling in time to create these reports and to send them out on an automated basis. According to the volume and complexity of your company's contract portfolio, you might benefit from scheduling your reports to be sent on a more frequent basis so that your whole team can key-in and gain awareness on the status and performance of your company's contracts as they move through the lifecycle.
Customizable, sharable contract reports are one of the most advanced capabilities that contract management software offers. Configure exactly when to run reports, how often to send and share them, which contract data points to create reports from, and who you would like the reports to be sent to.
For everything you need to know about reporting in contract lifecycle management, click here.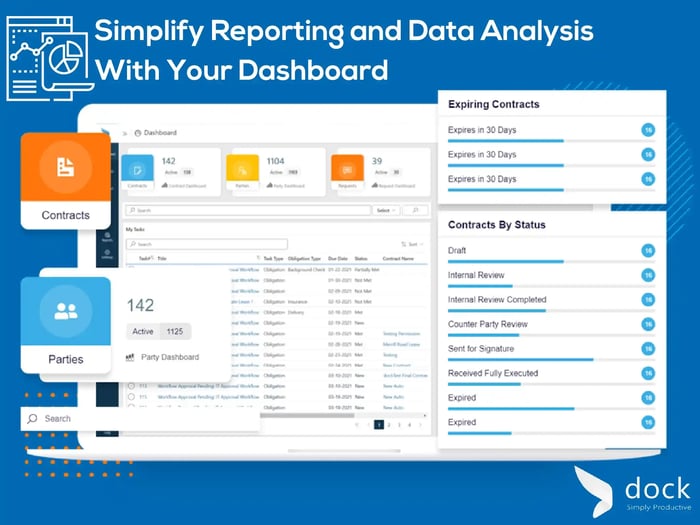 10. Automate contract signing
Manual contract signing is one of the most risky and time-consuming processes within contract lifecycle management. Thanks to automated, electronic contract signature capabilities, you can overhaul your contract signing process and increase the speed and security of your contract signing procedure. This means you'll cut down on turnaround times and execute contracts faster. No need to mail physical copies and wet sign your contracts – sign contracts instantly on any device within seconds and save yourself the time and the risk.
Electronic signature solutions like DocuSign, Adobe Sign, and Sertifi eSignature increase the speed of your signing phase. Dock includes electronic signature integrations so you can send and receive signed contracts within minutes. Electronic signature features allow contract managers to notate which parties need to sign which document(s) and then automatically route the signed contract and associated files to the next signer for an easy, efficient signing workflow. Electronic signature is also incredible for increasing the visibility and transparency of the status of each contract, meaning you can see exactly who has signed a given document and who has yet to sign.
There are several ways to automate your contract lifecycle management procedures. With a user-friendly, intuitive contract management software solution, you can easily automate your contract management strategies to mitigate risk and standardize your processes.
Learn more about DocuSign, Adobe Sign, and Sertifi electronic signature integrations here.
Conclusion
We hope you learned something new and valuable to support your in your contract lifecycle management strategy. Here at Dock 365, we offer a contract management system built onto your Office 365, SharePoint, and Teams for seamless adoption and secure contract storage within your Microsoft 365 tenant. This means you won't have to give access to your sensitive contract data to an outside vendor. Our cloud secure, centralized repository built on SharePoint makes it easy to storage, manage, and sort through all of your company's contracts, where you can find exactly what you need within seconds with advanced search and filtering capabilities.
For productive, hassle-free contract lifecycle management, look no further than Dock 365.
Learn more about our Dock 365 Contract Management System here.
Learn more about Contract Lifecyle Management (CLM) Software here.
For more information, we would like to welcome you to schedule a free demo with us today.