The introduction of artificial intelligence (AI) created a paradigm shift in the way that the global marketplace and modern businesses operate. AI has transformed numerous industries, but most especially, AI has changed the common business practice of contract lifecycle management – found in every industry. Organizations with contract portfolios growing in both volume and complexity are leveraging contract lifecycle management software more and more to minimize human errors and increase productivity.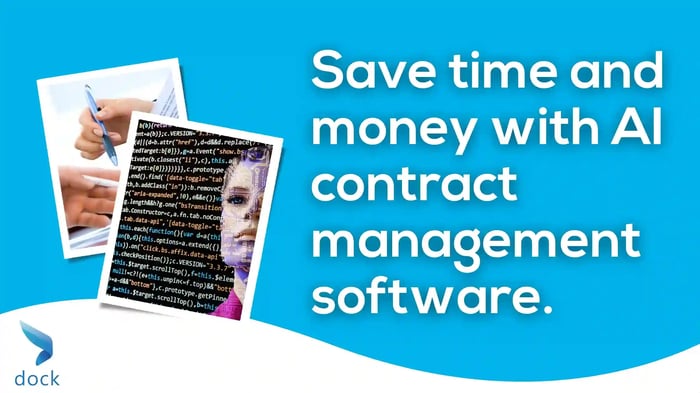 Subpar contract lifecycle management is the result of a couple of different things. First off, if your employees have insufficient training on how to track contract data, performance KPIs, and other key metrics, then you automatically have a decreased level of visibility into your contracts. Without the ability to effectively pull data and run reports on your contracts, it becomes difficult to maintain organizational awareness of upcoming deadlines, obligations, and milestones. And what does this mean? An increased likelihood of missed contract auto renewal dates, expiry dates, and other time-sensitive contract responsibilities slipping through the cracks.
To complete these contract tasks successfully, your team should be properly educated on how to do so. And with poor contract lifecycle management, each stage of the contract lifecycle becomes more complicated than it has to be. However, AI can support contract authoring, reviews, approvals, and so much more to streamline and automate your contract lifecycle management processes.
Today, we'll dive into several reasons why AI can support your organization in its approach to contract lifecycle management.
1. Build Accurate, Compliant Contracts Effortlessly
Contract authoring is often considered one of the most difficult and time-consuming steps in contract lifecycle management. With heaps of contract data available, it takes significantly more time for a human to pull relevant data for a given contract in comparison to artificial intelligence. By introducing AI into your contract management strategy, you can easily sort through a myriad of contract data in a fraction of the amount of time it would take for a human.
In this manner, you cut the time spent in the contract creation phase with AI-supported clause selection according to the type of contract that is drafted. And while manual contract creation is still rather effective, there's no doubt that having your team parse through your past contracts in order to author a new contract can increase risk. What's so unique about AI in the context of contract lifecycle management, and more particularly during contract authoring, is how AI observes, tracks, and learns from previous contracts to improve future data analysis.
2. Get Better Results From Negotiations
The results of your agreements hinge on the negotiation phase of contract lifecycle management. AI allows organizations to improve the outcomes of negotiations by reducing the turnaround time of your reviews and overall negotiation process.
With artificial intelligence, you can efficiently leverage previous contract data to determine necessary changes in your clause library to increase the likelihood of positive negotiation results. An AI-supported contract management system can use custom negotiation rules that ensure you only close deals that make sense with your company's needs, standards, and goals. In this manner, you increase visibility into your deals while confirming each deal is made in alignment with company objectives and quality standards.
3. Improve Risk Management
Rather than having your contracts be a source of stress and liability, you can turn them into a landing ground of opportunities by optimizing your contracting strategy with an AI contract management system. As industry-specific compliance standards steadily change, your contract clauses will also require frequent review and updating to ensure they remain compliant. Now, you can reduce the likelihood of creating non-compliant contracts.
Contract lifecycle management software equipped with artificial intelligence gives your organization the upper hand in contract risk management by analyzing contract language to categorize and alert users of which clauses might increase risk. In this manner, you can omit risky clauses from contract drafts and proactively build contracts that are risk preventative in nature. AI also offers the ability to monitor your contracts with audit trails, allowing organization to increase transparency and improve version control.
4. Simplify Contract Approvals
AI contract management software empowers companies with simplified approval routing and smart workflow automation to streamline the contract approval phase. AI identifies which stakeholders have yet to approve the document at hand and effectively routes the file to the appropriate user, increasing the efficiency and speed of renewals. In addition, you can increase compliance and obligation management with AI's ability to pinpoint contracts with exact characteristics and conditions.
An optimized contract approval procedure will enhance the results of your contracts. AI can help you accomplish tasks faster, so things like collecting signature from various stakeholders and departments become fast and pain-free. Even if your enterprise regularly works with an exorbitant number of contracts and associated contract drafts that require several approvals, AI can make the task more efficient than that of a traditional contract lifecycle management approach.
5. Save Money
Companies that lack transparency into the status, performance, and deadlines associated with their contracts increase the potential for financial damages and losses due to noncompliance and failure to deliver upon contracted obligations. Rather than incur the penalties that stem from noncompliance, you can reduce costs and improve your contract results and ROI with AI-supported contract management software that centralizes and secures your contract data. Contract lifecycle management software and AI improve cost-efficiency with proactive notifications and reminders to increase awareness of approaching deadlines and milestones while alerting users of risky items.
For more information on how contract management software can cut business costs, click here.
Conclusion
AI contract management software can open up many doors of opportunity for the modern business. Here at Dock 365, we offer a cost-effective and user-friendly Contract Management System that is built on your current Microsoft Office 365 investment for easy adoption. With new AI capabilities and integrations with leading electronic signature providers like DocuSign and Adobe Sign, you can take your contracts on the go (with the Microsoft Teams mobile app) and execute compliant, results-driven agreements within minutes.
Our solution includes automated contract reminders so that you stay in the loop of upcoming key deadlines contract expiry and auto renewal dates. Secure contract storage is also provided with a searchable, cloud-based SharePoint contract repository. Interested in improving organization and eliminating tensions within your internal legal department? Then start with Dock for contract management made easy.
Unlock unrecognized contract value, reduce risks and costs, save time, and get the best deals possible with us here at Dock.
Learn more about our Dock 365 Contract Management System here.
Learn more about Contract Lifecyle Management (CLM) Software here.
For more information, we would like to welcome you to schedule a free demo with us today.