No matter the size of your organization, contract management software streamlines every stage of the contract lifecycle with powerful contract automation capabilities, cloud security, advanced integrations, and so much more. With a user-friendly and intuitive centralized platform, contract management software can improve vendor relationships and increase customer satisfaction. Experience the incredible benefits contract management software can offer your business in the eight following ways:
Content:-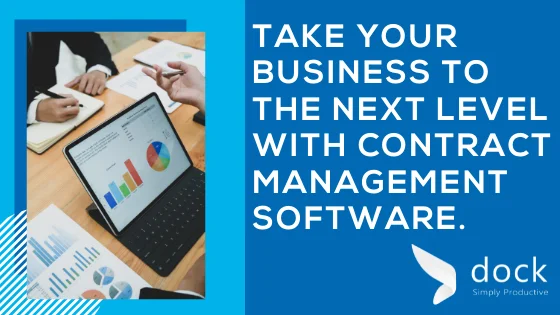 1. Reduce Contract Lifecycle Times
One of the most common goals of contract management teams and legal teams is to decrease the average length of the contract lifecycle. This timeframe specifically refers to the time required to transition a contract request into a signed and executed agreement, keeping business momentum on a forward trajectory. With contract management software, your business can employ powerful tools including preapproved contract template and clause libraries, workflow automation, self-service contract features, and integrations to increase the efficiency and speed of each contract lifecycle. The worst scenario is for a lead to be left waiting on standby entirely too long for a contract to be prepared. Thanks to contract management software, authoring, reviewing, sharing, and signing contracts becomes a process that can be completed within a few minutes as opposed to days and weeks. With a dedicated software solution, you'll gain the confidence that your leads are satisfied with your service since you know you'll be overdelivering with speed, accuracy, and efficiency each time.
2. Increase Accuracy
A key risk-mitigative way that contract management software can drive business results is by increasing the accuracy of your contract content and of each phase of the contract lifecycle. An increase in contract accuracy can lead to a potential increase of customer and vendor loyalty. By ensuring full accuracy of all the fine details associated with your contracts, you maximize their value and precision. Imagine receiving a contract full of errors – would you want to work with that provider again if they can't get the fine details correct? Contract errors are often indicators of larger organizational faults and issues. The more you produce contracts with errors, the higher the likelihood to cultivate a poor reputation of your company, as well as reduce your credibility and customer/vendor trust and loyalty. However, contract management software can leverage saved contract data and information from custom contract intake forms to auto populate into contract fields, reducing the need for manual re-entry and the possibility for human error.
3. Automate Tasks
Contract automation is one of the most powerful features of contract management software. With flexible automated contract lifecycle workflows, you can customize and configure the exact sequence of events and activities for your contracts to follow. There are several essential stages to the contract lifecycle, so standardizing each stage can support you in managing risk and in maximizing productivity. With your software solution, you can automate the contract authoring, renewals, notifications, and several other activities. To save time and to simplify complex processes, or to take care of low-priority recurring tasks, look no further than contract automation.
4. Streamline Signing
Signatures are at the core of every contract, as they are required for a contract to be considered legally enforceable. In a manual contract signing process, you spend time and resources on printing, physically signing, faxing, scanning, and snail-mailing contracts back-and-forth. This process can take up to several weeks when shipping delays and other unforeseen bottlenecks are accounted for. However, leveraging electronic signature integrations into your contract management system can support rapid, accurate, and secure contract signing. This results in reductions in turnaround times and contract lifecycle times. You'll also close more deals at faster rates. With contract management software equipped with electronic signature integrations, your leads can sign contracts on their mobile devices with the click of a button. Leveraging a digital alternative to your contract signing process results in saved time, resources, money, and improvements in the client/vendor experience. Here at Dock, we partner with leading electronic signature providers like DocuSign, Adobe Sign, and Sertifi.
5. Centralize Contract Data Storage
Within your cloud secure contract repository, you can store, sort, and organize your contracts according to contract type as well as tag your documents based on various contract properties for easy retrieval. Digitizing your contract storage means you can take your contracts on the go and access them at any time, any place. By storing all of your current and past contract data in a centralized cloud-based repository, you increase the security of your contracts and ensure that only authorized users can access your files. The best contract management software solutions available include customizable filters and text-based search capabilities so that you can locate and retrieve any contract, clause, or detail within an instant.
6. Expedite The Approval Process
Increase the accuracy, speed, and efficiency of your contract reviews and approvals with your software's flexible automated contract workflows. In addition, you can configure automated notifications to keep the appropriate stakeholders in the loop of next steps and required actions for completion. Your contract management software also serves as an excellent platform for communication and collaboration on your documents, centralizing all discussions. With redlining capabilities, in-document commenting, content-locking, and other key features, you'll find your approvals running smoother than ever before.
7. Increase Transparency and Visibility
Boosting contract visibility can help you ensure version control, that all of your employees are using the most current versions of your contract templates and preapproved clauses. If your employees work remotely, then providing them access to contract templates and clauses via your cloud repository supports them in continuing their efforts no matter their geographical location. Contract management software also offers reporting and data analysis features, where you can generate custom reports based on specific contract metrics. Running these reports on an automated schedule can assist you in increasing contract transparency and visibility throughout your organization – keeping everyone in-the-know of contract performance and contract data relative to ongoing objectives and business strategies.
8. Gain Awareness of Upcoming Renewals and Expiry Dates
Have you ever forgotten about an unfavorable contract that just happened to be configured for auto renewal? Contract management software allows you to maintain a proactive approach to all of your contracts and upcoming key dates, milestones, and obligations. Now, you can prepare ahead of time for your contracts before it's too late to make adjustments. With your solution, you can easily configure rules-based notifications to boost awareness of upcoming key dates and contracts set-up for auto renewal. Contract management software also provides users with a comprehensive contract management dashboard, displaying key dates (i.e., contract expiry) in 30-, 60-, and 90-day intervals.
Conclusion
Simplifying the contract lifecycle for your business comes down to implementing a proven, user-friendly solution that standardizes and optimizes your contract management strategy for your entire organization. Centralize communication and contract storage, automate processes, and expedite the contract lifecycle with contract management software. If you're ready to experience the benefits of contract management software for your business, then we're here to help you at Dock 365.
Schedule a free demo with us today for an interactive overview of our Contract Management System.