What exactly is contract compliance? We take a deep dive into all things contract compliance so that you have all the knowledge you need to successfully maintain a compliant contract portfolio going into 2022. Overseeing a massive quantity of complex contracts as a growing company can be challenging and ensuring that each contract is compliant can be a time-consuming task.
Content-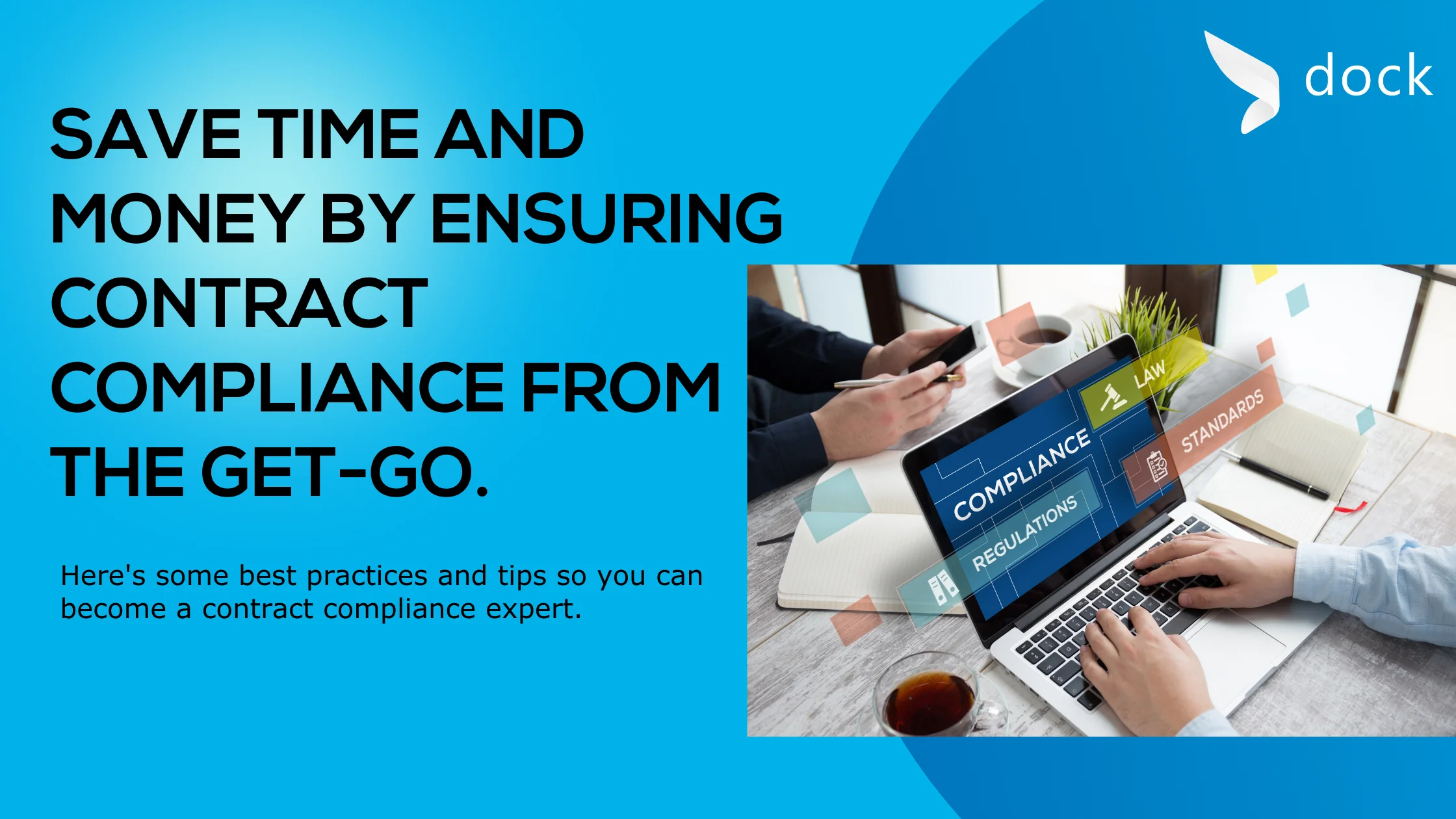 Contract Compliance Defined
Contract compliance refers to the procedures used by businesses to ensure that their practices are in accordance with the terms they are legally bound to. Contract compliance typically takes up a significant portion of an organization's approach and strategy towards contract lifecycle management, overseeing proper contract activity throughout the entirety of the contract lifecycle, pre- and post-award.
The criteria that contracts are compared to for compliance are oftentimes instituted by contract managers, governments, and separate, industry-specific parties. The criteria are used to confirm that contract activities are secure and fair for all involved parties.
The Necessity of Contract Compliance
So… why is contract compliance important? Well, contract compliance is an essential foundation of any contract. By failing to adhere to compliance regulations in a given industry, you run the risk of damaging your company's reputation and hurting business relationships. Oftentimes, compliance regulations serve the purpose of building trust between contractual parties, and subpar contract compliance can hurt any trust built. Poor contract compliance leads to additional time, energy, and money spent fixing the problems caused by noncompliance. Consider the penalties, damages, and fines associated with a breach of contract or failed compliance. Essentially, proper contract compliance promotes risk mitigation and improvements in the customer experience.
A great way to boost contract compliance in your organization is by leveraging contract automation features that streamline and standardize contract activities. In this manner, you can close contracts faster, reduce human errors, and increase productivity.
Best Practices for Contract Compliance
Now, let's take a look at some of the best practices to ensure contract compliance.
1. Define expectations
As your employees leverage self-service contract capabilities and learn how to operate on certain contract types for the first time, they may have several questions come to mind. In this way, it's important to define expectations for your contract lifecycle management activities, creating a comprehensive communication dynamic that can support your employees and provide guidance pertaining to compliant, accurate contract creation and management.
Defining expectations standardizes contract activities, from things like contract approvals to clause management. This also supports legal and business departments in maintaining consistency in their contract lifecycle management strategy, helping them maintain awareness of specific rules and regulations that ensure compliance.
2. Leverage preapproved contract templates
A standard library of contract templates supports contract accuracy, compliance, and efficiency. With a comprehensive library of preapproved contract templates, you can author contracts on demand within minutes. This allows legal and business departments to work separately on contracts nearly risk-free. Dock 365 offers automated contract templates for simple contract generation, where smart fields are auto populated according to contract-related questions.
3. Store example contracts within your digital repository
All of your contracts stay secured, organized, and easily accessible within a cloud-based contract repository. Developing your centralized repository is a key way to increase contract version control. A digital contract repository can also increase contract visibility throughout your organization and be used to track contract data and performance. To gain maximum insights into your company's contracts, a contract repository is the way to go.
4. Develop a reliable contract approval strategy
We suggest creating a contract approval workflow to ensure sufficient review of contracts prior to being sent off for signature. A consistent procedure for contract approvals can support legal departments and relevant stakeholders, reducing the need for their constant involvement in each stage of the contract lifecycle. Using a solution like Dock 365, you can easily build contract approval workflows that specify an exact sequence of steps for contract approvals, notifying necessary contributors along the way. Now, your legal team can have peace of mind, knowing that subpar contracts won't make their way into your repertoire.
5. Set contract goals
Organizations riding the steep incline to growth and success where business is booming often face issues in terms of contract organization. At the beginning of your contract lifecycle management process, it's necessary to set specific goals to build contract efficiency and increased revenue opportunities. Set a benchmark for contract compliance so that legal can assess performance according to that criterion, allowing them to confirm that contract management practices are compliant, effective, and productive. We recommend scheduling regular audits to measure contract compliance and identify areas of improvement.
6. Distribute contract responsibilities effectively
Contract tasks are often neglected most when there's confusion pertaining to who is responsible for what. In the context of contract compliance, this can lead to some pretty damaging effects – whether it's a minor human error or omission, it can inhibit the security, accuracy, legal standing, and performance of a contract. Delegating responsibilities like obligations, compliance management, and payment timelines among a myriad of other tasks can support a clear understanding of expectations. In this manner, your employees can be empowered to take charge on their individual responsibilities that promote compliance.
7. Stay on-top of updates
As time evolves, so does the scope of contract compliance. Due to this, it's essential to ensure that your procedures regarding contract compliance evolve too. To do so, you should constantly monitor regulations, making changes to your approach as specific regulations change. This is important because your contract lifecycle management must maintain compliance with the current federal, state, and local regulations and laws, rather than previous ones.
Why Maintaining Contract Compliance is Challenging
With a high volume of complex contracts, it can be difficult to ensure compliance of every legal agreement that passes through an organization. Maintaining compliance can be very time-consuming for in-house legal departments, as it demands an approach that is very detail oriented. Legal teams must be very familiar with current regulations, matching contracts up to the requirements.
In addition, it can be tough to determine how much time should be spent on compliance management, as developing a successful process for contract approvals without contract automation capabilities can be another hurdle to work through. Version control is another relevant issue when considering compliance – it can be extremely tough to know which drafts need review, especially if communication is suboptimal. And lastly, contract compliance as a whole can be strained by changes in regulations, it's no secret that keeping up to date with the current regulations can be tricky and feel like a constantly moving goal post!
Conclusion
Dock 365 offers a modern contract lifecycle management system comprised of contract automation capabilities built onto your Office 365 and SharePoint infrastructure. Our platform supports legal and contract management teams with a centralized, cost-efficient approach to contract management. Ready to empower your employees with a proven solution that allows them to self-serve on contracts and work independently while maintaining contract compliance? Then look no further than our Dock 365 Contract Management System.
Learn more about the Dock 365 Contract Management System.
Learn more about Contract Lifecyle Management (CLM) Software.
Schedule a free demo with us today for an interactive overview of our Contract Management System.