Non-profit organizations are unique in their causes, operations, and objectives. Compared to commercial businesses, NPOs require more focus on contract management. This is key to ensure that they can put their best foot forward for their noble causes. Like in general contract management processes, non-profits face many challenges. They encounter some unique challenges, and contract management software can support NPOs in overcoming them. Let's discuss 6 major contract management challenges that non-profits face today.
Non-profit organizations have goals meant for the betterment of society. Along with other noble missions, these organizations must sign and manage multiple contracts to achieve their objectives. For example, employee agreements, vendor contracts, real estate leases, and federal grants fall under the category of contracts typically engaged with by non-profits. Now let's discuss the challenges they face in detail.
1.
Increased need for transparency
The main difference between a commercial organization and an NPO lies within their objectives. First and foremost, non-profits are not profit-driven. They are spared from income tax obligations, which causes them to fall under more scrutiny than commercial organizations.
To this end, spend transparency is paramount, meaning accurate accounts of expenditure must be presented. Without an effective contract management workflow or an advanced system to organize contracts for a non-profit, this becomes challenging. These contract management capabilities also allow the organization to evaluate the expenditure and make necessary adjustments as required. This is an important matter that directly affects the funding flow to the organization in the next quarter.
An effective non-profit contract management system can guarantee spend transparency and accountability according to this demand. It also supports the NPOs in meeting their contract auditing and reporting obligations.
2. Unique objectives and requirements
Selecting the right contract management software is a big challenge for non-profit organizations. The majority of the CLM software available today are designed solely with the needs of a commercial or standard business in mind. The unique objectives and requirements of an NPO are only met by contract management software that is scalable, flexible, and built specifically for NPOs.
Furthermore, when you decide to expand your activities to new locations and choose new programs to evaluate agreements, you will need specialized non-profit contract tracking software that can adapt to this evolution. It is necessary to consider both time-effectiveness and cost-efficiency.
For NPOs in particular, time and funding resources are typically comparatively low, meaning it may not be feasible for non-profits to replace a CLM software multiple times and repeat the implementation process. If the software solution selected comes with complex features, implementation and user adoption can be more difficult than necessary. We recommend leveraging the right software that helps you overrun all these contract management challenges to stay focused on your greater objectives.
3. Limited availability of resources
Non-profits generally have negligible flexibility, if any, when it comes to their budgets. Even with enough funding, NPOs prefer to maintain a tighter budget to ensure they only spend minimal resources on the right cause. This plays a role in how they draft contracts, resulting in non-profit contract management to be a source of priority.
Moreover, NPOs can cut expenses by digitizing their contract management. With contract management software, non-profits easily avoid additional spending by removing the need to hire a separate representative for managing contract papers. They also cut expenses by saving more time and automating contract workflows.
NPOs that implement a contract management system experience dramatic improvements in their contract processes due to the features and modern technologies that support them in managing contracts securely and productively.
4.

High contract risk
Organizations must fulfill various requirements and obligations to avoid legal actions and penalties. Many are unaware of the legal implications of improper non-profits contract management. With such contract failures and high-risk contracting procedures, organizations can easily damage their reputation and credibility.
For ease and efficiency in non-profit contract management and for positive public perception of a given non-profit organization, contract risk mitigation become an essential component to the NPO. To succeed as a non-profit organization, it is critical to understand contract risks and take the necessary steps to mitigate them. It is a best practice for non-profits to study contract terms and conditions to gain awareness of how they might impact their operations. In this way, they can confidently and proactively face many challenges in contract management.
With a proper software solution and workflow automation, non-profits can control and manage their contracts effectively while minimizing contract risk potential. This enables the NPO to focus more of their efforts on their missions, removing the worry regarding contract obligations, deadlines, and legal issues.
5. Prone to fines
Fines and penalties due to missed deadlines and failed obligations can lead to numerous issues. Along with the inconvenience and credibility loss, fines can prove to be detrimental to a non-profit organization's available funds for other critical expenses.
While avoiding contract risks entirely isn't necessarily realistic, NPOs certainly can reduce the risk of incurring hefty fines by managing and auditing contracts on time. To do so, the organization can leverage contract management software that is designed with automated notifications and reminders of upcoming key dates and deadlines, ensuring that contract tasks and responsibilities are completed ahead of time.
6. High demand for reports
Generating reports is another major challenge faced by NPOs. To generate reports manually, it takes an exorbitant amount of time and resources, which is a common root of delay in any organization. Non-profit organizations must generate detailed reports to track and monitor their expenditure to maintain transparency. In addition, reporting is key to conducting data analyses and understanding how expenses are allocated across particular resources.
With a modern contract lifecycle management solution designed for non-profit organizations, these contract management challenges can be solved with ease. Automated report generation capabilities let you create custom reports in no time. You can get those reports downloaded in popular formats and use them with ease.
With the knowledge of the challenges commonly faced by non-profit organizations in the context of managing contracts, you can work through these challenges and adopt solutions to improve contract results.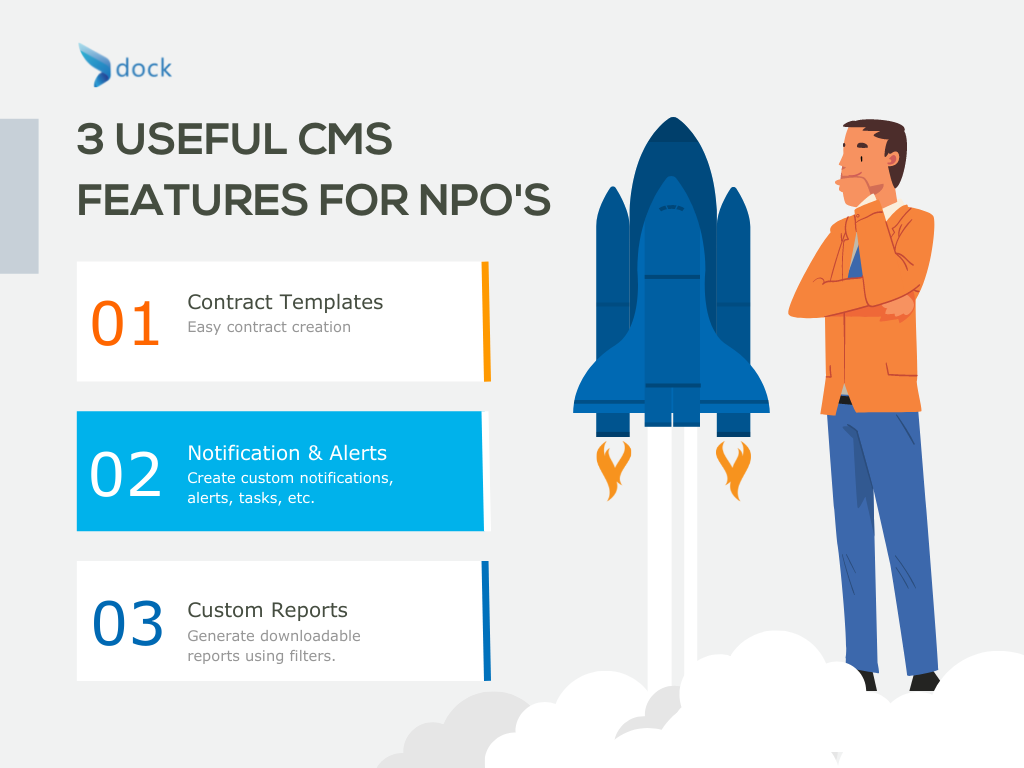 Solution for non-profit contract management challenges
Picking a modern and scalable contract management software specifically designed for non-profit organizations is the best solution to tackle all challenges we discussed above.
Know everything you should know about contract management as a CEO of a non-profit organization.
Dock 365's CMS Software Features for Non-Profits
Create and reuse contract templates for quick contract generation.
Tasks and custom email alerts to let you remind all contract events and deadlines.
Advanced report generation capabilities.
Vendor management system to track all vendor details on the same platform.
Office 365 and SharePoint-based solution assures maximum value.
Along with all the latest contract management capabilities.
Book a live demo today to learn about Dock 365's Contract Management Solution!