Content-
Contract Renewals Defined
You might be wondering what exactly the contract renewal process entails. Who should be involved for best results, and which actions are required? How long might this phase take and how can we save time? Which bottlenecks should we look out for and work to prevent? There are so many questions that swirl around when considering contract renewals.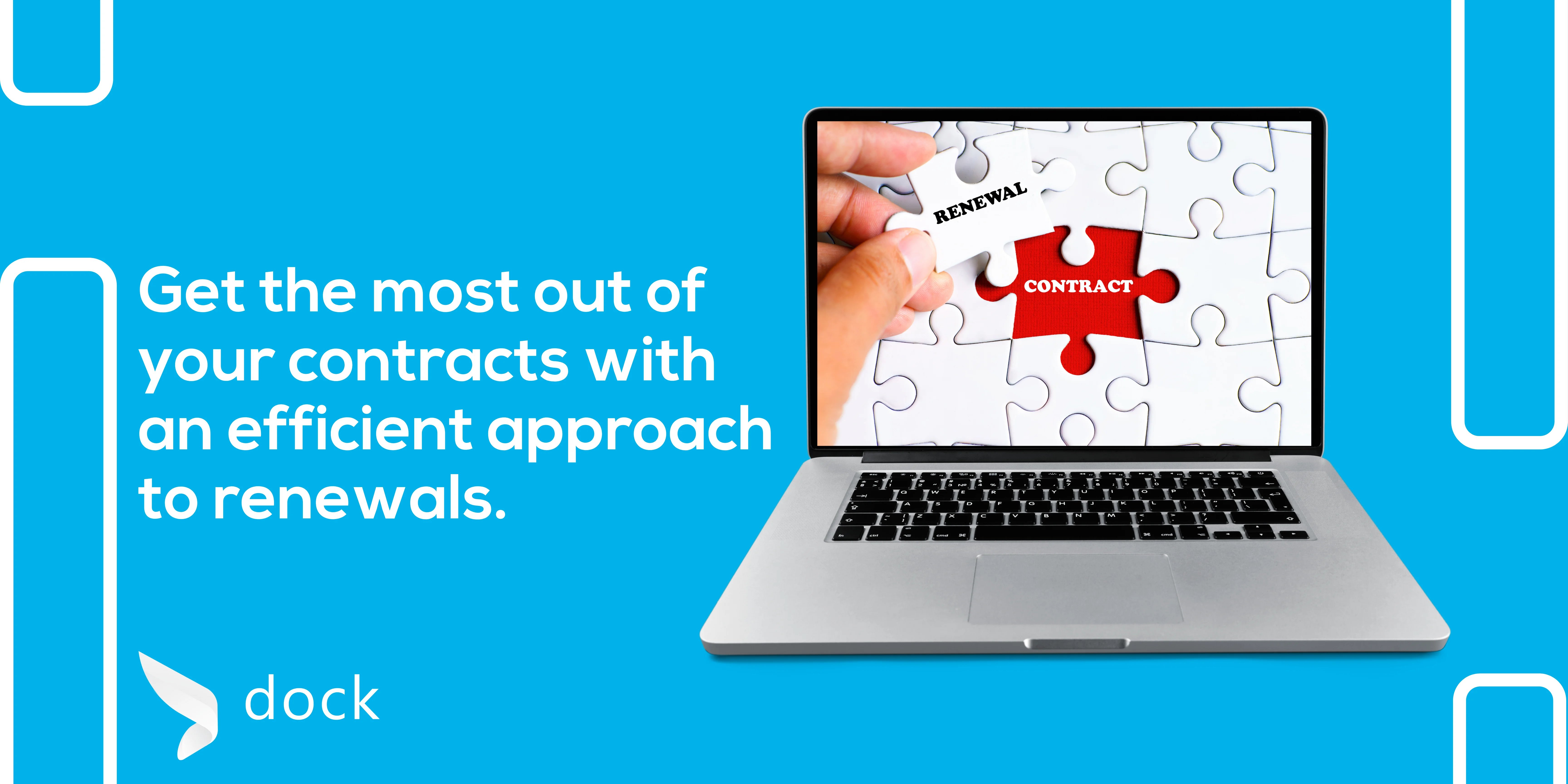 Some contracts remain active until a party determines it's time for termination. However, many other contracts include a definitive expiration date. Contractual parties must reach a consensus, deciding if the business relationship should or should not continue. In the case that both parties are interested in remaining in a working relationship, the parties will then renew the contract based on its terms. In the case that the parties fail to reach a mutual renewal agreement, then the agreement expires at the end of the contract's term. However, other contracts might leverage an auto renewal capability if a party chooses to uphold the agreement. To safeguard against renewing unfavorable agreements, we recommend reviewing your business partnerships and contract terms well in advance of the year following contract execution.
In simplified terms, here's how a contract renewal works: the original contract is terminated, invalidating that contract version. A new agreement replaces the previous agreement, with new contractual terms applying to the new contract at hand, remaining in place until it is renewed or until it reaches its expiration date.
Contract Renewal vs. Contract Extension: What's The Difference?
There may be some lingering confusion surrounding what separates a contract renewal from a contract extension. When contract terms are renewed, this generally means that to continue a business relationship, there will be a new agreement that replaces the previous one. Contract extensions pertain to an agreement that is added on to the current agreement, serving as an extension of contract terms for a defined period of time. Contract extensions can be an appropriate option for agreements that oversee term-limited activities that could use more time. Parties might build separate extension agreements to assimilate into the original agreement, extending the contract terms for a different time period. Conversely, contract renewals are better when parties are content with agreement terms and their working relationship, both desiring to remaining in partnership indefinitely.
How Can My Business Better Strategize Contract Renewals?
Procedures for an effective contract renewal stage represent the chance to review key contract terms, whereby they update the terms according to changes in the business relationship or new objectives and needs. Contract renewals include the negotiations, where parties will negotiate new terms and renegotiate previous ones. During a renegotiation, you might have concerns regarding liabilities and legal language, or you might even have some concerns regarding financial potential.
When considering the consistent strenuous efforts put forth by contract managers and legal professionals, it can seem virtually impossible for these teams to review every contract with a fine-toothed comb prior to contract renewal. But in actuality, it's entirely possible. Contract lifecycle management (CLM) software can support your workflows through rapid and flexible automation capabilities, meaning you can review every contract prior to renewal with total control. Leveraging this technology allows you to stay competitive in today's digitally dominant business environment.
Now, let's learn about some important best practices considering your contract renewal phase: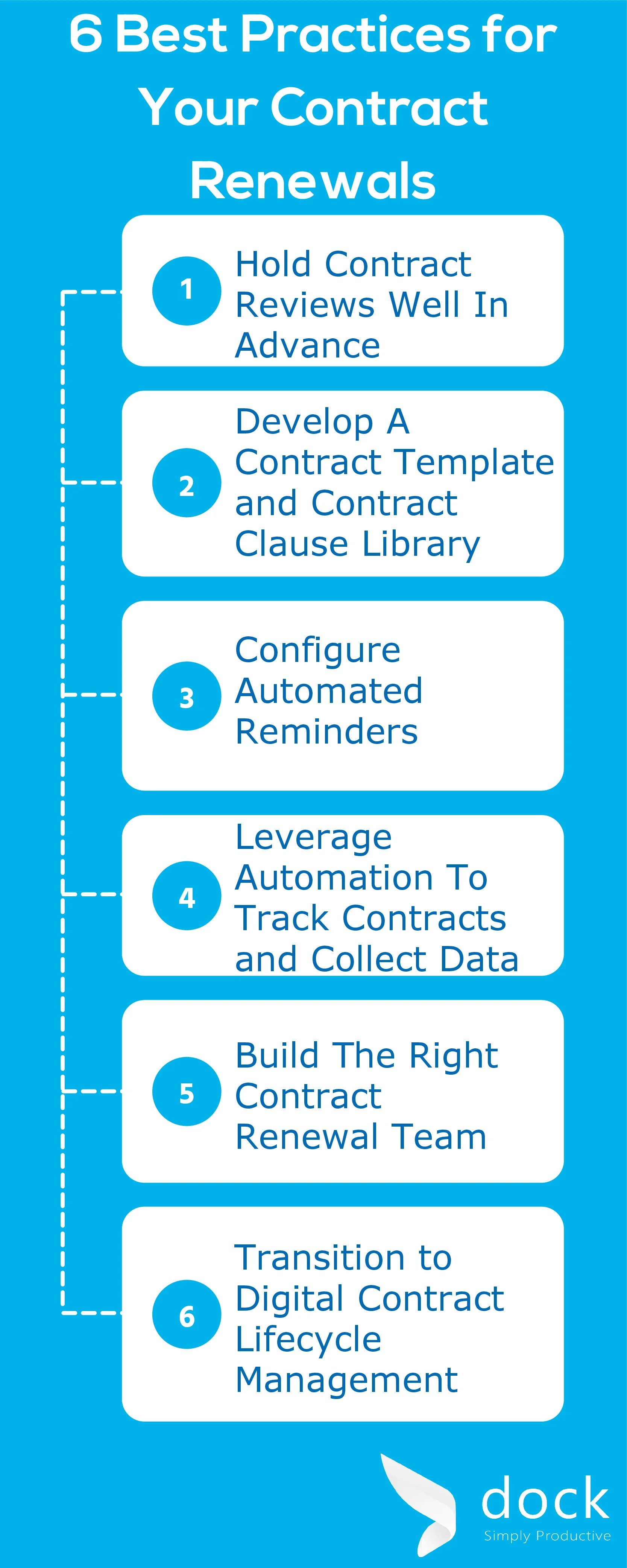 #1 Hold Contract Reviews Well In Advance
Don't wait until the last minute to review your contracts. Plain and simple.
Waiting until the last minute to review contract terms will inevitably lead to a whole host of problems that are completely avoidable. With high contract volumes and high contract complexity, you need to ensure that you evenly distribute the workload and strategize contract reviews. The last thing you want is to place a lot of extra strain on your legal department and procurement team due to poor planning.
With a dedicated contract lifecycle management solution, you can easily gain the upper hand on your contracts, cutting down on contract drafting and review times substantially. This allows you to free-up time for your legal teams so they don't have to focus as much on low-priority tasks. Businesses grow and change, meaning contract terms will also need to adapt. Allow your counsel to have sufficient time to give their advice after they have review contract terms in the context of the present needs of your business. This means you'll spend less time drafting contracts from scratch and less time locating and retrieving contract clauses because your lawyers will be supported by the software.
Interested in a contract review checklist? Click here.
#2 Develop A Contract Template and Contract Clause Library
Ask yourself the following questions:
In my business, what does the most perfect version of a contract look like?
Have we ever created a "perfect" contract? What example on hand is closest to perfection?
Do we use contract reviews to pinpoint our strengths in contract authoring? How about our weaknesses?
Does our contract authoring take more time than necessary?
With a contract lifecycle management (CLM) solution, you can build a library of preapproved, compliant contract clauses and contract templates. Based on the various contract types your organization consistently works with or builds, you can develop a comprehensive library of templates and clauses that makes authoring and reviews seamless. Customizable contract templates save time and mitigate risk, auto populating data fields with relevant contract information. Not to mention, using preapproved contract clauses supports organizational compliance because you'll only be using accurate language approved by your team of legal professionals.
For all things contract templates, click here.
To learn more about a contact clause library, check this blog out here.
#3 Configure Automated Reminders
Have you ever forgotten about an unfavorable contract that was set-up for auto renewal, only to be reminded of it when it was too late? Perhaps your team monitors key dates like contract renewal deadlines on Excel spreadsheets or within a shared drive. What might happen if someone on your team forgets to add one key date to the shared drive or spreadsheet? What penalties could you incur? For teams that consistently run behind contract due dates, it can be tricky to opt out of contracts configured for auto renewal. For contracts including renewal clauses that constitute an automatic renewal, failing to meet the termination deadline means that you're unfortunately locked-in to those agreement terms.
With intuitive, proactive contract management dashboards that display all key dates and obligations, you can easily review contracts, expediting the contract review process. In this manner, contract reviews can be completed in order of the nearest deadline, meaning your team can complete contract reviews well in advance and renegotiate terms prior to the end of the term.
But the question remains, how can I get out of a contract set-up for auto renewal? The answer is to work head of deadlines with contract management tools and automation so that you can increase the speed and productivity of your contract reviews while maintaining contract accuracy and compliance with enough time ahead of contract renewal dates.
#4 Leverage Automation To Track Contracts and Collect Data
Ask yourself the following questions regarding contract tracking and data collection:
Does out business track all key information?
How do we maintain compliance with every contract?
Do we document compliance clauses found in each contract?
Is our team consistently falling behind contract deadlines?
Is vendor compliance prioritized prior to signing on for renewal?
Are we able to rapidly locate critical contract information on a routine basis when it's needed most?
With contract lifecycle management (CLM) software, you can easily compile all relevant contract dates, key clauses, and other crucial data within your centralized platform. In your cloud secure digital repository, you can search for and retrieve exact contract clauses and contracts within minutes thanks to customizable filters and text-based search. This makes it easy to collect data, generate comprehensive reports, share current contract analytics, and present relevant findings to others within your organization.
#5 Build The Right Contract Renewal Team
Working with hundreds upon thousands of contracts and associated documents with all of their terms, obligations, and key dates can result in an extensive number of challenges in pinpointing contract clauses, contact information, and email communications at the times you need them most (think during contract drafting or when preparing an agreement for execution). No need to waste time. With the best available contract security capabilities like single sign-on and permissions-based access, you can keep your employees appropriately engaged in contract activities, meaning only the right people can access the right contracts at the right times. This will give you the confidence and peace of mind that every contract is handled with an amount of visibility and transparency that supports your organization.
#6 Transition to Digital Contract Lifecycle Management
A cloud-based contract management solution that centralizes your contract management tools, apps, and integrations is the best option to not only optimize your contract renewal phase, but also the entirety of the contract lifecycle. With your contract management software, you eliminate outdated manual processes that slow down the contract lifecycle. For example, leveraging an electronic signature integration saves time, money, and resources by making contract signing digitally accessible at any time, any place. This reduces turnaround times substantially. Gone are the days of printing your contracts and mailing them off for signature. Electronic signature is not only faster, but more secure.
Implementing a contract management software solution and making the transition to digital contracting from manual contract management supports your organization in develop a more organized, accurate, and compliant method of managing the contract lifecycle. Contracts are stored in a centralized and cloud secure digital repository making them easy to access by authorized parties, meaning they can read and review contract terms at their convenience so long as they have a stable internet connection.
Optimize Your Contract Renewal Process With Dock 365 Today
Monitoring contract performance, tracking key dates, and overseeing the status of all your contracts is made easy with Dock. With our advanced capabilities and our solution built onto your Microsoft Office 365 and SharePoint environment, you can make the most of your Microsoft investment while adopting a contract management approach that delivers results.