From contract intake to contract renewal, contracts require the expertise and effort of several stakeholders in various departments to ensure the creation of a compliant, accurate agreement. Contracts require continued monitoring and review to ensure that obligations are met and that terms are appropriately adhered to. Throughout the contract lifecycle, you'll be required to oversee every change made to your contracts to ensure they contain current clauses, the correct client or vendor information, and that they are compliant with industrial regulations and organizational policies.
Content-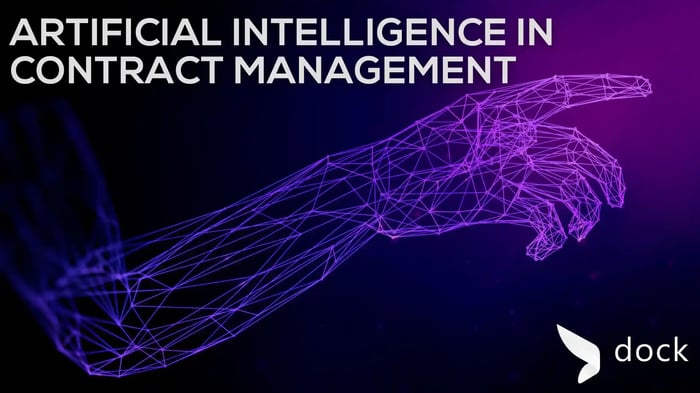 With any given contract, you're more than likely going to need the assistance of several trusted employees in various departments, ranging from legal, to procurement, to HR, and more. Manually reviewing and collaborating on contracts is outdated, costly, and time-consuming, so we recommend introducing automation and AI where possible within your contract management strategy. In addition, it's important to note how manual contract management is prone to risk, compliance errors, and forgotten key dates
Contracts: The Cornerstone of Business Partnerships
A contract is a considered one of the most foundational pieces of documentation that defines the expectations and obligations of any business partnership. Every agreed detail between a supplier or client and the business will laid out in the contract.
Curious about opt-out windows? The dates will be laid out clearly in a contract.
Wondering what prices to expect? A detailed pricing structure is included in the contract.
Wanting to plan for the duration of the contract term? The exact timeline will be spelled out in the contract.
I'm sure you get the gist.
A contract serves to lay the foundation of the business-client relationship and how it will be conducted throughout the contract lifecycle.
Pre- and Post-Signature Contract Lifecycle Management
The contract lifecycle is divided in two phases: pre- and post-signature.
Let's take a look at both and then we'll discuss where AI fits in.
Pre-signature
This phase refers to the first half of the contract lifecycle, including contract authoring, negotiation, reviews, and approval. Pre-signature contract lifecycle management usually involves the support of several departments to complete various contract management tasks.
Before a contract is signed, it requires significantly more manual effort to ensure that terms and contract content is accurate, up to date, and compliant. This can cause bottlenecks in legal and open up the potential for risk. Manual pre-signature contract manage can also harm your business relationships due to inefficiencies, slow processes, and inaccuracies. It's also important to note that manual contract management is not conducive to scaling a business. If your contract portfolio is steadily increasing in volume or complexity, then manual management will only lead to avoidable bottlenecks and the discrepancies and forgotten due dates that result from them.
Post-signature
After a contract is signed, the following processes focus on continued contract monitoring and management. Manual post-signature contract management can result in missed obligations, due dates, and milestones due to the high volume of agreements and details requiring your ongoing maintenance.
Post-signature contract management usually relies heavily on the manual support of your finance and/or procurement department. For contracts that are particularly complex, they'll require more effort and understanding for appropriate management – which isn't ideal for a massive contract portfolio or for your legal team. This also makes it extraordinary difficult to attain current contract data and identify areas for cutting costs. Manual repetition of contract tasks can lead to increased potential for inaccurate data entry, user errors, and burnout. In addition, you increase the likelihood of deadlines slipping through the cracks (i.e., auto renewals and expiries) due to a lack of centralized communication.
It's time to steer way from traditional, manual contract lifecycle management and instead leverage an AI-supported approach to contract lifecycle management. When you take the volume and complexity of a contract portfolio into consideration, it becomes clear that the manual approach to working through each stage of the contract lifecycle leads to decreased visibility, speed, accuracy, and results. Not only this, but you increase risk, drive up costs, and lose time due to suboptimal contract procedures.
Innovate Contract Management with AI
Artificial Intelligence is one of the greatest innovations in modern times. From mobile applications to household appliances, artificial intelligence has made a profound impact on everyday life to increase productivity and systemization.
In the context of the modern business environment, AI is becoming the new normal. This is especially true in the contract lifecycle management landscape. Leverage contract management software that eliminates repeatable tasks and manual management and instead adopt an AI-supported contract management software solution that is intuitive, adapting to your business environment over time.
Why AI is a Powerful Tool for Contract Management
We envision minimal manual involvement in contract reviews and management in the future due to the introduction of AI. With AI you can significantly reduce the repetitive processes that don't necessarily require a human's input – meaning you can allocate your team's time and energy more strategically, allowing you to cut costs and save time for your legal department most especially.
4 Ways AI Contract Management Supports Businesses
Introducing artificial intelligence into your contract lifecycle management strategy is incredibly beneficial. Here are four reasons why.
1. Save Money with AI
Artificial intelligence supports cost-effective contract lifecycle management. You'll drastically cut costs in several places within your contract management process. AI can help support your employees by taking the burden of manual, low-level tasks off their backs so that they can use their judgement and skills for more strategic contract management initiatives. AI can accomplish these tasks faster, more systematically, and far more accurately as well. Employee morale might also improve due to the reduction in low-complexity tasks, now being replaced with more rewarding work. One of the most incredible functions of AI is how it can locate risk-prone contract clauses and flag questionable contract content so that you can assess and adjust swiftly.
2. Improved Risk Mitigation
Every contract includes some degree of risk, but what ultimately determines these risks is everchanging. Some of these characteristics might include the organizational policies, industrial regulations, shifting business functions, and the likelihood of upholding contract terms. To assess contract risk based on these factors and more takes a significant amount of time for a single person, let alone a team.
With AI, you can assess and identify contract risk with increased speed and precision. AI has the power to alert users of flagged contract content, score contracts with risk analysis scores, track risk potential, and communicate to contract managers when changes are made to a given contract.
3. Scale with AI
AI supports scalability, plain and simple. You'll find that you gain more flexibility and adaptability with standardized, error-free contract management thanks to AI. In the event of a swift change in business conditions and landscape, you can easily adapt and succeed. One of the major benefits of adopting AI-based contract lifecycle management is how much time you save. Processes like data extraction and contract intake/request can be reduced to just seconds – meaning faster procurement stages and shorter contract lifecycles. AI is also able to identify clauses that increase risk, alerting your team of them and suggesting review.
4. Gain Contract Transparency
The level of transparency and organization has into their contracts and contract management procedures directly influences its ability to identify areas of improvement, cost-savings, and risk.
With AI, you gain transparency into your contracts and have the ability to leverage spend data analytics and other key contract insights. This allows you to get the best deals by having more opportunities to use current contract data to drive your business decision-making and financial management.
Contract management software offers proactive dashboards inclusive of vendor performance metrics, contract status updates, contract performance, and other key data points so that you maintain complete transparency and visibility over all of your contracts.
Get AI-Supported Contract Management with Dock
AI technology has been rolled out here at Dock 365 to provide you with the most robust contract management software capabilities to work with your unique objectives and business needs. Our solution easily adapts to your Microsoft 365 environment, leveraging Teams and SharePoint for optimized communication and collaboration on all of your contracts. Leverage automated reminders to never forget about contract expiry and auto renewal dates, store contracts securely in a searchable, cloud-based SharePoint contract repository, and remove tension from your legal department with contract management made easy.
For more information, we would like to welcome you to schedule a free demo with us today.