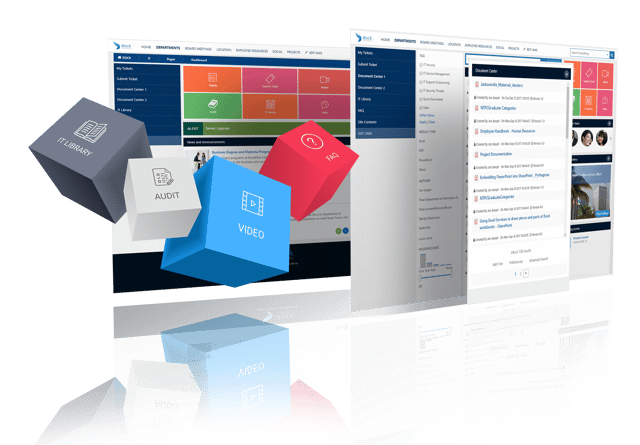 IT Portal Key Features
Some additional information in one line
Ticket Requests, FAQs and more
Organized by request information, assigned to IT personnel, the priority, date, description and more. Ticket requests are simple to edit as tasks are completed. Manage the document library and help desk features assist your staff in managing their day-to-day tasks within your company SharePoint intranet.
---
Compliance Organization
With the increase of cybersecurity risks and information breaches, compliance is imperative. If your company is already using SharePoint and Office 365, you can manage it with four essential steps to strongly establish and sustain as protocols.
Learn more about this process by reading more about compliance with our blog.
Think Outside of the Box
SharePoint Tips
Microsoft remains a leader in technology. Read about how Microsoft Azure for Business is using blockchain technology. At its core, a blockchain is a data structure that's used to create a digital transaction ledger that, instead of resting with a single provider, is shared among a distributed network of computers. Learn more here.
Want to learn how to change default link type when users receive links for sharing, you can read more about it here in our productivity blog post. When a user wants to share a document or folder, they can get a link to it to send to others. This is one of many effective ways for teams to communicate that work in different departments or locations to drive user tasks within your SharePoint intranet.
Dock specializes in assisting banks and credit unions with their IT Portals. We anticipate these types of institutions have countless binders and handbooks that ensures compliance and meets regulations. Technology can implement new and evolving technology that can empower your team to become more efficient with document management. Read more about our specific capabilities for banks and credit unions here on our productivity blog.
If you're a current SharePoint site and Office 365 user, or thinking of becoming one, integrating Dynamics 365 and Flow can provide you with predefined templates to improve your CRM process. You'll be able to take your CRM workflow to the next level with the best intranet solutions. Learn more about this process here.
You may have watched six hours of YouTube videos to figure out how to do the basic functions, but that doesn't mean every single employee will. Dock's SharePoint Intranet Experts provide ongoing training and it's always free. We've written about about learning how to solve three of SharePoint's most troublesome problems, read it here.
We understand the issues with user adoption and experience. We've addressed this with training options with Dock. With our deep understanding of SharePoint Intranet Portal, we have designed best in class intranet portal, Dock, to overcome some of the challenges, we see most businesses faces when it comes to user adoption of SharePoint. Read more about how we address this issue here.