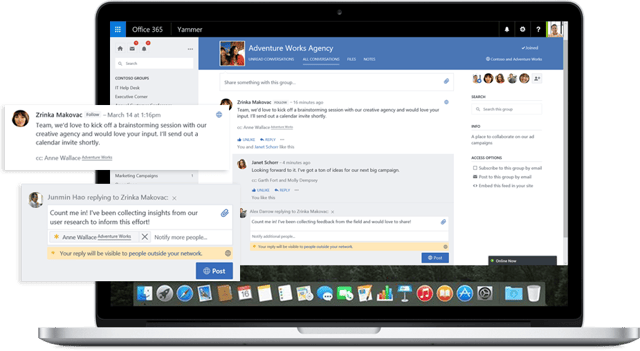 Solutions are making it easy for companies to generate a lot of content and various types of content too. It's all about Knowledge Management and it's vital for industries such as Banking and Credit Union. Employees need details and they follow different of ways for capturing information such as emails, documents, worksheets, presentations, videos, flowcharts, and web pages.
It's 2018 and like any other industry, IT is already saturated with abbreviations and acronyms that gives us some understanding as to what it means. Heard about CMS? Yeah you guessed it right, it's Content Management System. What does it do? It helps users to publish their content and edit/alter them if needed. These applications help in managing workflows for a collaborative organization.
Now what happens if your content isn't managed properly? Something like your desktop, which can be difficult to track or find on the information you are looking for.
SharePoint Content Management systems comes to the rescue for any organization to effectively manage information through a content life cycle, right from content creation to content archiving. SharePoint Content Management helps in integrating with MS Office Apps or Office 365 with collaboration and central management features of SharePoint technology.
Focuses on three areas:
Document Management
Records Management
Web Content Management
Digital Media
Six Surprising Reasons Banks and Credit Unions Need Knowledge Management Portal:
SharePoint Content Management
It is very important to define terms and other specifications when working on a content management system intranet. Functions like eDiscovery in SharePoint helps the users to search for information that have specific tags and saves time. Well, there's more to talk about Records Management:
Improving Regulatory and Legal Compliance

– Implementing policies for data protection, retention and auditing business records for guaranteeing that records are properly maintained. The audit trails give proof for the internal and external auditors regarding the records being retained properly.
Your Business Records are Secure

– SharePoint ensures a full-secure repository, which guarantees the records are stored safely.
Legal Discovery Made Easier

– It ensures that you can get information which is required for litigation discovery in the best way by saving time and cost. You can place special hold on desired records for preventing data loss.
SharePoint's Integrated Records Management

– It helps companies for storing and protecting business records in the final state. Companies can apply information management policies to their business records which helps to reduce legal risks ensuring that the information matches with the corporate business regulations/policies.
Digital Media
I'm sure that you have come across the videos and audio features in SharePoint sites. It is true that SharePoint has integrated features for playing/viewing digital content like Video and Audio files. What other benefits can you achieve?
Usage of Optimized Media Libraries

– SharePoint's Media Asset Libraries are optimized for digital content. The management features of the document library are also available (metadata, unique IDs and content types). Also, with SharePoint, you get to view thumbnail versions of the images and video files and upon clicking, a pop-up appears playing the video straight from the Document Folder.
Playing Digital Files Directly

– As mentioned earlier, SharePoint has built-in features for playing video and audio files. This helps us to play these files from any portals, publishing sites or teams. A perfect feature when creating Training Portals for Organizations!
Dock's Project Management Portal Improves Results
There's more to speak about SharePoint Content Management, but I guess the above features are good enough to start with. It all started with the SharePoint 2010 version and still growing with advanced features and updates today.
The features that we talked about will help you to build a perfect SharePoint Content Management solution. Microsoft SharePoint is helping the users to automate features. For example, workflows when information is moved and routed and to define search requirements and file types saving lot of time of the end users, which is a plus for the growth of an organization.
Want to see how Dock can transform your content management system intranet? Book a no-obligation demo with us today.