Content:
The Definition of a Breach of Contract
A breach of contract occurs when one party violates agreed contractual terms and conditions within a given contract. For example, the failure of one party to deliver upon their promised obligations or to pay by a defined due date is considered a breach of contract.
Contracts are legally binding agreements that can hold in court. In order to claim that a contract has been breached, you'll need to prove that the breach actually happened. We will cover more of this in detail below.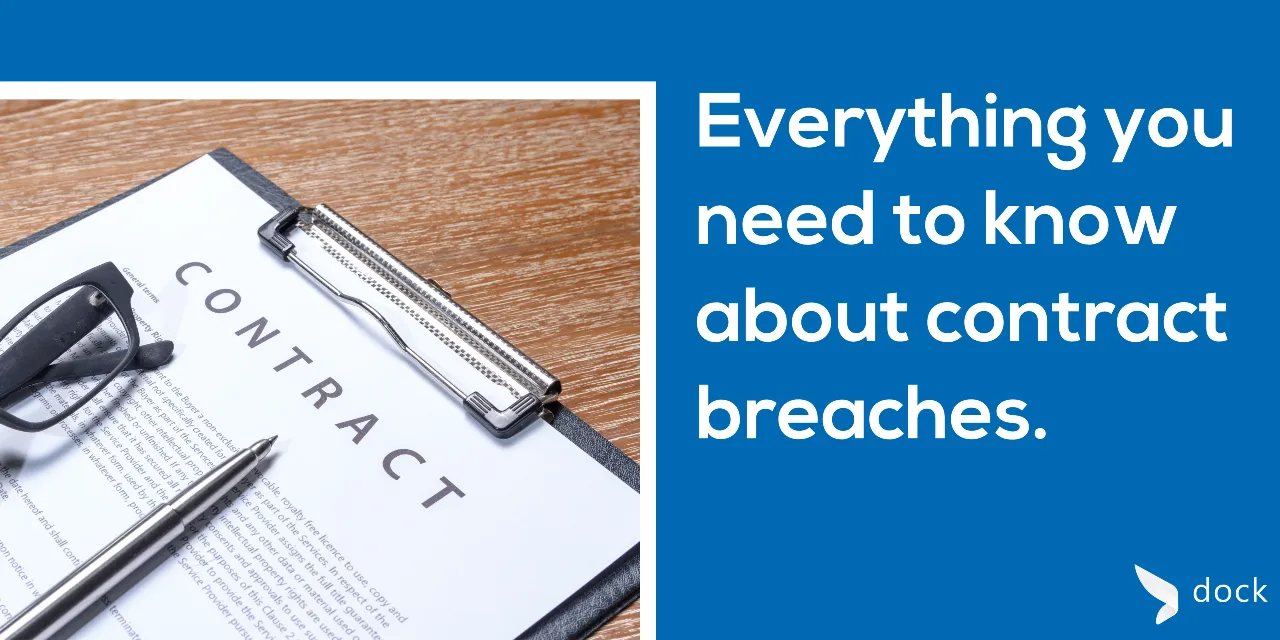 Preview
When two or more parties agree to contractual terms and conditions and one party fails to fulfill their contractual obligations without a legal excuse, then a breach of contract has occurred.
A breach of contract is not limited to written contracts; it can also occur in oral contracts.
A breach of contract can be resolved either in a court of law or privately between parties.
There are four types of contract breaches: minor, material, actual, and anticipatory.
The Basics of a Breach of Contract
As previously mentioned, a breach of contract occurs when one contracted party fails to deliver upon (and therefore breaks or breaches) the terms of the agreement. When an obligation is left unfulfilled or is fulfilled past a contract deadline (i.e., late payments) then the contract is breached.
Oftentimes the procedure for managing a breach of contract is detailed in the initial contract. A contract might mention late fees that are added in the scenario that a payment is made late. When the implications of a specific breach condition are not mentioned within the contract, then parties might settle the situation between themselves, typically resulting in a new contract.
4 Types of Contract Breaches
First, let's talk about minor and material breaches. A minor breach of contract occurs when one party does not receive a promised product or service by contracted deadline.
A material breach occurs when one party receives a product or service that is not the same as what was promised in the contract.
A breach of contract also falls under two divisions: an anticipatory breach or an actual breach. An anticipatory breach refers to when one party communicates in advance that they will not fulfill their contract terms. An actual breach occurs when one party does not complete contracted obligations.

The Legal Implications of a Breach of Contract
The plaintiff must first prove that the contract was in place between both parties. Then they must provide evidence to substantiate that a breach of contract has occurred. The plaintiff will do so by presenting in what manner the defendant failed to meet their contractual obligations.
Ensuring A Contract is Valid
The easiest way to provide evidence of the existence of a contract is by having a written agreement signed by each party. Oral contracts can be enforced in a court of law; however, several contract types will need a written document in order to hold weight in court.
The court will review the terms and contracted obligations of each party to assess whether a breach has occurred. In addition, the court will review the contract is determine if any changes have been made that might have initiated the breach. Usually, the plaintiff will communicate to the defendant that they have breached the contract prior to turning to legal action.
Reasons for a Breach of Contract
Perhaps there was a legal reason for a breach of contract. In the case of a fraudulent contract, the plaintiff might have omitted or falsified facts within the agreement. In addition, the defendant might argue they signed the contract under poor conditions and that the plaintiff threatened them to sign. Other scenarios might involve discrepancies made by both sides of the agreement that resulted in the breach.
Financial Elements of a Breach of Contract
Both the economic advantages and costs of maintaining a contract or breaching it will be deciding factor of whether either or both parties will have a financial motivation to breach the contract. When net costs to the party breaching the contract are less than what it would cost to fulfill it, then the party might be motivated to breach the contract. On the other hand, if it would cost less to fulfill the contract than to break it, then why breach it?
When the anticipated costs of fulfilling the agreement are more than the possible advantages, then each party is motivated void the contract together. This occurs when circumstances change during the term of the contract.
Additional Considerations
In some scenarios, breaching a contract is the best decision for the welfare of society – and this might mean each party takes a potential loss from breaching the contract. It can make sense financially-speaking to breach a contract when the net cost of the breach is substantially less than the net cost of fulfilling the contract for all parties. Unfortunately, this might mean that the parties are in a worse place financially following the breach.

Use Contract Management Software to Protect Your Business
Maintain a proactive approach to all of your contracted obligations and deadlines. With contract management software, easily maintain all key dates and meet objectives for every contract in your digital repository.
The Dock Contract Management System provides support for all things contract lifecycle management. You can easily integrate contracts into your Microsoft 365 platform and prevent breaches with a centralized contract management software solution. In addition, you'll be able to seamlessly oversee every stage of the contract lifecycle with automation, reporting, and data analysis capabilities.
Centralization of Contract Data
Contract management software offers your company centralized, digital contract storage with customizable accessibility features to ensure only authorized users have access to your agreements. A cloud-based contract management system supports your users with the ability to access contracts at any time, any place, on any device.
Visibility of Contracts Throughout the Lifecycle
Our solution offers all you need to attain contract success in every stage of the contract lifecycle. With access to previous contracts, you can have a proven guide to assist you in creating new agreements. In addition, negotiating becomes seamless with secure, collaborate online portals. Throughout the contract lifecycle, it can be difficult to keep tabs on time-sensitive responsibilities. With automated alerts and reminders, you can keep your team in the loop of critical contract activities.
Automation
Automate several phases and repeatable actions within the contract lifecycle to standardize and systematize the path that your contracts follow. In effect, you'll mitigate breaches by notifying appropriate stakeholders in advance of required actions. Parties can leave comments and communicate with other departments throughout the lifecycle to relay key information as the contract evolves.
Advantages of Contract Management Software
Contract management software empowers businesses of all sizes to work cohesively in a secure digital environment that reduces risks, saves time and money, and increases productivity.
Enhanced Communication and Collaboration
With Microsoft Teams and SharePoint, you can take your contracts on the go and work on contracts independently without fear of version control errors. Because your contracts are kept secure in the cloud, team members can redline, edit, and comment on contracts at the same time. In the event a breach of contract occurs, you can come to a resolution that works for both sides with the help of software. With audit trails and timestamped histories of all every change made to every contract, you can gain comprehensive insights of every contract.
Customizable Automated Workflows
Flexible workflow design supports a standardized, risk-mitigative contract management process. In this manner, you clearly define each sequence in the contract lifecycle, which can support rates of compliance simply by creating standard contract management practices. In the event of a breach of contract, you can negotiate easily with the ability to add in-document comments.
Electronic Signatures
Dock integrates with DocuSign, Adobe Sign, and Sertifi to provide the best electronic signature experience. Collect signed documents within minutes to expedite the contract lifecycle. Not only are e-signatures quick and efficient, but they are also legally-binding and very secure.
A Secure, Searchable Repository
Every contract is kept secure in your cloud-based contract repository, equipped with customizable filters and text-based search capabilities. This means you save time when finding your contracts, rather than sifting through filing cabinets or shared drives. Thanks to the ease in locating your contracts, you can find exactly what you need instantly o support you in creating new agreements and analyzing current and past trends.

Manage Contracts Like a Pro with Dock 365.
Contract management is made simple with the Dock 365 Contract Management System, built on your existing Microsoft 365 and SharePoint investment for easy adoption. You cut down on time wasted while reducing risk exposure and bottlenecks. Your contracts are accessible at all times to authorized users so you can make key decisions right away and get contracts moving forward. In the context of a breach of contract, Dock enables you to review the implications of a breach. And with smarter contract management provided by Dock, you'll experience less breaches of contract.
Learn more about our Dock 365 Contract Management System here.
Learn more about Contract Lifecyle Management (CLM) Software here.
For more information, we would like to welcome you to schedule a free demo with us today.