Are you familiar with cost-efficiency that contract lifecycle management services can provide your organization? Or are you unaware of how these services can impact your current contract lifecycle management procedure for improved results and productivity? We discuss this in-depth below so that you can optimize your contracting approach and save money in the meantime.
Content-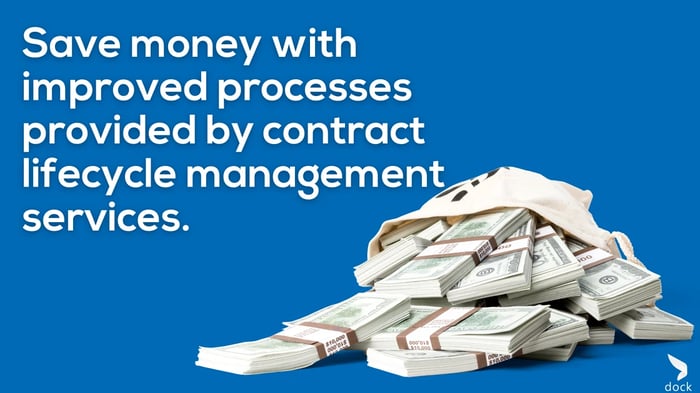 Save Money with Contract Lifecycle Management Services
Here are the most important reasons why adopting contract lifecycle management services will save your organization money in the long run.
Increase Contract Lifecycle Management Efficiency
Contract automation is considerably one of the more revolutionary features provided by modern contract lifecycle management services. By leveraging the customizations that automation has to offer, you can standardize specific tasks and procedures that occur on regular basis during the contract lifecycle. The efficiency of simply selecting a predesigned workflow for your signature phase, approvals, and contract authoring, for example, allow users to self-serve on contracts. This provides a sense of reliability in the processes and sequence of events within your contract lifecycles. Automation means that contracts are automatically sent off to the right person at the right time to complete specified tasks and take care of predetermined responsibilities. In this way, all of your contracts follow a configured protocol from the contract intake and request stage, all the way to contract renewal or expiration. With this systematic approach, you ensure that contracts are completed in a timely manner, free of those pesky, preventable delays.
Contract lifecycle management services also increase efficiency in the contract retrieval step. Due to the utility of a cloud secure, digital contract repository, you can leverage text-based search and advanced, savable, and customizable contract filters for repeated use. This means you will be able to find exact contracts, clauses, key terms, and associated documents whenever you need, at the times you need them most (i.e., during negotiations) within just a few seconds. No need to spend hours or even weeks on end wasting your time trying to locate a single agreement.
Shorten Contract Lifecycle Time
By reducing the time spent on each contract lifecycle (in essence, having shorter contract lifespans overall), you're able to create and execute more contracts in the same amount of time or less – meaning more return on your investment in maximizing your bottom line. Thanks to modern contract lifecycle management services, you can optimize each stage of the contract lifecycle and spend less time during each stage as a result. In simple terms: you cultivate more productive contract lifecycles.
Now, you can develop even more business partnerships and advance opportunities with clients and vendors. Contract lifecycle speed is dependent upon how effective both your internal and external communication and collaboration is on any given contract. Thanks to flexible and customizable contract workflows and automation, you can build a seamless, productive contract lifecycle management environment that allows for rapid turnaround times. Here at Dock, we integrate our solution with DocuSign, Adobe Sign, Sertifi, Microsoft Teams, and other integrations so that you can have the most productive contract lifecycles.
Optimize Management of Auto Renewing Contracts
Contract lifecycle management services offer the ability to configure user-friendly, timed automated notifications and reminders to stay up to date on time-sensitive contract responsibilities. These are especially useful for effective management of approaching auto renewing contracts and expiring contracts. This means you can prepare ahead to get the best deals and ensure you aren't locked into another contract term with an agreement that isn't the most favorable to your current business objectives and needs. By automating notifications and reminders, select stakeholders and employees that participate in the contract lifecycle will be notified of upcoming key dates and deadlines so they can take decisive action to ensure that every date is met.
Automated reminders and notifications are perfect for managing auto renewing contracts, expiring contracts, milestones, obligations, deliverables, and other time-sensitive contract lifecycle management items. Today's contract lifecycle management solutions offer digital calendar capabilities. In these interactive digital calendars, you can schedule your automated reminders to support your internal task management. The calendars can be filtered, tagged, and reviewed by authorized users. In a manual approach to contract lifecycle management, it's extremely easy to let key dates and responsibilities accidentally slip through the cracks due to the complexities of managing numerous contracts at once. Instead of settling for a difficult method of managing your auto renewing contracts, adopt modern contract management software to streamline this phase of the contract lifecycle once and for all. In addition, you'll end up saving money in the long run by eliminating unfavorable auto renewing contracts rolling into another contract term. This can cost your organization thousands of dollars, so we highly suggest using the automation of reminders and notifications to keep all key departments in the loop of business-critical dates and deadlines.
Improve Contract Visibility
Being able to find exact contract information you need at the times you need it most is essential to closing deals, having productive negotiations, and increasing the speed of your contract lifecycles. This is made possible by enhancing the visibility of your contracts. With better visibility of your contract activities, you'll improve contract risk prevention while offering a working environment that is more conducive to collaboration and communication. As a result, you will save yourself from the financial repercussions that stem from risky contracts.
Contract lifecycle management services empower contract managers to maintain all of their sensitive contract data in one location for all authorized internal and external stakeholders and employees to resort to. The increased visibility is made possible by on demand contract performance data and easily accessible contract tracking and status updates, meaning you can learn exactly where within the contract lifecycle each contract is located. You can also easily manage contract versions with advanced version control features and redlining capabilities. You'll gain confidence in the fact that all of your employees are working on the correct version of a given contract draft.
Eliminate Bottlenecks
Time is money. Want to save time? Then adopt a contract lifecycle management system to oversee and automate routine, low-level tasks. With system automation, you can increase the efficiency of nearly every stage of the modern contract lifecycle. Take the contract signing and execution phase for example. In manual contract lifecycle management, you have to spend the time printing, scanning, and preparing a paper contract for shipping, and then you have to wait however long for the signer to complete the contract and send it back your way. What if there's a storm or natural disaster? Or what if the contract is simply lost in the national or international mailing system? It's clear that digitizing your contract signing procedures is far more efficient, is quicker, and is more secure.
With a manual procedure, to simply receive the signed contract could take weeks upon weeks. However, today's contract lifecycle management services offer integrations with leaders in the electronic signature space so you can have the most productive and protected signing experience for your team and your clients, vendors, and suppliers. This means you can send off a contract for signing and receive a signed and fully executed legal agreement back within just a few minutes. And this is only one example of an activity within contract management that is optimized for time-efficiency and therefore, cost-efficiency.
Want to see the bigger picture of DocuSign, Adobe Sign, and Sertifi and how these electronic signature integrations can support your company's contract lifecycle management strategy? Then click here.
Maintain Contracts in a Centralized Platform
Contract lifecycle management services provide companies with the secure contract storage solution they need, providing a single source of truth to their internal teams regarding where to find contracts, associated documentation, and contract-specific answers. With a digital contract repository built on your cloud secure SharePoint tenant, your internal and external stakeholders with authorized access can self-service on contracts and save time when searching for and retrieving contracts within your digital system. They won't have to waste unnecessary time sifting through thousands of piles of contract metadata and contract files due to advanced filtering and text-based search functions. No need to settle for outdated, traditional contract storage methods via shared drives, filing cabinets, paper copies of contracts, computer desktops, email chains, and more… You can use an organized digital storage system that can manage unlimited contracts and associated documentation.
By using your SharePoint as the platform for your digital contract repository, you'll have contract metadata readily available at all times. Contract dashboards offer users a complete overview of contract performance, statuses, and other key contract information in a visually appealing presentation. The filtered search capability allows users to create and save custom filters for repeated use, helping users find similar contract types on a regular basis. You can easily filter through all of your contract metadata by metrics and labels including Party name, Contract type, Dates, and more. SharePoint repositories can also support improved workplace communication, as all contract data is stored in one spot. The SharePoint contract management repository user interface is perfect for effective management and creation of contracts. You can also pull historic contracts to glean insights on how past agreements have performed, which can help you in developing new, high-performing contracts based on data that tells you what worked in the past.
SharePoint is a leading solution for document management and is why many companies leverage this option for their digital contracts. In your SharePoint, you can create and maintain comprehensive audit trails, archive your agreements, utilize collaborative portals for negotiations, and get contracts on the move with electronic signature integrations for rapid and secure signing. Without a doubt, SharePoint is a phenomenal tool that gives you the competitive edge. Store contracts like a pro with the confidence that they'll only be found in the right hands. Easily oversee all of your contract metadata, obligations, deliverables, milestones, client and vendor information, key dates, and more in a repository solution that acts as a single source of truth for all of your teams to go to.
Conclusion
If you learned something new about how adopting contract lifecycle management services can help your company save time and money, then let us know in the comments section down below! We would love to hear from you!
Because we've provided a broad overview of how contract lifecycle management services can help you save money by increasing the efficiency of your contract lifecycles, reducing the time of each contract lifecycle, by optimizing auto renewals, improving contract visibility, eliminating common bottlenecks, and providing a secure and centralized digital repository platform, we hope this encourages you to leverage a contract lifecycle management services solution so you can get the best results!
Let Us Introduce Ourselves
Dock 365 is a Microsoft Gold Certified Partner that works to support business productivity and efficiency with our contract lifecycle management solution. Get robust contract results, enhance internal collaboration and communication, and achieve a productive and initiative-taking workplace environment geared towards contract success. Headquartered in Jacksonville, Florida, the Dock team is accessible and available to help you with your contract management inquiries and concerns. The Dock 365 Contract Management System is user-friendly with several Microsoft 365 tools that your team will likely be remarkably familiar with. Because our solution is built on your Microsoft Office 365 and SharePoint infrastructure, you can stretch your Microsoft investment and get increased user acceptance. The Dock 365 Contract Management System is customizable, allowing you to design the solution to your unique branding.
Manage contract lifecycles like a pro from the contract intake and request phase, all the way to contract renewals and expiration. Here at Dock, we provide all the tools and features you need for rapid contract generation. These features include the following:
A secure contract storage system in a centralized, cloud-based digital repository
A library full of preapproved contract templates
A contract clause library of current, compliant clauses
Metadata auto population capabilities
Customizable, flexible contract workflow automation
Rapid approval routing
Version control
On demand contract insights and reporting
Sharable reports
Vendor performance metrics and scorecards
New AI features
Integrations with leading electronic signature providers (DocuSign, Adobe Sign, and Sertifi)
And much more!
For more information, we would like to welcome you to schedule a free demo with us today.
To stay in the loop of the latest contract management news, helpful tips, and updates to Dock 365, then we suggest subscribing to our YouTube channel and checking back on our blog each week!