Effective contract monitoring is key to overseeing the progress and performance of all of your organization's contracts. While some contract managers use manual methods to track their contracts, many others opt to automate contract lifecycles, allowing for easier monitoring, maximal time-efficiency, and increased risk mitigation. There are a few best practices to keep in mind while monitoring your legal agreements, now let's go ahead and discuss them in detail below.
Why Monitoring Your Contracts Is Important
Contracts are key to achieving desired results from business agreements, and to get the most value out of your contracts, you'll need more than simply the contract itself. And while a well-executed and appropriately written contract is crucial, an effective contract monitoring approach is equally as important to ensure that obligations and deliverables are met.
Content:-
Contract monitoring is a procedure deigned to confirm that contracts perform as expected and as agreed-upon. To properly monitor your contracts, you will need to have an organized, standardized approach because you will be comparing the performance of your contracts against the deliverables outlined within the contract itself.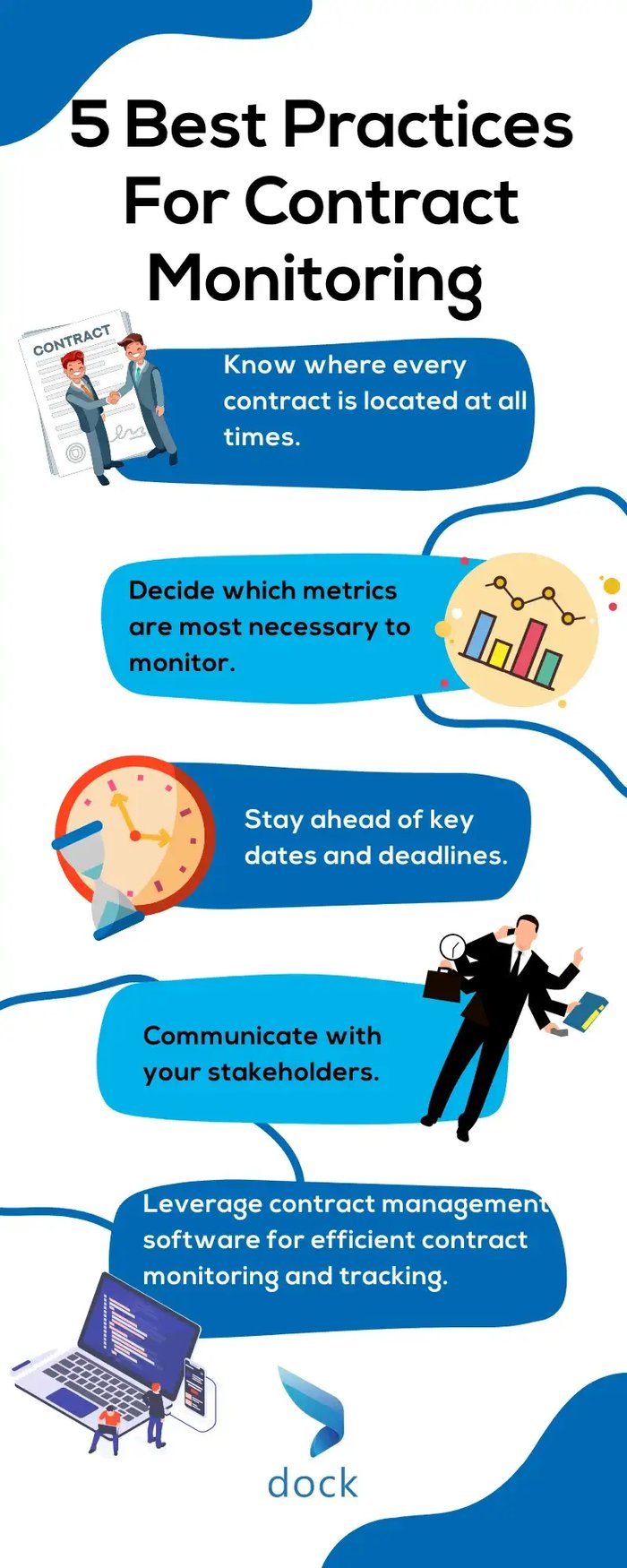 1. Know where every contract is located at all times.
Before beginning the process of monitoring and tracking your contracts, you want to make sure you have a clear understanding of where each contract is located. And while this concept is basic, it's more important than it may seem. Many companies today store their contracts in multiple locations that make it difficult to locate where exact documents are at at any given moment.
We recommend storing all of your company's contracts within a cloud-secure, centralized repository provided by a contract management software solution. In this way, you can access your contracts at all times from any location so long as you have a mobile device. In essence, you want a storage method that supports rapid retrieval of your documents because you never know when you'll need to refer to a previous document to help you in processes like contract authoring. Knowing where your contracts are stored is a key beginning step that influences the remainder of contract lifecycles.
2. Decide which metrics are most necessary to monitor.
After every legal agreement is signed and executed, we suggest notating all critical data points that should be monitored further for the remainder of the contract's lifecycle. In this manner, you can proactively plan during the contract's lifecycle all the way until it expires and is archived. Consult with the owner of a given contract to assess extra metrics to track beyond a standardized list of metrics that you regularly monitor.
Common contract metrics to monitor throughout contract lifecycles include the following:
Obligations
Contract expiry dates
Opt-out windows
Compliance policies
Flagged clauses (high-risk)
Contract status
Contract performance
3. Stay ahead of key dates and deadlines.
Keeping key dates and deadlines top-of-mind is critical to effectively monitoring contract lifecycles. To maintain control of your contracts and their obligations, you can leverage automated notifications and alerts to keep your team reminded of contract expiration dates, auto renewal dates, opt-out windows, and more. By taking a proactive approach towards important contract dates, you can reduce risks and increase opportunities pertaining to your agreements.
Consistently reviewing your contracts allows you to maintain awareness of various discrepancies or places that need corrections in your agreements in earlier stages of the contract lifecycle rather than later on when potential problems occur. Contract managers should monitor their contract deadlines far ahead of time to be able to adequately problem solve prior to taking action. Let's consider this scenario – say a contract is set to expire in a few weeks, this means you can take the weeks ahead to collaborate with stakeholders to make decisions pertaining to either terminating, renewing, or renegotiating the contract at hand. In this scenario, had the contract expiration date been forgotten about, then the contract manager and their team would not have had enough time to understand the contract and make the most well-informed decision, meaning they could potentially renew an unfavorable contract that would've been better off terminated.
4. Communicate with your stakeholders.
While monitoring contracts is imperative to a successful contract lifecycle management process, it's also important that the metrics you monitor are communicated and shared with relevant stakeholders. Contract lifecycle management is a process that requires lots of collaboration, and collaboration and communication doesn't stop once a contract is signed and executed. When sharing contract details and metrics with your stakeholders, it's best to communicate openly about incoming due dates, deliverables, and about how your contracts are performing.
With every contract, an associated financial risk and impact exists that could either improve or harm your company. Due to this concept, it's necessary for key stakeholders and those making the important decisions to have the information and data they need to make the most well-informed decisions. This allows them to ascertain if the company's contracts are meeting performance goals and expectations.
5. Leverage contract management software for efficient contract monitoring and tracking.
Contract lifecycle management software offers advanced capabilities that streamline contract monitoring and tracking. With contract lifecycle management software, you can leverage the following features for successful contract monitoring:
A centralized, cloud-based contract repository

– Store, filter, and organize your contracts in a single location that is accessible from any mobile device, meaning users can access any contract they need within moments from any place.
Custom reporting capabilities and dashboards

– A proactive dashboard and

custom reporting

allows users to stay aware of performance metrics and key due dates, making it easy to report on contract data and to share data with stakeholders on an automated schedule.
Automated alerts and reminders

– Stay in-the-know of approaching key dates to give yourself and your departments adequate time to prepare for all contract-related matters.
Conclusion
With contract lifecycle management (CLM) software, you can leverage advanced contract monitoring tools to help you improve the quality and performance of your contracts. Dock offers an affordable and user-friendly approach to contract management that leverages your existing Microsoft 365 infrastructure. If you're in the market for a dedicated contract lifecycle management software solution, reach out and we would love to assist you with a complimentary demo of our solution.
Learn more about our Dock 365 Contract Management System here.
Learn more about Contract Lifecyle Management (CLM) Software here.
For more information, we welcome you to schedule a free demo with us today.