Today, many leading real estate organizations recognize the utility of contract management software and have made the transition to a digital solution to oversee their contracts. You too can make the most of your real estate transactions by leveraging a contracting strategy that prioritizes visibility and accountability. In this way, you can make the most intelligent and well-informed decisions. Due to the many advanced capabilities offered by modern real estate contract management software, real estate leaders can streamline the entirety of the contract lifecycle, reduce turnaround times, and achieve better results.
From comprehensive contract dashboards to electronic signature integrations, real estate professionals are empowered by a solution that automates tasks and keeps everyone engaged in current contract activities and data. Contract management software is the #1 technology tool available for real estate professionals due to the myriad of advantages it offers for any real estate transaction.
Content-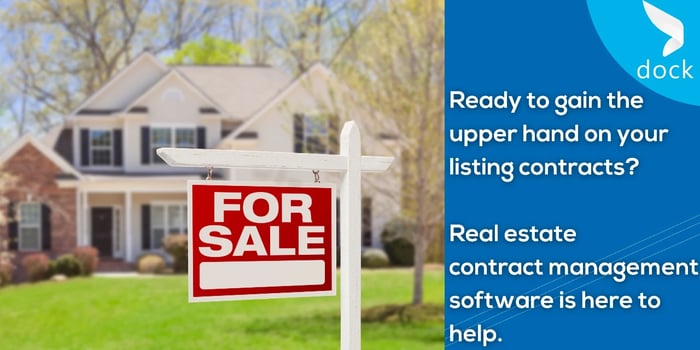 Let's explore five main reasons we suggest adopting real estate contract management software.
Reason #1: A Cloud Secure Centralized Repository
Data is at the core of effective real estate. Before engaging with a client about a lease, brokers will collect various data points from tax records, competitor marketing flyers, surrounding traffic stats, and other relevant places to develop a comprehensive picture of the property.
Typically, storing this data can present some roadblocks. By storing data in a variety of places – for example on the broker's work phone, laptop, and desktop – there's the possibility of losing track of key data points. Here is where contract management software comes into play: contract management software takes all of your data and centralizes it in a secure location that is accessible to authorized users at any time. In this way, your team can easily access critical contract data at the times they need it on hand most.
A contract repository helps to save time because it eliminates the time spend rummaging through email chains and other storage spaces to retrieve contract data. In essence, the ability of contract management software to centralize contract data allows real estate professionals to reduce contract authoring and approval times substantially.
Reason #2: Rapid Authoring of Listing Contracts
Real estate professionals know that they are always on the move, so adopting a contract management solution that allows you to access your contracts on a mobile device is the key! Contract management solutions with Microsoft integrations make this possible, and here at Dock, we use the Microsoft Teams mobile app so that you can take your contracts on the go. Real estate contract management software is equipped with preapproved, compliant contract templates and clause libraries. This way, you won't spend extra time re-authoring the same type of contract for your clients.
Contract management software built for real estate keeps every contract and associated document secure within your cloud repository. Because the data is stored in the cloud, your authorized employees can access the data at any time so long as they have a stable Internet connection. When considering rapid contract authoring, you'll save an exorbitant amount of time due to the preapproved templates and clauses. These templates and clauses are stored and organized according to template and clause type/family, allowing you to easy obtain them according to your needs.
Reason #3: Increased Visibility of Contract Activities
Real estate contract management software tracks and monitors all activities and changes made to documents by your employees with timestamped histories and audit trails. You can also leverage proactive dashboards to oversee contract data and create custom reports. This allows you to gain increased visibility and accountability, meaning you can find the answer to any question pertaining to your contracts.
Contract management software also supports your company in mitigating risk by identifying variances and deviations from your standardized, preapproved contract language. If a clause includes a data entry field detailing the duration of time that a broker has rights to create exclusive listings (including an associated fee the external broker might receive), if the broker were to deviate from these terms, then the appropriate contract manager would automatically receive an emailed alert to notify them of the deviation. This supports companies in opening up lines of communication to discuss changes made to contracts prior to contract execution.
Reason #4: Improve Compliance With Contract Standardization
The top contract management software solutions available today support businesses by standardizing contract activities, resulting in increased rates of compliance. With real estate contract management software, you can save time and legal expenses by standardizing contracts and configuring required actions and rules throughout the contract lifecycle. For example, you can increase efficiency by determining broker splits early on during the execution please of a listing contract. Rather than collecting transaction commissions while leasing vouchers are processed, real estate contract management software can require the input of broker splits during the contract lifecycle with configurable rules.
In another scenario, you might determine appropriate thresholds for assets that require employees to request general counsel to complete a review. In this case, the counsel member provides legal support spanning across the business – from property management, to brokerage and more.
Contract management software includes automated workflow capabilities to streamline contract authoring, reviews, redlining, approvals, negotiations, and execution. These automated workflows support the contract lifecycle and can lead to improvements in compliance as well as reduce the time it takes for a contract lifecycle to be completed from start to finish. Leading contract management software solutions are extremely advantageous in terms of compliance improvements, where operational compliance to internal and external standards, and transactional compliance to obligations and terms, can vastly improve.
Reason #5: Ongoing Records Management And Archiving
After a contract is executed, there are several steps to be taken to ensure appropriate ongoing management and compliance to various industry policies.
When considering property management, managers should confirm that their documents pertaining to the ongoing management and the new management process are effectively maintained. Ongoing management might look like ensuring that the environmental and health parameters are followed during the management term, for example. A dedicated real estate contract management software solution supports you throughout this process with the centralized storage of contract documents and the rapid search and retrieval of them. In addition, compliance tasks can be configured on automated workflows to increase your organization's compliance rate. Lastly, the ongoing archival of your contracts and associated documents can result in an improved customer experience and increased compliance throughout you organization.
Conclusion
Contract management software built for real estate has the power to optimize and expedite contract activities for your real estate company. Join leaders in the real estate space by leveraging a contract management solution that makes your contracts work for you! Interested in our Dock 365 Contract Management System? Click here.
Want to learn more about Contract Lifecyle Management (CLM) Software? Click here.
Schedule a free demo with us today for an in-depth and interactive overview of our Contract Management System.