We recently covered the first stage of contract lifecycle management – the contract request stage. Today, we will discuss the second stage of contract lifecycle management, the contract authoring stage.
Content-
Contract Management Defined
It's necessary to have a basic understanding of what contract lifecycle management is. The definition of contract lifecycle management is the successful administration of contracts and the manner that contributors effectively plan for each stage of a contract's lifecycle – resulting in the elimination, mitigation, or reduction of risks.

Stage #2: The Contract Authoring Stage
Contract authoring is the process where contract parties create a contract, ensuring it includes specified terms, standardized clauses, important milestones and dates, counterparty details, and other pertinent contract data. During the contract authoring stage, you will utilize the features provided by contract management software to generate an accurate, compliant contract draft. The contract draft will include relevant key words and specific conditions. Within this stage of a contract's lifecycle, details regarding both the signers and the approvers of the document will be noted in the document. The information submitted at the time of the contract request is utilized when authoring the document, and the result is the completed contract draft that is then saved in your cloud-based, centralized contract repository.
With lead contract management software, you can centralize and automate contract authoring. With intelligent clause merging and the ability to auto populate select metadata into preapproved contract templates, you tremendously simplify contract lifecycle management and save time.
Version Tracking
Tracking versions of contract drafts is accessible and clear with redlining capabilities and other collaborative tools. At any point is a contract is edited, your software solution tracks the version of the contract so that all contributors can work on the same iteration of the document. In this way, users can access previous versions of the same document, compare documents, and undo changes if needed. Different version numbering settings are available so you can customize version tracking capabilities according to your business's unique needs.
The Importance of Streamlined Communication During Contract Authoring
With contract management software, you can improve all communication pertaining to contract authoring. When creating a contract, you'll most likely have to receive inputs from internal and external parties to ensure all of the important details are properly relayed within the document. With streamlined communication pathways, you can improve response times between contract requestors and those authoring the contracts.
With our contract management software, you can also use audit trails to ensure your contracts are continuously monitored which can be helpful for later during negotiations. On our software solution, you can be confident in the security of your contracts with a user-friendly and secure Microsoft 365 and SharePoint-based platform. Due to an electronic approach to contract management, you can easily import external contracts (either physical copies and/or digital contracts) and then go forth in collaboration and negotiations with third parties. In addition, automated alerts and email notifications provide updates on the status of contract drafts which proactively keeps your contract management team in the loop of what tasks need to be accomplished on a given document. Authoring and retrieving contracts is effortless and accessible for contributors, as they can use any device and find documents within a centralized contract repository at their convenience.
The Advantages of Contract Templates and a Full Clause Library
A library full of compliant, preapproved contract templates can help your company reduce turnaround times, making contract lifecycles shorter in duration from the very beginning. With your collection of contract templates, you automatically safeguard against contractual risks and improve the rate of compliance of your contract management system overall. When using a contract template, a user can insert various metadata and preapproved clauses into the document seamlessly. Your preapproved clause library is also a major key to efficient contract generation. With access to numerous clauses, you can rapidly build compliant contracts.
Manual contract creation takes a very long time, so with automated processes and the features of an electronic solution, you can develop an organized, rapid, and accurate approach to contract authoring. Furthermore, you can add an extra layer of security by enabling permissions-based access tools so only authorized users can review and retrieve contract templates.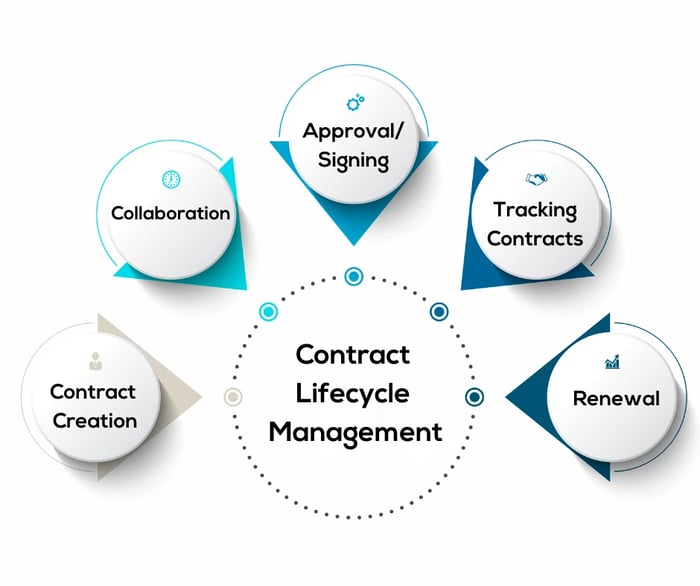 SharePoint and Office 365 Make Authoring Contracts Simple
Our contract management system is built onto your existing SharePoint and Office 365 so you can use automated workflows to auto populate data fields on contract templates. This helps to increase the speed and efficiency of contract creation. Avoid the pitfalls of a poor contract authoring stage by centralizing your organization's clauses, using version tracking tools, and systematizing your contracts. Here at Dock, we offer a powerful solution to creating compliant and accurate contracts.
Merge data and preapproved clauses into your contract templates, creating a dynamic and user-friendly method to authoring all of your organization's contracts. Managing your organization's contracts is easy with a centralized repository, where you can store all of your contract templates, preapproved clauses, and versions. Export documents with ease in various file formats so that relevant stakeholders can receive documents as needed. Once a document is drafted, you can easily send it off for reviews and receive feedback so you can continue creating the document. With your centralized contract management platform, you can send and receive document drafts effortlessly with internal and external stakeholders.

Conclusion
The contract authoring stage is one of the most critical stages of contract lifecycle management. At Dock, we provide a way to create contracts in the most efficient and compliant way possible. By centralizing all of your important contract information and requests for contracts, you can build accurate contracts within moments on any device.
The Dock 365 Contract Management System optimizes contract management during the contract authoring step of a contract's lifecycle. Dock works to empower your contract management team, vendors, and clients with rapid contract generation capabilities.
Ready to get started today? Reach out to us to learn more about our  Dock 365 Contract Management System.
If you would like more information, we welcome you to schedule a free demo with us today.