Contract lifecycle management refers to the successful administration of contracts and the manner that contributors effectively plan for each stage of a contract's lifecycle – resulting in the elimination, mitigation, or reduction of risks.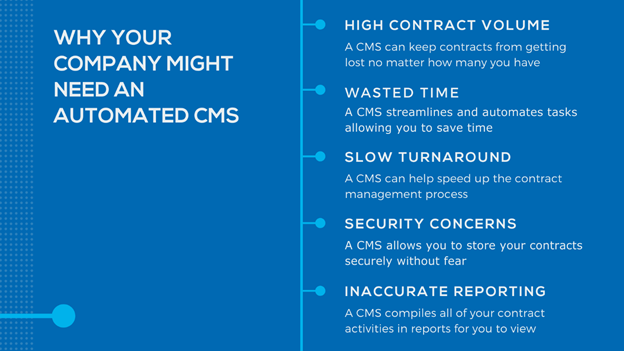 Let's discuss the first stage of contract lifecycle management: the contract request stage.
Content-
Stage #1: The Contract Request Stage
Contract lifecycle management begins with the contract request and intake process. In this stage, one party will submit a request, launching the contract lifecycle. The information submitted in their intake form is then used for contract creation, where the contract itself is authored.
During the contract request stage, the client will provide critical information pertaining to the desired contract, such as the contract start and end dates and pertinent milestones. What results from providing this information is audit trails and the saving and securing of the provided information into the contract lifecycle management software. In this manner, contract management administrators can use the data as needed by navigating to their contract lifecycle management dashboard.
Why Simplicity is Key in The Contract Request Stage
With a simple contract request and intake stage, you can efficiently organize new, current, and past contracts. During this stage of contract lifecycle management, contract management software can create an optimized experience for your clients from the start. A typical contract request might involve several different steps. For example, your company's legal department develops required documents for a new client (take a non-disclosure agreement, for example). Or, you might insert an executed contract into your centralized repository so it is available for ongoing tracking and monitoring.
A poor system for contract requests only leads to bottlenecks, wasted time and resources, and dissatisfied clients. By focusing on improving this stage of contract lifecycle management, you can improve client and vendor relationships from the start and increase ROI. Introducing an efficient and systematized contract request and intake process means that your contract management team and legal department will be at ease for the rest of the contract's lifecycle. With an optimized and organized contract request stage, you will improve document visibility and security, build standardization in contract request submissions, and reduce the potential for miscommunication.
With Dock, users can easily submit documents, request contracts, and create contracts on their mobile device at any time, no matter where they are located. Our system allows you to enable automated reminders and alerts so that users will be notified of the status of their contract requests.
The Key to Efficiency: Customizable Contract Request Forms
Customizable contract request forms make collecting important client and vendor information simple. Before setting-off an automated contract workflow, you'll want to utilize a request form. These customizable forms are a great source of information that allows for all of the critical details to be collected properly, creating efficient communication and clear expectations of what's to come for the future of the request itself.
Contract requests that are sent to the approval stage move along through the various steps of contract lifecycle management, and with a systematized contract request stage, you can reduce the duration of the contract's lifecycle. At Dock, our Contract Management System uses your business's customized contract templates, clauses, policies, and relevant metadata to properly auto populate forms. In this way, you increase both compliance and speed of your contract lifecycle management.
To this end, it's clear that an optimized contract request and intake stage will increase the efficiency of drafting the contract, allowing you to confidently send it off through the rest of the stages in contract lifecycle management.
Highlighted Contract Request Capabilities of Dock's Contract Management System
Our software solution is equipped with many contract request capabilities that centralize this stage of contract lifecycle management. These capabilities include the following:
Customizable contract request forms
Rapidly generated contracts (auto populated by metadata provided in request form and other information within your business's repository)
Compatibility with various document types
Customizable workflows for requests as they move to contract drafting, approvals, and other stages
Mobile accessibility (access documents at any time, any place)

The Need for a Centralized Contract Repository During This Stage
To maximize the efficiency of your contract lifecycle management, particularly in this beginning stage, it's imperative to have a cloud-based, centralized contract repository that will keep your contracts secured and organized. With your centralized repository, you can store contracts and enable permissions-based accessibility so only authorized users can retrieve, edit, and review contracts. In addition, your contract repository here at Dock is equipped with an advanced, filtered search functionality. With this feature, you can save customized filters so you can efficiently conduct similar searches on a regular basis. Browsing through numerous pieces of contract metadata is easy with Dock.
To add, users can search through the contract repository according to contract type, department, and other specific filters. To increase the accessibility, visibility, and ease of assembly of your business's contracts, transitioning to a digital approach to contract management is a necessary step to take. With contract lifecycle management software, you can leverage a fully integrated contract repository that will help in the overall storing and monitoring of your contracts and related documents. Dock offers businesses a customizable, user-friendly platform that is built into your SharePoint and Microsoft Office 365 that creates an optimal environment for contract building, contract automation, reporting, data analysis, and much more.
With Dock's contract repository, you will have access to features including the following:
Level and permissions-based security to give authorized users access to review, edit, and create documents
Encryption and storage of all contracts and documents, ensuring that only authorized users can access data through secured URLs
Comprehensive version control tools

and visibility, so users can accurately track document versions and statuses along with an audit trail of changes to each document
Full text search functions
Automated reminders and alerts to help keep track of critical dates, milestones, and other important deadlines
Flexible and customizable automated contract workflows
Improve client and vendor relationships by providing a way for them to stay in the loop on the status of their contract requests. Once a contract request form is submitted, requesters will be notified of any updated on their request. Our contract lifecycle management software allows your clients and vendors to get the answers on their contracts in real-time, making for seamless communication between you and your stakeholders.

Conclusion
Improve your business's contract management methods from the very beginning of contract lifecycles. Safeguard against communication mishaps and boost visibility for both your clients and vendors and your contract management team. With all the important information and contract status updates available in real-time you can develop a clear and efficient environment for effective contract management at the start.
The Dock 365 Contract Management System streamlines contract management from the contract intake and contract request step of a contract's lifecycle. Dock works to empower your contract management team, vendors, and clients with customizable request/intake forms, seamless approval and rejection steps, and increased visibility so your contract lifecycle management system can achieve businesses objectives and maximize returns on investment.
Ready to get started today? Reach out to us to learn more about our  Dock 365 Contract Management System.
If you would like more information, we welcome you to schedule a free demo with us today.