The fate of a business relationship depends wholly on the execution stage of the contract lifecycle. All the parties involved must sign the legal agreement to make it valid. Imagine spending the time to print contracts and requesting physical signatures from customers and suppliers. Businesses must wait a long time for the signee to sign and return the contractual agreement on top of the time they spend preparing it.

It is a needless waste of time and resources for everyone involved. Because of this, it is vital to make the signature step seamless, accessible, and far more efficient for all parties. And thanks to the electronic signature solution, organizations can reduce turnaround times and sign contracts within seconds from anywhere, anytime.
Contents
What are the benefits of electronic signatures?
Does Dock 365 offer electronic signature integrations?
What are the benefits of electronic signatures?
An electronic signature, also known as an e-signature, is a digital replica of a person's signature used to authenticate or confirm the accuracy of electronic documents, transactions, or communications. It serves as a digital substitute for a handwritten signature on paper documents. Electronic signatures are typically used to indicate consent, agreement, or authorization in various online transactions and business processes. Here are a few benefits of using electronic signatures for your contractual agreements.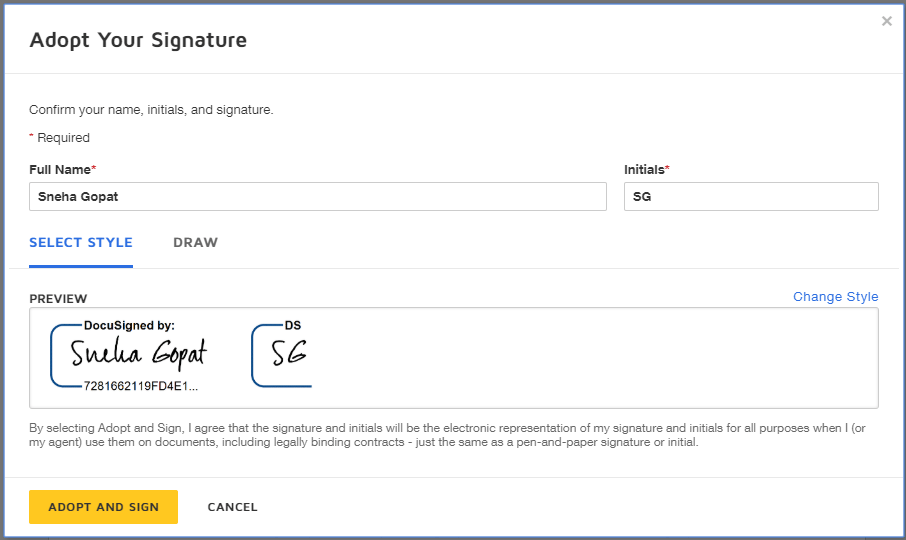 Accelerate Contract Execution
The contract management lifecycle frequently experiences delays due to negotiations and execution. Just consider exchanging contract drafts via email to negotiate terms or awaiting wet signatures to execute agreements. The entire process would take weeks or even months. It's a pointless hassle that no company has time for during onboarding customers, vendors, or even employees. Organizations can streamline the signing process for all parties by implementing electronic signature solutions.
Firstly, as digital signatures are repeatable, they can be reused throughout a contract's entire lifecycle. Consequently, clients won't need to sign the contract or document more than once. Moreover, every party involved in the contract can easily authenticate and take specific actions with an electronic solution. The software alerts the user if there are any mistakes or red flags. Lastly, e-signature allows users to access contracts and associated documents requiring a signature at any time, from anywhere.
Time is money, especially when it comes to contract management. Delays in contracting procedures can cause businesses to lose out on lucrative opportunities and even clients. By automating and streamlining the signature stage of the contract lifecycle through e-signature solutions, organizations can go a long way in saving both money and time. Electronic signing saves money by increasing accuracy and eliminating bottlenecks caused by wet signatures. By reducing the number of errors and the time and money required to fix them, the risk mitigation advantages provided by electronic signatures unintentionally reduce costs.
Electronic signatures offer the option of bulk and multi-party signing. When organizations have countless business agreements to execute, these features sure come in handy to improve efficiency and reduce costs. Consider the amount of paper, ink, printers, copiers, storage, various appliances, and repairs required for a manual signature system. Thus, the digital alternative certainly saves energy, resources, and money.
If businesses want to streamline the contract management lifecycle, they must make the legal agreements accessible to one and all. Whether it's a tablet, smartphone, or computer, involved parties can sign digital contracts from anywhere using electronic signature solutions. Many e-signature solutions offer collaboration features, allowing multiple parties to review and sign documents simultaneously. These features can facilitate accessible collaboration by enabling individuals to share feedback and engage in the signing process in real-time.

This remote access is especially beneficial for organizations collaborating from across the globe. And the parties can examine and sign documents at their own pace. E-signature solutions are compatible with a wide range of document types and languages. Thus, individuals can access the content of the contractual agreements according to their unique needs, ensuring equal access to information.
One of the benefits of the electronic signature solution is that it increases the security of business agreements. Businesses are vulnerable to data loss and tampering when using physical paper files. Electronic signature software enables organizations to be more efficient and secure, ensuring that sensitive data remains confidential and protected optimally.
The audit trail and version control can detect when alterations to data occur, alerting users of any tampering immediately. Digital audit trails, such as contract copies, emails, and signed certificates, are simple for organizations to follow, making them authentic and verifiable. Due to its higher level of security, electronic signature solutions are a widely accepted substitute for conventional signature techniques all around the world. The ESIGN Act, UETA, and eIDAS are several examples of legislation that prove the legal viability of e-signature solutions in the US and Europe.
According to a Forrester report, implementing an electronic signature app can significantly reduce errors by an astounding 80% on average. E-signature solutions eliminate the possibility of manual errors during the traditional paper-based signing process. Illegible handwriting, missing signatures, or incorrect information can lead to inaccuracies, delays, and contractual risks. E-signature solutions provide a standardized and legible representation of the signature, reducing the chances of inconsistencies or mistakes.
Another benefit of e-signatures is built-in validation mechanisms to ensure the accuracy of the signed documents. They can confirm the signature's authenticity, content's viability, and adherence to established guidelines or specifications. Additionally, they usually produce audit trails, which document the entire signing procedure, including timestamps, IP addresses, and other pertinent data. These audit trails provide a detailed record of who signed the document when it was signed, and any subsequent actions taken. The transparent and verifiable record of the signing process helps to establish accuracy.
Organizations must guarantee a seamless user experience to retain clients, employees, and suppliers. The trials and tribulations of a traditional signing process can repel any prospective parties. Adopting an electronic signature solution is a step toward boosting user experience. Simplifying the execution stage and reducing the turnaround times can improve business relationships. There's no need to download, sign, email, or snail mail documents back and forth to finalize and execute your agreements.
By implementing electronic signature capabilities, stakeholders will no longer need to switch from app to app or download files, adding user-friendliness and efficiency. Clients can sign paperwork and agreements anywhere and use any device. With timestamped histories, businesses can easily oversee the signing process to timely mitigate bottlenecks. The audit trails guarantee that organizations will never again misplace or lose a contract.
Business operations rely on multiple applications to carry out their daily operations. But switching between platforms during the contract management lifecycle can hinder their business relationships and productivity. Fortunately, electronic signatures seamlessly integrate with existing systems, such as customer relationship management (CRM), ERP, Vendor Management platforms, or document management systems.
Organizations can take proficiency one step further by opting for contract management software with built-in e-signature integrations. It enables users to create, negotiate, approve, and sign business agreements within the CMS platform. These seamless workflows can enhance overall operational efficiency and fast-track contract lifecycle. Parties can sign documents digitally from anywhere, using their preferred system, thereby improving user experience. E-signature allows for data exchange and eliminates manual data entry, improving accuracy and reducing the risk of errors in contract approvals.
Does Dock 365 offer electronic signature integrations?
Collaborating with contract management software enables businesses to reap all the benefits that e-signatures offer your business. Dock 365 CMS integrates with electronic signature providers like DocuSign, Adobe Sign, and Sertifi to provide users with a hassle-free contract signing experience, a step above the rest. It can help your business accelerate the speed of contracts, improve the security of signatures, and enhance customer satisfaction. Organizations can make use of automated workflows, pre-approved templates, and clause libraries to create accurate contracts. And they can get these agreements straight to the clients or vendors for execution with e-signature integration. Thus, organizations can simplify the contracting process and make signing easy for clients and vendors.
Dock's Office 365 and SharePoint-based contract management solutions can streamline all aspects of the contract management lifecycle. Book a demo today to take your contract management process to the next level.