How do you use a business contract and what does it entail? Let's take a deep dive into all-things business contracts and learn more about how you can properly use them in your contracting strategy.
In a fast-growing business, you'll certainly develop contracts with your clients, vendors, and employees fairly regularly. Enter business contracts. Business contracts work to set legally binding agreements consisting of obligations and rules that each party must adhere to. In this post, we'll discuss what business contracts are as well as explore a couple of examples of business contracts.
Content-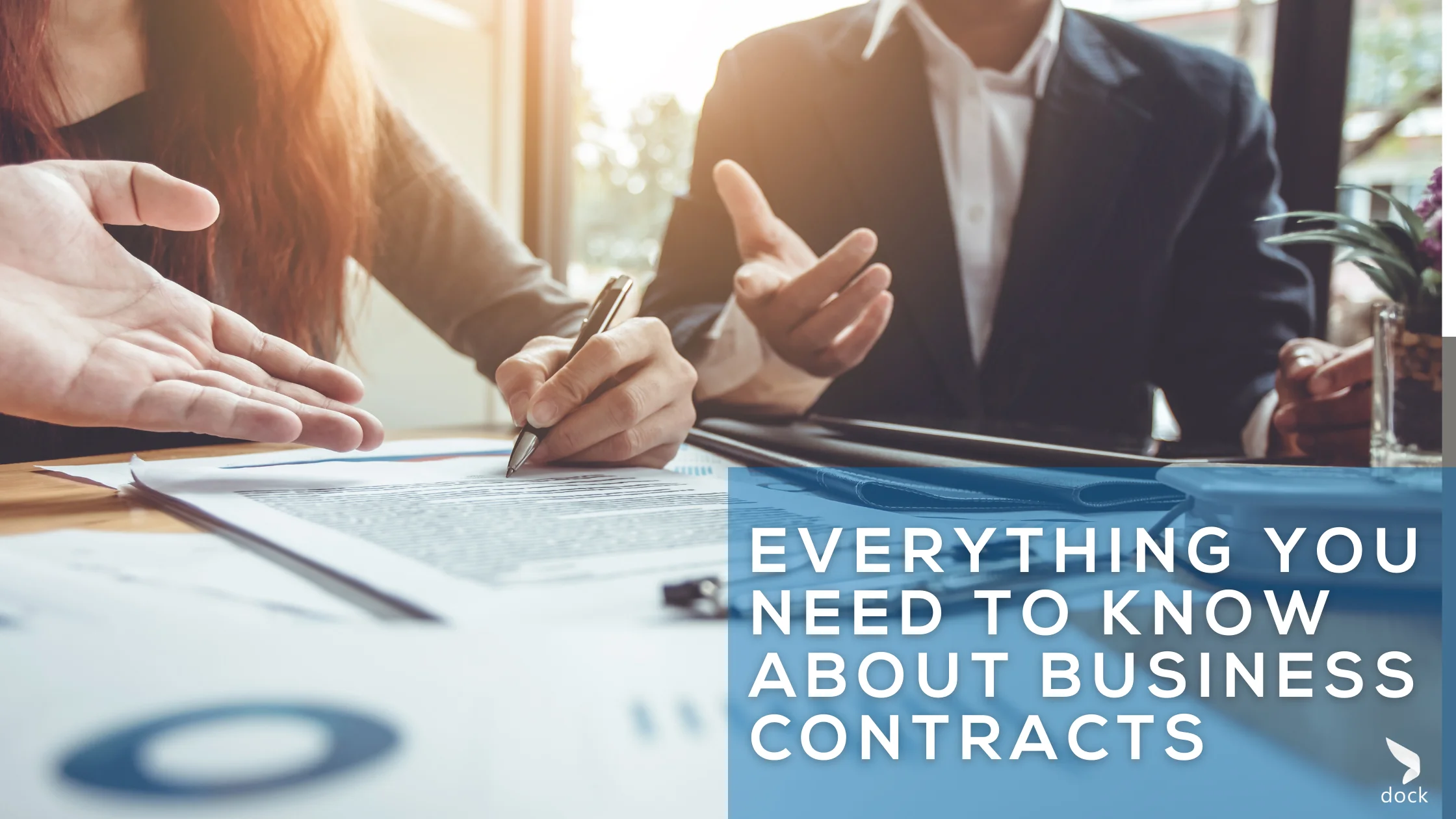 What is a business contract?
A business contract is a contract formed between parties that oversees all business-related transactions. Business contracts include contractual terms, key dates, deliverables, and payment timelines for promised services and products. Business contracts are used when entering business agreements, when purchasing and/or providing products and services, and when protecting confidential business information.
The

Importance of Business Contracts
Business contracts are foundational to every business. Here are a few reasons why:
Business contracts are documentation of business relationships and obligations owed within these relationships.
Business contracts support businesses in

mitigating risk.
Business contracts clearly describe promises between parties regarding services and payment figures/timelines.
Business contracts serve to support revenue increases, as they work to close deals.
Business contracts help increase compliance of the business itself.
Your business contracts serve to display the professionalism and expertise of your organization, demonstrating your care for each agreement. Contracts are a cornerstone of business partnerships, supporting communication and collaboration with future employees, customers, and business partners.
Types of Business Contracts
Business contracts can be separated into three different categories:
Sales contracts
A sales contract is an agreement that describes the distribution, sale, purchase, and/or transfer of goods and services. Some examples include statements of work, warranties, and bills of sale.
Supplier contracts
This contract type refers to a legal agreement between suppliers and businesses that control the trade of products and goods. A distribution agreement is a common example of a supplier contract.
HR and Employment contracts
HR and employment contracts regulate employer-employee relationships. General employment contracts and independent contractor agreements are included in this category.
Common Examples of Business Contracts
Now that you have a better understanding of a variety of contract types, let's take a look at some common examples of business contracts.
Letters of intent
A letter of intent is an agreement between two or more parties describing one's intention to conduct business with the other party. These are commonly created earlier in business relationships, used prior to entering a formal contract. Similar to contracts, letters of intent typically contain designated responsibilities for each party. This type of business contract is used to remove bottlenecks when standardizing an agreement, working towards more contract efficiency.
License agreements
License agreements work to give a counterparty the permission to use the other party's trademarked or patented materials. Within these agreements, documents will describe the entirety of the licensing agreement, including the method of payment and terms of use. In addition, this agreement will contain relevant information that works to mitigate future conflicts pertaining quality control, royalties, and more.
Membership agreements
In a membership agreement, a business and its members develop contracted terms and expectations. Specific membership agreement details vary according to the service being offered. However, these agreements typically include information regarding obligations, use restrictions, privacy parameters, and additional fees. Similar to the majority of business contracts, membership agreements are created to create clarity and prevent conflict between a business and its clients.
Non-disclosure agreements
Non-disclosure agreements are used in commercial environments to keep confidential business information protected, working to establish trustworthy business relationships between parties. NDAs are used regularly in businesses, so digitizing and automating your NDAs can support business efficiency.
Purchase orders
These business documents are provided by buyers to the seller to detail the sale of a product or service promised to be delivered. A purchase order supports clients, as they help clients place orders with suppliers without needing to pay on-the-spot. Purchase orders are advantageous to sellers because they know that buyers are legally bound to pay upon the delivery of the product or service, allowing them to substantially reduce risk.
Software as a Service agreements
A Software as a Service (SaaS) agreement defines the terms of software delivery, as data and the software itself are configured centrally, giving users the ability to access them via internet connection. Because data is imported into a cloud-based system, there's no need for additional hardware in a SaaS platform.
Service level agreements (SLAs)
Technology-based vendor contracts and service level agreements go hand-in-hand. An SLA is used to describe the vendor's service. An SLA details the criteria the vendor's service will be compared against. In addition, SLAs discuss the solutions available in the case a service does not match up to expectations.
In the market for business contract templates?
If you're in the market for business contract templates, then look no further than Dock 365. An inefficient approach to your company's business contracts can cost you both time and money, so why settle for suboptimal contracting when you can automate and increase the value of your contracts?
Our business contract templates and comprehensive library of preapproved contract templates support your company in rapidly building accurate, complaint business contracts. Empower your employees to self-serve on contracts with auto population of the most critical details without the need to manually re-enter data.
Gain Business Contract Efficiency with Dock 365
Dock has supported several business and industry leaders with a solution that optimizes contract workflows. Are you ready to gain the competitive edge?
Here at Dock, we leverage your existing Microsoft Office 365 and SharePoint subscriptions for a user-friendly and cost-efficient approach to contract lifecycle management. Our end-to-end contract management system supports all of your departments, from legal and finance, to HR and operations, in all of your contracting needs and activities.
Ready to learn more about our Dock 365 Contract Management Software? Click here.
Interested in Contract Lifecyle Management (CLM) Software? Click here.