Human resources (HR) functions as the base for all of your organization's operations due to how this department directly impacts your recruitment and hiring processes. And while HR isn't necessarily the biggest driver for business revenue, it is a department that shouldn't be overlooked in the slightest. Because of this, you should always give HR an appropriate amount of consideration when you upgrade your software and systems. By investing into your HR department, you'll ultimately save money and time in the long run as well as increase your return on investment in other areas of your business.
You might be wondering where the connection lies between contracts and your human resources department. Contracts essentially set the standard for all business operations, and HR plays a key role maintaining them. HR helps to oversee various legal agreements and associated documents that pertain to a wide variety of organizational and management-related challenges. The results of these challenges have the potential to impact your company's revenue and legal expenses.
Content-
Easily Create and Store Employment Contracts
Contract management software built specifically for HR makes it incredibly easy to draft compliant employment contracts and securely store them within a centralized, cloud-based repository. Drafting your employment contracts is made simple with preapproved contract templates and a full clause library. Leverage the contract template feature to create standard employment contract templates to expedite the contract authoring stage and ensure compliance.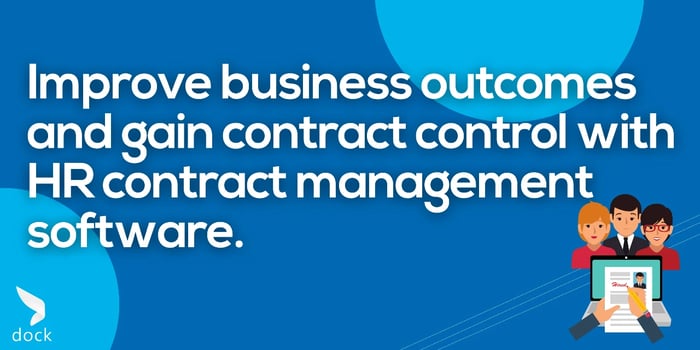 Types of Contracts Commonly Found in Your HR Department
Within your HR department, contracts are involved in the following ways:
Non-Disclosure Agreements (NDAs)
These legal agreements are created to protect sensitive information (often commercial and proprietary information). For more information on non-disclosure agreements, click here.
Training and development procedures
Contracts are developed to include the obligations, requirements, and other pertinent details regarding training and development for employers and employees. To improve employee skills, develop your employees, and gain new recruits, a plan for training and development procedures is essential. These contracts might also include information like agreements with parties contracted to provide professional development and employee training services.
Performance reviews
In your HR contract management system, you will likely create and store several performance review documents. These reviews, when properly managed, can improve your return on investment throughout your business.
Disciplinary action procedures
In the case that an employee fails to adhere to workplace rules and expectations, these disciplinary procedures serve as a comprehensive guide for the next course of action. These procedures are required to mitigate and minimize the legal issues that can lead to some major expenses.
Remuneration problems and negotiations
By implementing an HR contract management system that properly manages your contracts and associated documents, you can control discussions regarding remuneration and related negotiations.
Benefits and entitlements
To tightly control your workforce's benefits and entitlements, an HR contract management system is essential. An HR contract management system allows you to securely create and store these documents.
Wrongful termination and appeals
If your organization is accused of wrongful termination, your HR contract management system plays a key role in your defense against such claims.
Non-compete clauses and agreements
These clauses and agreements place necessary restrictions on your employees, ensuring they do not work with other businesses that are a direct competition to yours for a set time period. In this way, you protect your private business information, objectives, and interests.

Leverage HR Contract Management Software To Improve Business Outcomes
Contract management software built for your HR department can improve employee productivity because it allows for an efficient, standardized approach to maintaining your contracts.
By increasing the control over your organization's legal agreements – especially those regarding your employees – you can significantly improve workplace rapport and professional relationships with your staff.
Businesses that prioritize career opportunities for employees, backing up this support with their employee contracts, means the employees will likely want to continue to put their best foot forward. Contracts containing terminology and information detailing performance reviews, results, timescales, etc., oftentimes result in parties continuing to put forth efforts with a clear understanding of exactly what is expected of them per contracted obligations. In addition, your HR contract management system can support you in managing your employees, especially when there is movement throughout the company. Your software solution can easily monitor staff movement – increasing both accountability and visibility within your organization.
Now, in the case that there are conflicts within your organization, your HR contract management system can stand up to the challenge and support you through conflict resolution. A contract repository allows for the secure storage and rapid retrieval of all important documents so that you have the most current versions available when needed most. Version histories and complete document access records are additionally advantageous to have within these scenarios.
In terms of implementing a contract management system into your HR department, the main role of this software solution is not document management. An HR contract management system can include flexible contract automation capabilities, allowing your HR employees to allocate more of their time and dedication towards working with employees as opposed to lower-priority, administrative activities. In this way, conflict resolution can become a strength and reduce the potential consequences associated with legal issues and missed sales opportunities.

The Best Way to Implement An HR Contract Management System
To make the most out of your contract management system, we suggest integrating your solution with your human resources department in a phased implementation. This gives your organization enough time to properly train employees on the new solution so that they can gain a complete grasp on the system capabilities. In addition, your employees will be able to raise questions and concerns regarding the software in the early stages of the implementation, meaning the system provider can easily meet their concerns and needs with solutions and direct clarification.
Configuring your HR contract management system is one of the most crucial parts of the system implementation. Successful configuration of your software can ensure that the solution appropriately meets your organization's business needs and objectives desired from adopting a new solution.
Automate Reporting With A Contract Management System Built For HR
Configure automated reporting features with your HR contract management system to gain insights and data on several areas of your organization. For example, you can get the most up-to-date information on the following areas with your software's reporting capabilities:
Contract expiry dates
Contract auto renewal dates
Contract renegotiation dates
Performance review results
Professional development milestones
One of the most important parts of system configuration is the development of a preapproved contract template and clause library within your centralized contract repository. These are crucial, as the templates can assist you in building several types of employment contracts (non-compete, Non-Disclosure Agreements, etc.) with standardized clauses appropriate for these legal agreements. Through the standardization of your organization's legal terminology within your legal agreements and related documents, you create a risk-mitigative and reliable method of managing company contracts and other agreements organization-wide. Other software features like audit trails and permissions-based access can increase compliance and regulatory adherence.

Conclusion
By integrating a dedicated contract management system with your company's human resources department, you will increase your return on investment by way of increased efficiency, productivity, and risk mitigation. You can save extensively by cutting on costs pertaining to conflict resolution and administration while gaining control on HR-related documents and agreements.
Here at Dock, we leverage your current Office 365 and SharePoint subscription so that you can make the absolute most out of your Microsoft subscriptions. As a Microsoft partner, we have extensive experience in supporting enterprise-level organizations and small businesses in streamlining their contract management with the assistance of Microsoft tools and integrated business solutions.
For a cost-efficient and proven approach to contract management, we're here to help you at Dock 365.
Interested in our Dock 365 Contract Management System? Click here.
Want to learn more about Contract Lifecyle Management (CLM) Software? Click here.