A successful contract is the result of several stages, reviews, and completed tasks within the contract lifecycle. For example, redlining of contracts, negotiating, and editing and are key elements that play a role in the accuracy and compliance of a given contract. While redlining and negotiations may appear to be rather complex processes, you can develop strategies and utilize Contract Management Software to increase the efficiency and effectiveness of these specific stages.
Content-
What is Redlining?
"Redlining" in the context of contracts refers to the process of editing and revising a legal document. During redlining of contracts, parties will make "redlines" on a given contract, and then decide which redlines to accept or reject. Redlining is key because once parties have agreed to the redlines, they can then move on to the signing and execution stage of the contract at hand.
Redlining often occurs during the contract negotiation stage of a contract's lifecycle when parties are working to complete and finalize their contracts. When a given party edits what they wish for the resulting contract, any changes and additions are documented on the contract in red font, making it easier for a counterparty to view any change made on the document.

How Can Redlining Software Benefit My Business?
With a user-friendly software solution, you can use contract redlining software features to streamline contract negotiations and keep all changes tracked and monitored in a centralized location. Here are three reasons why redlining software is advantageous:
Version control

– When working on a given document, you can use version control capabilities to ensure that only one person is making changes to a document at a time. Microsoft offers a

check in/check out feature

to ensure exactly this. In addition, you can review timestamped changes and all document histories with redlining software.

Track information regarding

negotiations

– All of your contract negotiation data is kept with comprehensive audit trails that detail who, what, and when changes were made on any given document. A contract management software solution with contract automation and redlining software capabilities makes this possible.
Contract approval workflows

– With a dedicated contract management system, you can assign contracts and tasks to the correct users to ensure that contracts are approved in a timely manner prior to signing and executing them.
Contract redlining software solves many problems associated with contract lifecycle management. For example, contract redlining helps with formatting, clarity, compatibility, and the inclusion of appropriate metadata, all in addition to the previously mentioned benefits. Any issues pertaining to these items are completely solved with the assistance of redlining of contracts capabilities provided by contract management software. Redlining features can significantly help legal departments swiftly complete the contract redlining software process by removing extraneous challenges and bottlenecks, increasing the productivity and simplicity of negotiations and of editing of key contracts.
5 Tips For Optimized Contract Redlining and Negotiations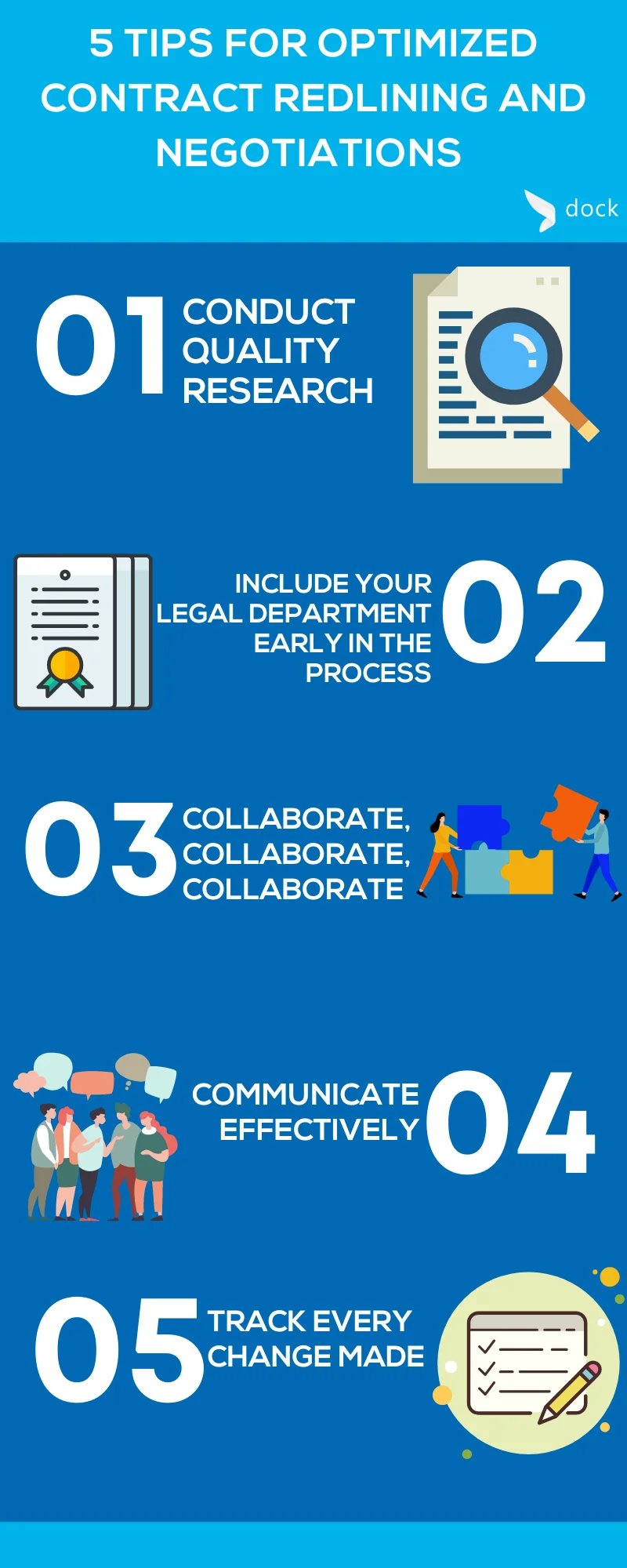 Due to the collaborative nature of contracts, it's necessary to document every change made to each draft in order to maintain its security and integrity. For the most effective management of redlining and negotiating of your company's contracts, take a look at the following 5 tips:
Tip #1: Conduct Quality Research
Take your time to complete quality research so you can ensure that you take part in the best deal possible when undergoing negotiations. Carefully research regulations, industry practices, and your counterparty prior to undergoing contract negotiations. In this way, you can master your negotiations and build positive and productive business relationships that will assist you in your future contracting successes.
Tip #2: Include Your Legal Department Early In The Process
Your organization's legal department is an incredible asset that can significantly help you during contracting processes. Legal is key to contract drafting and reviews, so leverage their assistance early on! Your legal team can ensure the compliance, legal validity, and accuracy of each contract when they conduct their reviews, and this is critical to avoiding risks and liability.
In addition, legal can provide all of their insights and legal expertise so that only the best possible contracts are authored. With their extensive knowledge and understanding of legalese, your legal department can pinpoint specific areas in a contract that might be more difficult to understand, which can help during negotiations. Your legal team's perspective can help you gain confidence that all important clauses are terms are included in your contracts.
Tip #3: Collaborate, Collaborate, Collaborate
Collaboration is key when working on your contracts, and more particularly so when undergoing negotiations and revising your drafts during redlining phases. Your legal team and other involved departments (i.e., operations, finance, procurement) can work cohesively to design the best possible result. By combining the expertise of multiple departments, you'll ensure that you cross your t's and dot your i's on all of your companies contracts.
Having multiple teams and people review your contracts is an excellent risk mitigation strategy that can help decrease the possibility for compliance issues and human error. You can develop an organized and systematized process for cross-department collaboration and communication that can lead to contracting success.
For seamless collaboration, we suggest leveraging contract management software that centralizes all of your collaborative efforts – especially where multiple departments and teams are concerned. Working together on every document and detail can be difficult, so using an in-house solution for tracking changes and inputs on your contracts is the key. Our Dock 365 Contract Management System offers several incredible Microsoft 365 features that are collaboration-minded, which will greatly assist during contract authoring, redlining, negotiating, electronic signature collection, and finalizing your contract drafts. Our solution is additionally equipped with electronic signature integrations from providers like DocuSign, Adobe Sign, and Sertifi to make signing fast and easy.

Tip #4: Communicate Effectively
Having effective lines of communication is central to a successful contract negotiation process. Contract negotiations follow the detailed editing and legal contract review process, so with open communication, you can ensure your concerns are made known to your counterparty. Without appropriate channels of communication, you might damage business relationships with contractual parties – which can hurt your future contracts and opportunities.
Thankfully, contract management software can ease many of the tensions and challenges involved when communicating during redlining and negotiation processes. With Dock 365, you can finalize your contracts with speed and efficiency by including all of your participants in the software platform. In this manner, all customers, suppliers, and employees can discuss important contract information with customizable channels within the software.
Because our software centralizes your contract reviews, redlining, and negotiations, your teams can review and add comments to ongoing draft discussions and editing efforts. Now, you can easily ensure that critical version change information is documented and communicated to everyone involved. Dock's system is additionally equipped with contract recording and monitoring capabilities that track all of your ongoing conversations within your centralized platform, which will ultimately enhance your communication.
Tip #5: Track Every Change Made
Editing your contracts is an essential component to every negotiation stage within a contract's lifecycle. One of the most important elements of contract redlining and ensuring contract compliance is confirming that all changes are documented in extensive detail, including information regarding who made the changes, when the changes were made, and what the changes were.
In previous contract editing systems, users would track changes by downloading drafts into Microsoft Word, then make the appropriate changes, and then send the document back via email. However, if two people make changes to a given draft at the same time, you can run into serious version control, accuracy, and compliance issues. This can lead to some pretty monumental mistakes that can take an extensive amount of time to reconcile.

Conclusion
Contract redlining and negotiations are some the most critical processes within contract lifecycle management. However, there are several contract lifecycle management (CLM) software solutions available today to ease any of the challenges associated with these tasks. One of which is the Dock 365 Contract Management System.
Dock 365 offers a powerful and productive approach to managing your organization's contracts with a cost-efficient and intelligent software platform. As a Microsoft partner, our solution utilizes your Microsoft 365 and SharePoint subscriptions to assist your company in all of your contract-related needs. With the a centralized contract repository, cloud security, automated contract workflows, easy implementation, and a user-friendly software interface, Dock 365 is the best modern solution for the most powerful approach to contract management for any organization.
No need to waste any energy, funds, and time on an outdated contract management approach. Instead, centralize and streamline your nonprofit's contracts today with Dock 365.
Learn more about our Dock 365 Contract Management System here.
Learn more about Contract Lifecyle Management (CLM) Software here.
For more information, we welcome you to schedule a free demo with us today.