Contracts multiply exponentially as an organization grows. With increased business growth comes the bigger hassle of managing numerous contracts. Each contract brings it own set of parameters that need to be meticulously addressed and managed. Terms, conditions, renewals, approvals and the list is endless.
Despite the size or type, organizations across the globe are realizing that streamlining and improving Contract Management Process is becoming vital for business success. A comprehensive and customizable solution.
Utilizing a SharePoint environment can play a great role when it comes to efficiently managing contracts. Eliminating unwanted renewals, automated reminders, curbing legal expenses or improving spend visibility-an efficient SharePoint based Contract Management System is all you need.
Introducing Dock's Contract Management Portal powered by Office 365 and SharePoint. Bid adieu to all your contract management hassles, compliance issues and contract inaccuracies. Focus more on your core business activities with Dock's Contract Lifecycle Management (CLM) solution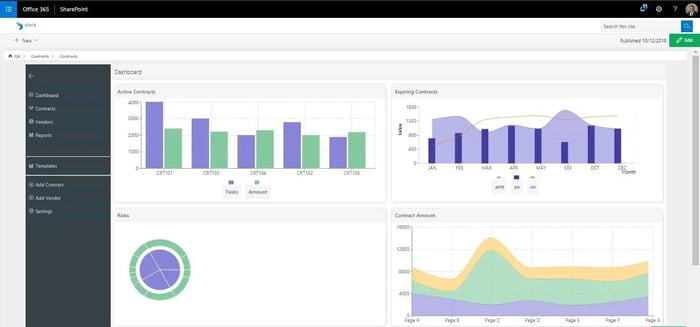 Dock Contract Management Portal Dashboard
Features
Utilizing a SharePoint based contract solution will enable you to leverage some of the most sought after features of the platform.
Microsoft Office Suite Integration
Undoubtedly, the biggest advantage of using a SharePoint based solution for managing your contracts is the seamless integration with Microsoft productivity suite (Word, Excel, Outlook, etc.)This will enable your contracts as well as legal team to use the tools they are comfortable working with to draft, review, edit or approve documents.
Central Repository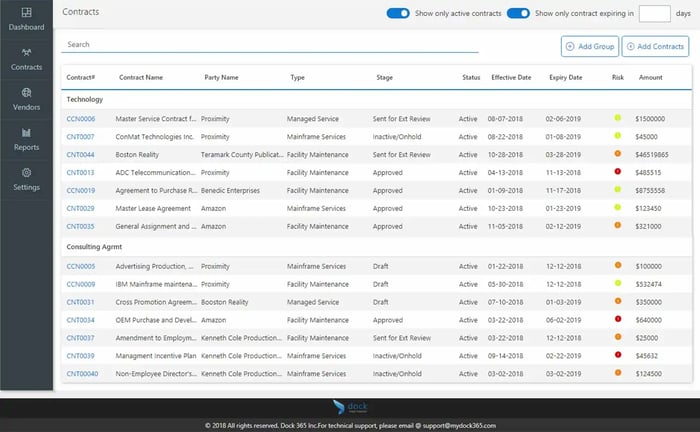 The web based platform offers a central repository to store all your business critical contracts and related documents. Employees with appropriate access can work on the contracts irrespective of the device and physical location. With SharePoint, they can even work off-line on the contracts despite a poor internet connection.
Enhanced Search Capabilities
With custom content types and categorization based on different groups like IT, Technology, Real Estate, employees can have quick access to the content they are seeking. Your employees will no longer need to spend hours to find a particular contract.
Alerts and reminders
Get rid of auto-renewal of unwanted/redundant contracts with automated alerts and reminders. Never miss an important renewal, payment or expiration date. Your team can pre-schedule automatic alerts based on a contract's status and its important milestones.
E-signature integration
The platform can be easily integrated with e-signature software such as DocuSign. The integration digitizes the contract lifecycle ensuring requisite compliance are met and completely eliminating wet signatures and personal meeting. Thus resulting in faster contract closing.
Security and Access
Built on SharePoint, Dock's Contract Management Portal offers advanced security features and access control. Access to files and documents can be restricted from a particular user or group of users based on various permission levels granted. This ensures that business critical sensitive data is protected from unauthorized individuals.
Ready to know more ? Experience our ultimate Contract Management Solution built on Microsoft SharePoint and Office 365.
Schedule a Demo NOW!!