The priorities when managing vendors is the same for most companies. Controlling costs, handling vendor management risks, and assuring the best service to customers are some common priorities. A Vendor Management System can handle all these demands from a single platform. Modern businesses do not just need to store and retrieve all vendor-related data from one place, but they need more smart capabilities. They must have capabilities to analyze, review, and rate vendor information to make decision-making easy and collaboration more efficient. The scorecard is a prominent feature in vendor management. Dock 365's Vendor Management Software comes with integrated scorecard capability.
Let's learn more about vendor scorecards and what difference they can bring to vendor management.
Table Of Contents-
What are Vendor Scorecards
In simple words, vendor scorecards help you to measure vendor performance at different levels. As you might know, there are multiple areas where your collaboration with the vendor should work to get successful with a contract. With a vendor scorecard associated with each vendor, you can rate their performance in various areas such as finance, performance, relationship, thought leadership, etc.
The main intention behind these scorecards is to analyze vendor-related processes, identify issues and implement remedies immediately. It can also make great contributions toward cost control and solidifying your relationships with vendors. Let's take a detailed look into the objectives this vendor performance assessment tool can accomplish.
What are the objectives they
fulfill
Your team will be able to get a quick overview of a vendor in terms of performance, collaboration, and other contributions in contracts with them.
By configuring the scorecard according to your preference, you can define the performance areas that are significant to your business.
Apart from delivering the quality products or services they have promised, getting ideas and suggestions from our vendors for driving enhancements is critical.
Evaluate your vendor scorecards to communicate your vendor expectations more precisely.
6 factors to consider while creating a vendor scorecard
To make your vendor scorecard, you need to set your criteria. However, the core factors to track or assess your vendors remain the same. Take a detailed snip at the following factors to make your vendor scorecard effective.
1.
Quality of service
Details about how well the vendor performed in terms of delivering the promised services and its quality matter. Verify how well the vendor performed in meeting the expectations set in providing these values. The vendor scorecard is the easiest tool to assess how well they are maintaining the service level promises.
Being one of the most important qualities a vendor should assure, this is one section in your scorecard that needs to be precise.
2.
Easy to work-with
The most preferred kind of vendors is those which are easy to work with. Those vendors who are difficult to communicate with and collaborate with are not recommended. It costs you financial loss and makes your employees frustrated too. You can overcome this by marking how easy it is to work with them on the scorecard.
The processes they are following, the technologies they are using, and the cultural values they hold may also become an important factor in determining the level of easiness in working with vendors.
3.
Optimizing budget and costs
If your vendor is helping you to stay within the mentioned budget or cut costs in the contract, then they are doing well. Some parties suggest better ideas and ways to cut the cost further. Those vendors with an excellent cost-saving mindset surely deserve a 5-star rating on the scorecard.
Vendors who are providing you with products and services for the price mentioned in the contract are great. Those who are providing extra input to help you save more are extraordinary. Make sure your scorecard has the option to mention both. Dock 365's Vendor Management Software allows you to add notes against each rating. You can use this option to add any reason or comments regarding their performance.
4.
Compliance score
The rules and regulations surrounding businesses and contracts are getting stronger as time goes on. As you already know, vendors need to comply with a lot of third-party compliance mandates and government guidelines today. Track these compliance details and how well your vendors are maintaining their compliance through the scorecard.
5.
Futuristic ideas and suggestions
Like the way you expect your vendors to suggest ideas to reduce cost, you need to assure that they are doing business in futuristic ways. Especially in the case of your most important vendors, keep analysing their inputs for improving the way you do business. Check whether they are adapting to the changes and advancements in their industry frequently. This is very critical in determining your business success too. Make sure you are rating these contributions in the vendor scorecard.
6.
Introducing new services and products
As part of thinking and acting futuristically, your vendors need to come up with new products and services which assure better outcomes. Outdated services and product range will not help your business in the long run. Assess this progress in your scorecard to see whether your vendor is moving forward along with time.
How Dock 365 Implemented the Vendor Scorecard to its CMS
Dock 365's CLM Software is offering a Vendor Management Solution Add-on which helps businesses to handle vendor data along with the contracts. As accurate vendor details and the right updates make a big difference in your contract success, you should not miss these additional capabilities in any way.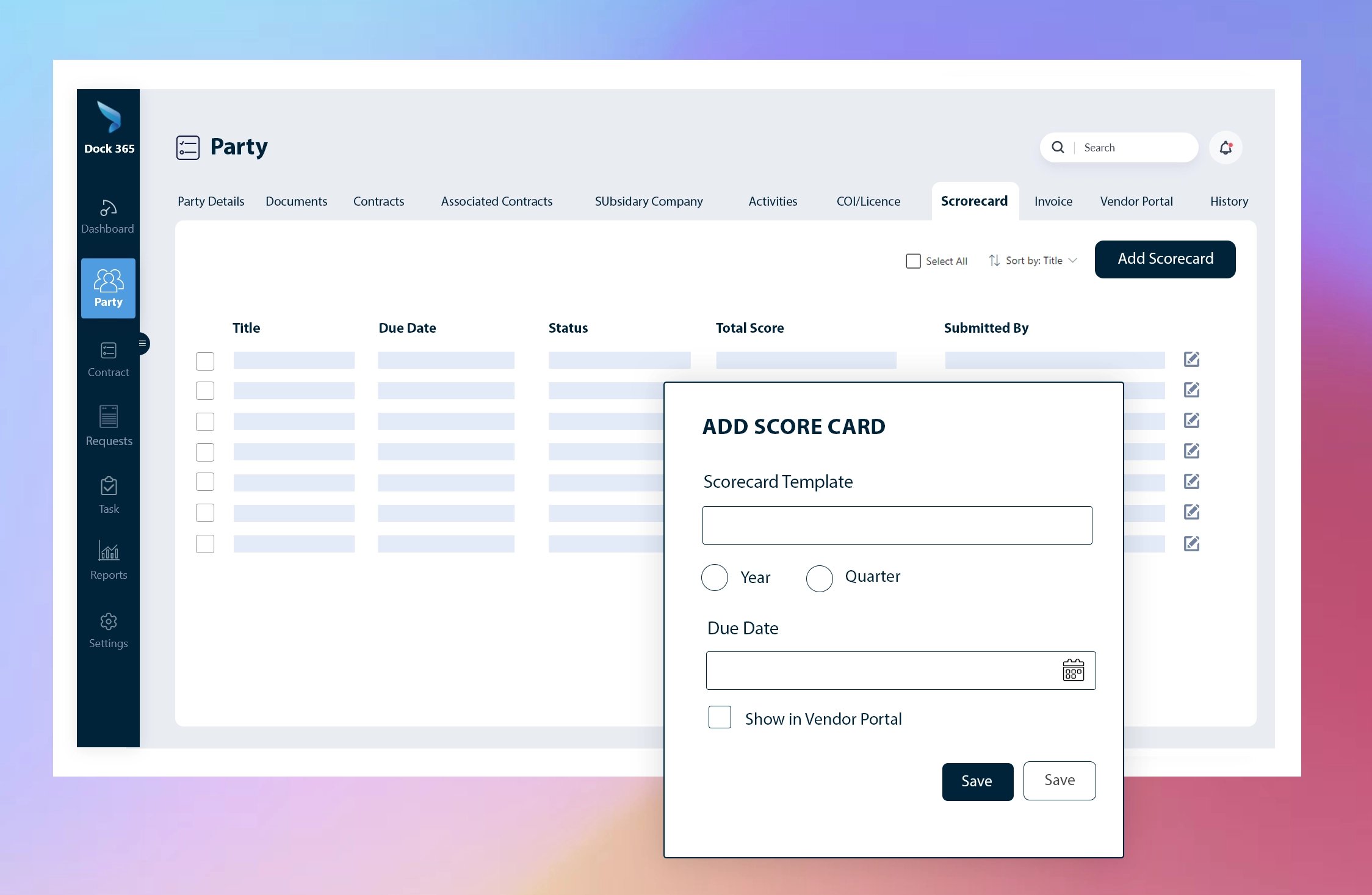 To let you evaluate the performance of your vendors effortlessly, we have integrated a scorecard along with every vendor's detail page, which gives you the level of quality maintained by each vendor in areas like finance, performance, relationship, and thought leadership. Each of these sections comes with subsections to analyse each area even deeper.
Vendor Rating and Risk Status data
Apart from the integrated vendor scorecard, Dock's VMS also comes with a dedicated vendor rating option and the ability to mark the risk status of each vendor. The star rating is a general review of the vendor based on their overall performance and quality. You can rate each vendor from 0 to 5 stars.
The risk status can be identified based on the cost, performance issues, or any other factor that might be making you think that collaborating with a vendor is either high, medium, or low risky. This will surely help members of your contact management team to make decisions more wisely.
Other vendor management capabilities you should opt
Vendor questionnaires are another feature of Dock 365's VMS that helps you to gather additional information from vendors. Create custom questionnaire templates to demand specific details and updates. A centralized repository makes it easy to store and retrieve data easily for everyone in the team.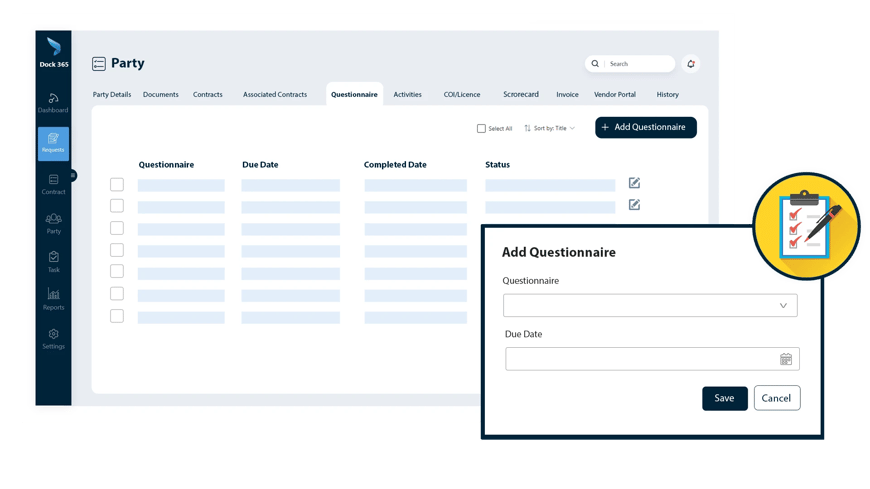 Furthermore, your vendors can update their information in your vendor portal. This makes your vendor data precise. They can also upload and collaborate on documents. Vendor notifications, reports, and standard customization options are also highlights of Dock 365's Vendor Relationship Management Software.
Here is a sneak peek into Dock 365's Vendor Management Software and its dashoard view.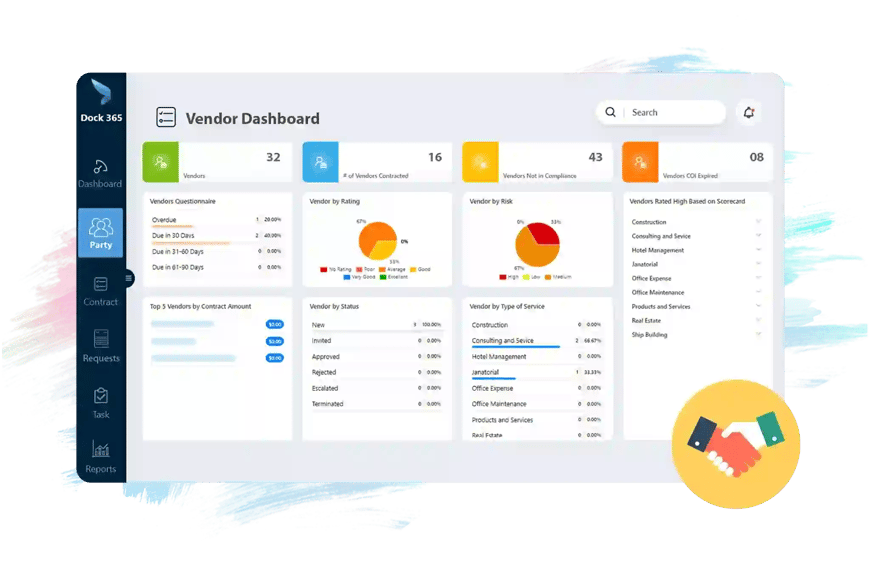 Book a live demo now to see how the vendor portal works.