Is your Contract management system evolving along with your business? Or are you still managing contract requests, tracking status, renewal dates in spreadsheets and drives?? If your answer is yes, then its high time you switch to an automated contract management system. The benefits are countless!
The Contract management process is not only about managing contracts but also execution and analysis of the contracts with an aim to maximize operational and financial performance while reducing overall financial risks.
Essentially a contract goes through a life cycle with different stages:
Initial request

Legal generation

Negotiation stage

Approval process

Execution stage for storing

Search/report for the analysis of the contract

Compliance stage for each party to hold up their end of the agreement

Amend/review stage wherein the contract will need to lapse, renew, or renegotiate
With so many stages for a single contract, there is no doubt that an organization needs an effective Contract Life Cycle Management (CLM) system. It is an excellent method to manage your contracts right from the initial stage till the last stage in the cycle.
At Dock, we understand the importance of a contract management solution that can significantly increase operational efficiency and cost savings. Thus, we offer a full-featured solution built on SharePoint and Office 365 that streamlines your entire contract management process. Our solution helps you:
Manage contract creation

Send automatic notification alerts for renewals, deadlines, and expiring contracts

Easily find critical contract details for business transactions

Create a

uto-reminders and an audit trail to help you manage contractual responsibilities and important dates

View your contract life cycle in real-time for updates, history, etc.

Track changes with version control

Integrate an e-Signature platform to allow workflow integration and accelerate the entire process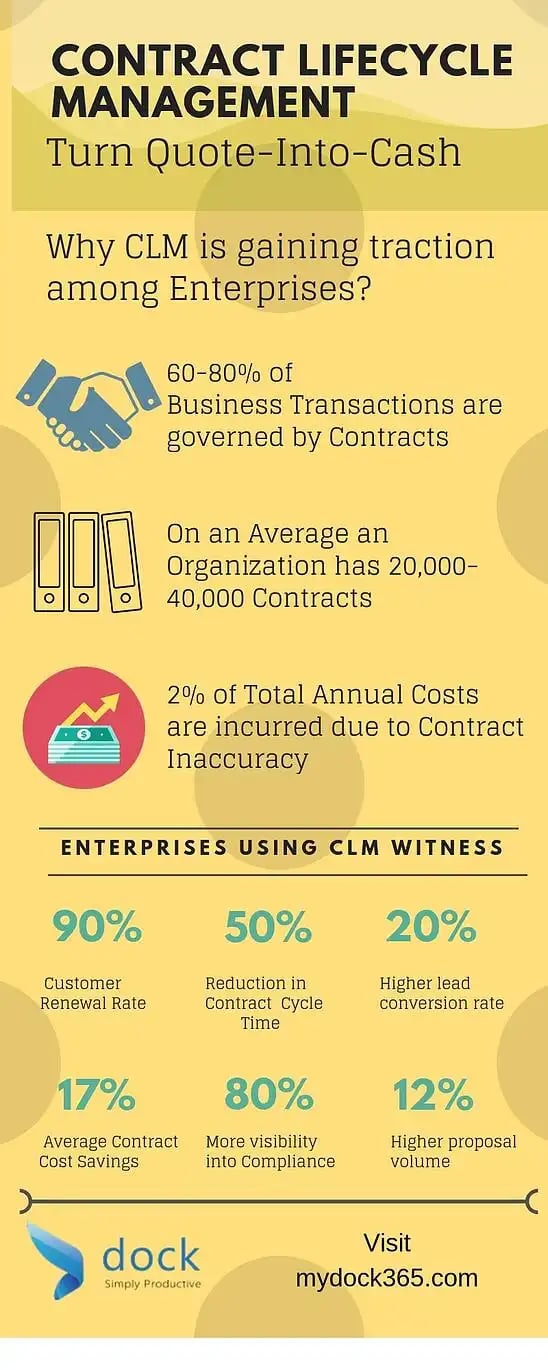 Never miss any deadline or lose new business opportunities with Dock 365-a clean and intuitive SharePoint Intranet Portal.
Schedule a free demo to know more !