Head into the new year prepared with the most advanced contract management tools so you remain competitive in the world of contract management. And as time progresses, so does the nature of contract management software. Dive into to 2023 with knowledge of the most helpful contract management tools so that you can gain contract control and results.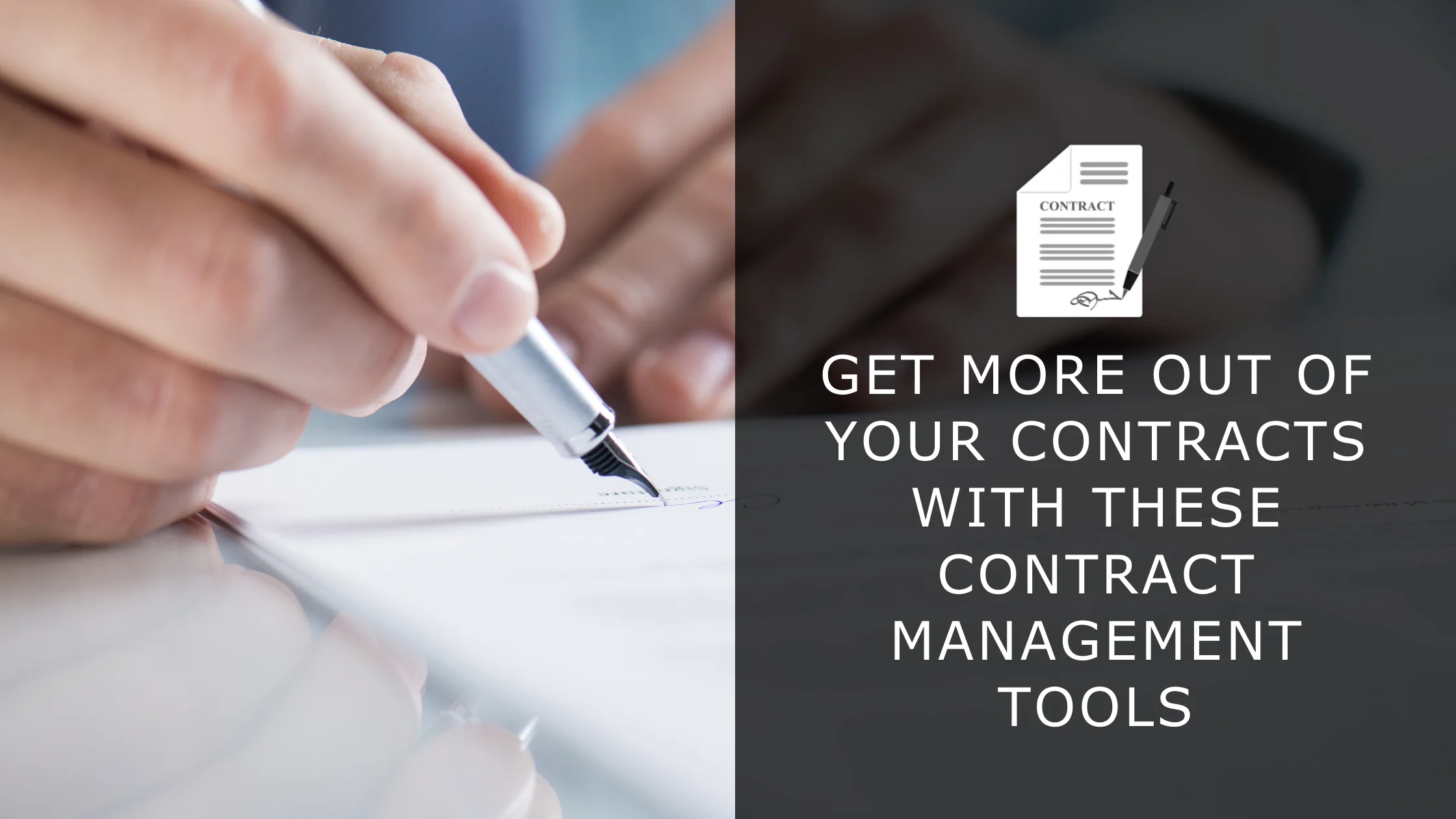 Content-
Contract management tool #1: A Centralized Contract Repository
Why can't I just store my contracts manually?
Manual contract storage leads to a whole host of problems that are completely avoidable. Many of today's business and industry leaders have transitioned to a digital approach towards contract storage and contract management. However, a few remain that use filing cabinets, shared drives, and emails to store their contracts. These manual methods are inherently risk prone, making it difficult to monitor obligations and deadlines, maintain version control, and stay compliant with regulatory and industry standards.
Contract storage might seem like the least of your concerns in the context of contract management. However, subpar contract storage can result in lost documents, missed key dates, and resulting financial and reputational repercussions. A centralized contract repository provides businesses the opportunity to increase visibility, control, and organization of their contracts.
What a centralized contract repository can offer
Store, sort, retrieve, and archive contracts effortlessly while mitigating risk and extracting more value from them with a centralized contract repository. A digital, cloud-based contract repository is an essential component to modern contract storage, allowing users to store all of their company contracts and associated data in a single source of truth. Contract management professionals can configure user roles and permissions, leverage version control capabilities, build customized search filters, monitor contract performance and status, and collaborate in secure portals.
The method used for contract storage can either support or inhibit productivity rates, risk mitigation, KPI achievement, time- and cost-efficiency, and contract results. During the contract lifecycle, confidential contract information is collected and stored within the contract management system, including personal client information and credit card information. This in mind, contract managers must restrict access to confidential information and data. With user permissions, companies can standardize data accessibility and prevent security issues.
To summarize
Manual contract storage results in:
Limited accessibility
Delays in document retrieval
Reductions in contract visibility
Lacking contract monitoring capabilities (difficulty in overseeing milestones, approvals, renewal dates, etc.)
A centralized contract repository results in:
Increased contract security
Streamlined contract retrieval
Improvements in document accountability
Increased rates of productivity
Unlimited contract storage
Contract management tool #2: Automated Contract Workflows
Where could a manual contract workflow go wrong?
Contract workflows contain several key steps to ensure that each contract is properly designed and set up for success when it comes time for contract execution. Overseeing contract management workflows manually is severely outdated, as the contract manager is required to monitor every activity that occurs within every stage of the contract lifecycle. In the case a delay occurs within the contract lifecycle, the entirety of the flow is delayed as well. But what can be dome about this? It's simple: adopt automated contract workflows.
What automated contract workflows can offer
Contract management software equipped with contract workflow automation can support the contract lifecycle in a myriad of ways. Automated contract workflows standardize the sequence of steps that your company's contracts are required to follow. This means that your contracts are set-off on a path that ensures they are in the right hands at the right times for specific activities to be completed. This helps to reduce delays within the lifecycle by utilizing automated contract notifications, user-defined contract data fields, audit trails, customizable report generation, and many other intelligent features.
Within an automated contract workflow, you can easily manage and monitor contract activities during negotiations and approvals. In addition, automated notifications can support your team in maintaining a proactive approach to their contracts, increasing visibility and awareness of upcoming auto renewal dates, expiry dates, milestones, and obligations. You save time and money while managing risk with audit trails, allowing you to review timestamped histories of changes made on every document.
Contract management tool #3: Contract Templates and Clause Libraries
Why is manual contract drafting risky?
When a contract draft is passed around between several contributors, there's an increased likelihood for duplication of content, miscommunications, inaccuracies, and other human errors. With multiple people involved in building and editing contract drafts, productivity rates will decline and time will inevitably be wasted. Creating a contract manually wastes time in a few ways. First, you're probably downloading the same contract templates and spending an exorbitant amount of time attempting to locate key contract data. Secondly, you waste time manually entering contract data in data fields, and this can lead to human errors. Differentiating between past and current document versions can lead to confusion and miscommunications between your teams, driving up risk. In addition, without standardized, legally approved contract templates and clauses, you further increase risk.
What contract templates and clause libraries can offer
Contract templates and clause libraries offer two main advantages: risk mitigation and time-efficiency. Why settle for slow, risk-prone contract creation when there's a better option available. Go into 2023 with contract management software that will automate, protect, and centralize your contracts and associated documents. Preapproved contract templates and clauses support legal teams and other departments involved in contract creation by enforcing compliant legal language and terminology, allowing you to collaborate on and store accurate contracts every time.
With your contract template and clause libraries, you can rapidly build high value contracts and agreements knowing that the content is preapproved, accurate, and compliant. Your interactive and user-friendly software solution supports multiple file formats, making it easy to manage a variety of contract templates and contract drafts. To increase the efficiency of this process, we recommend making the most of Microsoft tools like Office 365, Word, and Outlook.
Some additional contract management tools that increase the time-efficiency of contract drafting are version control features and electronic signature integrations. With version control, you ensure all contributors to the contract drafting process work on the most current version of a given document. With electronic signature integrations, you increase the security and speed of your contract signing stage, cutting down on turnaround times by allowing signers to sign contracts on their mobile devices at any time, any place.
In the context of compliance, contract templates and preapproved clauses support users by offering the ability to enable rules and user-based permissions, as well as leverage approval routing and audit trails.
Contract management tool #4: Contract Monitoring and Tracking
I'm used to tracking our contracts manually. Why change?
A manual approach to tracking contracts might work okay for smaller businesses that work with a low volume of contracts. However, as contract volumes increase, so does the likelihood of contract failure. A poor approach to tracking your contracts can inhibit your ability to attain KPIs, increase contract results, maintain contract security, and mitigate risk.
Here's a few reasons why manual contract tracking is not the way to go:
Manual contract storage (filing cabinets, shared drives, emails, spreadsheets, etc.) results in various contract versions being stored in various places
Manual contract storage increases the likelihood of document loss/misplacement and document versions gone rogue
Email-based contract storage significantly increases delays
Lack the ability to leverage automated alerts, and signature routing and signature approvals
When the timeline of a contract changes, it can be difficult to reschedule your contracts without a software-supported approach to contract monitoring and tracking. This will only result in bottlenecks, wasted money, and wasted time.
What contract monitoring and tracking can offer
With intelligent, easy to use contract management software, your team can gain the support it needs to effortlessly manage the contract lifecycle. Advanced capabilities in contract monitoring and tracking can increase contract transparency and provide your team with the performance insights it needs to constantly improve and optimize its contract lifecycle management.
A centralized contract repository, preapproved contract templates and clauses, audit trails, and collaboration capabilities all support intelligent contract monitoring and tracking. Your software can support the closing rate of your contracts, so what's not to love?
To gain the upper hand in contract monitoring and tracking, adopt contract lifecycle management software with the following features:
Flexible workflow automation
Automated contract expiry and auto renewal date reminders
Electronic signature integrations
User-defined data fields
These contract monitoring and tracking tools are essential to successful, results-driven contract lifecycle management in 2023.
What else should I look for in a contract management system going into 2023?
We suggest adopting a contract management system that includes the following features:
A cloud-based, digital centralized repository
Version control and monitoring capabilities
Tracking for all file and attachment types (i.e., contracts, invoices, purchase orders, etc.)
Pre- and post-award contract tracking
Vendor compliance monitoring and vendor scorecards
Contract audit logging
Contract management tool #5: Electronic Signature Integrations
Collecting signatures in-person or through snail mail can be incredibly time-consuming. Contract signing is considered the most essential component of contract management. However, manual signing is outdated and often results in delays within the lifecycle, inhibiting the flow of your contracts and weakening the experience for your clients.
The costs associated with manual contract signing aren't limited to paper – a manual approach to collecting contract signatures results in wasted time and reliance on mail, which isn't the most reliable when trying to cut down on time. In essence, a suboptimal approach to contract signing can significantly drive-up risk in your organization. And with slow turnaround times with contract signing, you'll find contract execution to become slower and slower in the process.
What electronic signature integrations can offer
Electronic signature integrations are essential for rapid and secure contract signature collection in 2023. Electronic signatures are far safer than manual signatures, and they allow signers the ability to sign contracts within minutes no matter their location. A bottleneck in the contract signing process can lead to delays in delivering upon contracted obligations, delays in contract execution, and issues in maintaining contract compliance.
Here at Dock 365, we offer the ability to leverage integrations with leaders in the electronic signature spaces with providers like DocuSign, Adobe Sign, and Sertifi. To save time and boost the client experience, a great place to start is with the signing process.
To summarize
Electronic signatures empower businesses to
Increase time-efficiency by reducing time spent overseeing administrative tasks associated with contract signing
Increase cost-efficiency by saving money that would otherwise be spent on mailing, ink, paper, printing, and other contract signing resources
Increase contract security with electronic signatures, as they are legally bound and include audit trails
Improve the client experience with a user-friendly and rapid signing process
In 2023, your business can take back contract control by making the switch from a manual contract signing approach to a digital, electronic signature-supported approach.
Use the best contract management tools with Dock 365
The tools discussed in this blog can empower your business to optimize and streamline your contract lifecycle management process entirely. Secure and unlimited contract storage, automated contract workflows, contract templates and clause libraries, advanced contract monitoring and tracking, and electronic signature integrations make Dock 365 an excellent solution for all of your contract management needs. We are ready to equip your business with a solution proven to produce robust results.
Here at Dock, we use your current Microsoft Office 365 and SharePoint subscriptions for a cost-efficient approach to contract lifecycle management. Our contract management system supports all your teams, from legal and operations, to HR and procurement, in all your contracting activities.
Learn more about the Dock 365 Contract Management System.
Learn more about Contract Lifecyle Management (CLM) Software.
Schedule a free demo with us today for an interactive overview of our Contract Management System.