Companies of all sizes rely on contracts to ensure that essential business operations and activities are successfully completed and accounted for while maintaining accuracy and compliance to industry standards. A business partnership typically involves a contract to outline the parameters and expectations of each party regarding the exchange of goods, products, or services.
In contractual relationships with customers and suppliers, once the agreement term comes to a close, the contract requires renewal. Businesses must ensure that appropriate contracts are renewed to confirm that obligations with their counterparties (be it a client, service provider, or supplier) are protected legally.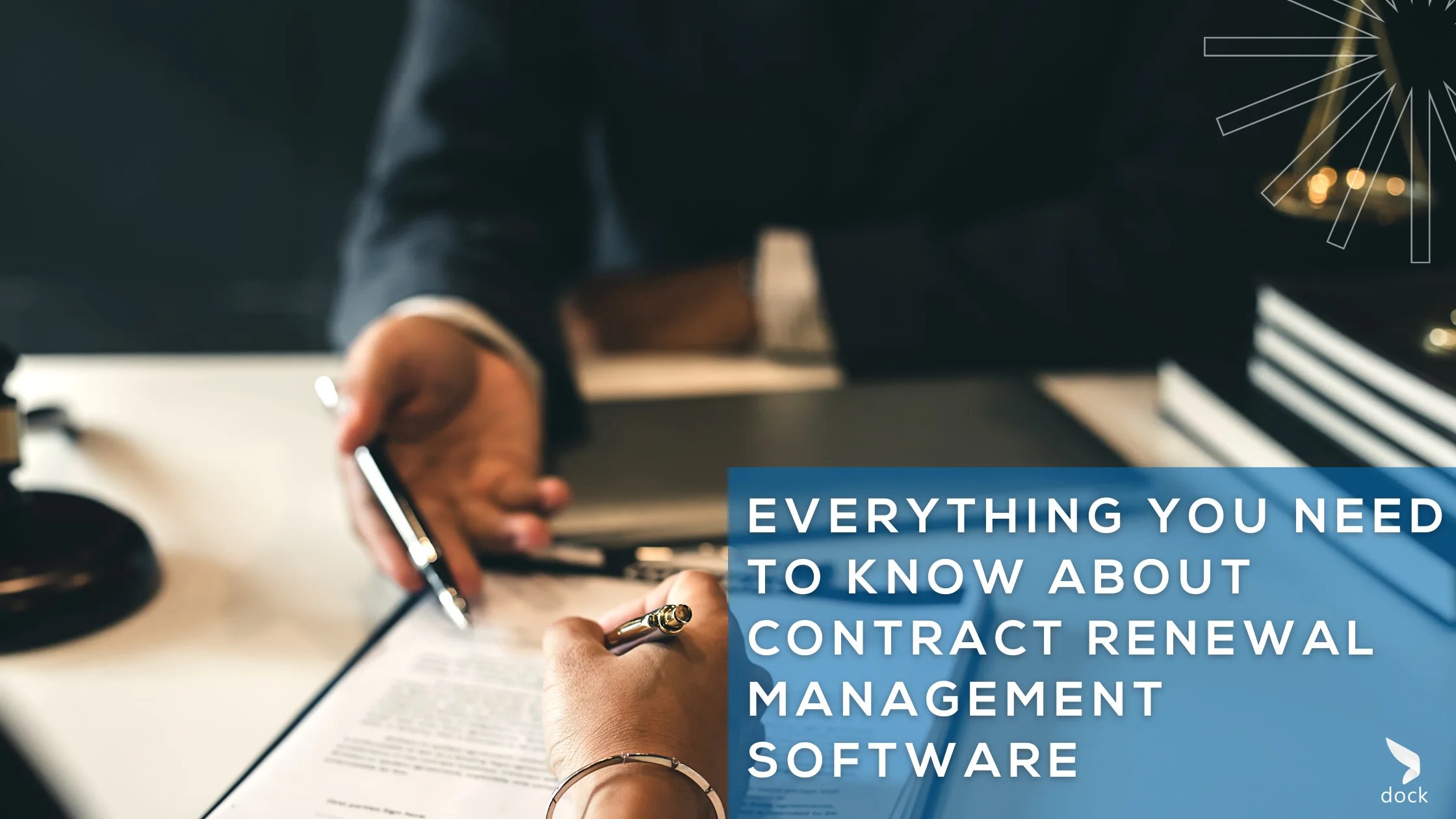 Increasing the Efficiency of Your Contract Renewal Process
First, we recommend adopting a contract management software solution to support you throughout the contract renewal phase of the contract lifecycle. A software-supported approach will assist you in monitoring contractual terms and in overseeing the status of your approvals. Additionally, you can configure customizable alerts and notifications within your contract management software to stay in the know of upcoming auto renewal dates and contracts with nearing renewal dates. Your software can also remind you of the expiration date of a contract and the end of a contract's term. To build efficiency in your contract renewal process, we recommend delegating specific employees to complete tasks within the renewal workflow.
When you go about renewing your contracts, ensure that communication is clear and that expectations are understood amongst everyone involved to prevent bottlenecks pertaining to billing and obligations. We recommend reviewing standardized terms and clauses that should be added during the renewal, ensuring that they are added appropriately. Tag these new terms and clauses so they receive appropriate treatment and approval.
The Purpose of a Contract Renewal
Contract renewal is a normal part of business operations, as they ensure that adjustments are made in accordance with changes in business with the client at hand. With a contract renewal, you also eliminate services that your parties can do without. This is necessary to match what is being used by the client with what they are purchasing. When developing the new contract in your contract renewal, you should clearly address any issues that existed in the previous contract. Do you need to increase the specificity of your contract terms? Use contract renewal as an opportunity to review your pricing scheme and communicate any pricing updates to your clients. Take the time to review if you should perhaps reduce your rates and modify your pricing more competitively as you enter a new contract term. To main aim here is increase the value of your contracts by developing a high-performance approach too renewing the most favorable agreements. Contract renewals should be reliable, consistent, easy to administer, and cost-efficient.
Prior to Signing A Contract…
Before you sign a contract, read and reread the fine details and print to confirm that the document aligns with all negotiated terms. Seek help from legal professionals to gain clarification if needed. Ensure that the contract is complete, with no empty spaces, as this could invalidate the document. Once a contract has completed its lifecycle, the contract will either be terminated, renegotiated, or renewed. In the case that the signing party wishes to end their contract, both parties must agree to terminate their contracts. In the scenario that a contract is terminated due to uncontrollable, unforeseen circumstances, the contract can be terminated by providing notice to the counterparty. In the most unfortunate scenario where a party is noncompliant with contracted terms and conditions, then the counterparty will terminate the contract.
The Contract Renewal Process
In the majority of contracts, there are guidelines created specifically for contract renewals. While most renewals occur rather seamlessly, there are things that can stand in the way of a smooth renewal. Contract management software will support your contracts from the initial contract intake and request phase all the way through renewals.
Contract Renewal Management Software
Contract management software automates tasks during the contract renewal phase. This software also ensures that your orders are appropriately managed for any third-party vendors or suppliers at the right times. In this way, you ensure your revenue stream is uninterrupted and that contracted activities and continue progressing. Contract renewal software streamlines the repetitive task of processing through service level agreements and associated support contracts. With contract management software, you can efficiently manage a massive volume of contracts in a centralized, cloud secure digital repository. Through the cloud, you can access your contracts at any time, any place, on any device. Many leading contract management software solutions integrate with business applications and electronic signature providers to increase the productivity of your contract lifecycle management processes.
Contract Management Software Features That Support Contract Renewals
Contract management software is equipped with several advanced features to support the contract renewal phase of your contract lifecycle. One of which is automated alerts and reminders, which are easily configured to keep contract managers in the know of contracts with approaching renewal and auto renewal dates. This allows contract managers to maintain a proactive approach to their contracts, giving contract managers an adequate amount of time to review and approve contracts prior to the renewal date to ensure financials are in check and that billing is completed on time. Clients and customers are notified prior to the renewal date, giving them the ability review and approve their contracts. Contract management software supports this phase with collaboration-friendly and secure portals that allow for efficient redlining, commenting, and communication regarding each contract that is up for renewal. Electronic signature integrations are also a great utility of contract management software that can support your renewals and cut down on turnaround times. Contract management software also includes self-service features that allow individuals to work independently on contract renewals.
Contract tracking and monitoring features provide stellar capabilities, as they assist contract managers through monitoring active support tickets. They also help clients through digital requests. Contract management software helps ensure that invoices are sent in a timely manner, as well as help buyers gain visibility into pricing. By implementing software, you can mitigate risk and reduce the likelihood of late payments for any renewal fees. Contract management software helps contract managers see the exact status of their contracts to assess which dates are best to configure for renewal.
Advantages of Adopting Contract Management Software for Contract Renewal
Contract lifecycle management software supports businesses in standardizing their approach towards renewals. With easier contract renewals, you'll cut down on turnaround times and increase profitability and accuracy. By increasing the visibility and transparency of your renewal phase, you gain control over contract activities and ensure faster renewals. In addition, you eliminate many liabilities and risks, which can result in cost savings. You'll also boost your contract performance and gain the ability to assess performance during the contract term. This allows you to make improvements moving forward and discuss any concerns regarding costs and service needs so you can develop increasingly effective strategies towards your future renewals.
Many organizations have missed out on increasing revenue by missing contract renewal dates. Contract management software automatically alerts and reminds users of upcoming contract renewal dates, meaning you'll never forget to terminate an unfavorable contract during the active contract term. Forgetting to do so can drive up risk potential, resulting in increased costs and failure of service delivery. This also occurs when contract managers fail to renew contracts on their renewal date.
Without properly understanding key contracts dates, you might miss out on the opportunity to renegotiate your agreements. In this way, you should leverage contract management software to notify you of upcoming dates and deadlines.
The Risks and Pain Points of a Suboptimal Contract Renewal Process
When contract renewals do not receive an appropriate amount of care and consideration, risk potential and the likelihood for profit loss increase. In addition, you give your competitors the advantage, meaning you'll most likely lose customers. Considering supplier contracts, you run the risk of losing service. A poor contract renewal process will drive up renewal costs, requiring more of your manual effort and time during each renewal. Lastly, manual contract renewals will delay the workflow of your contract lifecycle, as each contract will require time-consuming renegotiations.
Get The Most Out of Your Contract Renewals With Dock 365
The contract renewal phase is one of the most important phases of the contract lifecycle, as this phase can determine whether you capitalize on opportunity to renew favorable contracts or terminate unfavorable contracts in a timely manner. To extract the most value out of your contract portfolio and to increase the efficiency and productivity of your contract renewal phase, then look no further than our Dock 365 Contract Management System. Built onto your SharePoint and Microsoft Office 365, you can gain a cost-effective and user-friendly approach to not only your contract renewal, but to the entirety of your contract lifecycles.
Learn more about our Dock 365 Contract Management System here.
Learn more about Contract Lifecyle Management (CLM) Software here.
For more information, we would like to welcome you to schedule a free demo with us today.