Contract lifecycle management is complex. It requires the effort of several contributors and the expertise of professionals in various fields. And if you're not careful, contract lifecycle management can be a time and money drain. When a lack of compliance, increases in risk, and contract inaccuracies come into play, you set yourself up for a subpar contracting experience and missed opportunities.
Many of the challenges associated with contract lifecycle management have to do with time efficiency and management. Slow turnaround times and consistent delays throughout the contract lifecycle can drive up your expenses and increase lifecycle times. When contract execution is delayed, you miss out on that valuable time where you tangibly reap the benefits of the agreement itself.
There are several root problems that cause contract lifecycles to slow down. However, there are several contract lifecycle management tools available to alleviate these delays and create a more productive, results-driven approach to your contracts. We're going to discuss six of the most common bottlenecks that cause you and your teams to waste time while working on contracts.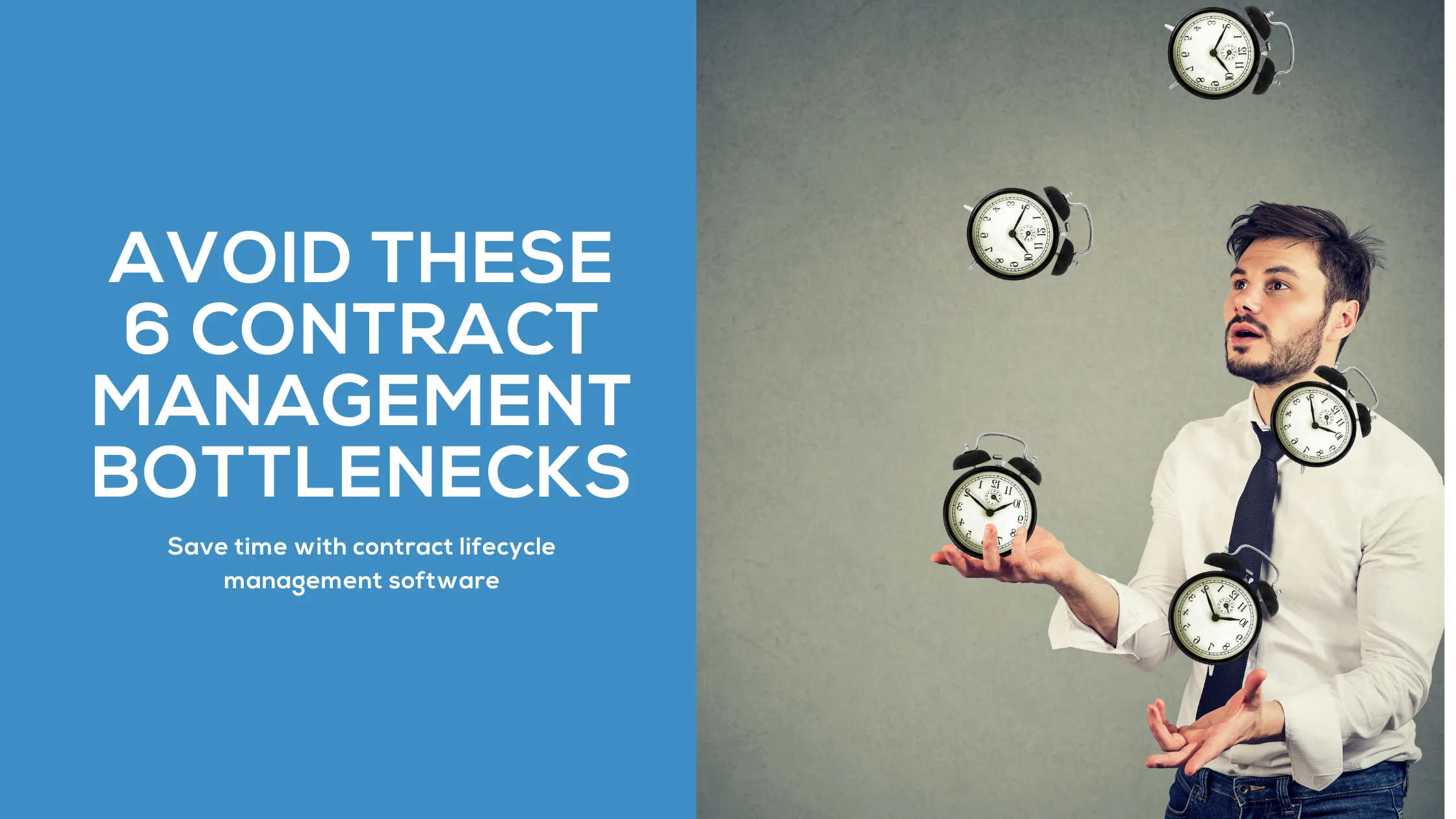 6 Common Bottlenecks in Contract Lifecycle Management
Now we will take a look at the six most common timewasters in contract lifecycle management.
#1 Inefficient contract negotiations
Contract managers often find that contract authoring, negotiations, and ongoing management of each contract can be extremely time-consuming. However, creating every contract from scratch is not only repetitive, but it's completely unnecessary. Rather than starting from scratch with every agreement, we recommend you capitalize on your existing contracts and standardize each type of contract that your company consistently works with. In this way, you can develop contract templates that are conducive to a variety of scenarios. By standardizing your contracts, you eliminate several avoidable issues with contract language, accuracy, and compliance. You also streamline the management of your most common agreement types. By implementing contract lifecycle management software as the foundation of your organization's contracting strategy, you can make the most of your contracts by with advanced CLM tools, allowing you to oversee the status and performance of each contract with a few clicks. In this way, you gain greater insight into your contracts by having all of the data at your fingertips, allowing you to identify both areas needing improvement and areas that are performing according to expectation. One of the best ways to gain contract results is to compare the various clauses and contractual language across your organization's contracts and pinpoint which clauses and terminology performed optimally. Then, you can use these again moving forward.
#2 Slow turnarounds during signing
Snail mail and manual contract signing are outdated – plain and simple. From printing the contract and sending it off for signature, to having the recipient sign it, scan it, email it, or snail mail it back to you… the entire process is discombobulated and a perfect recipe for increased risk and delays – all to receive a physical signature while wasting time, energy, and paper. However, today there are several leading electronic signature providers that integrate with contract lifecycle management (CLM) solutions to provide users a fast, secure, and efficient contract signing experience. Electronic signatures are bound by law and far more secure than manual signatures. One of the main reasons why an electronic signature integration can save time is due to how these solutions can be used on any device at any time, no matter the location. Within moments, your signer can sign a contract and send it back your way in your contract lifecycle management platform.
#3 Lack of centralization
It's key that your contracts are stored in a single, secure place that all of your departments can refer to. The worst possible scenario is for one contract to be passed-off back-and-forth between several departments, only for version control to be ruined. This can cause a host of issues that are completely avoidable with the assistance of a centralized repository. Contract lifecycle management is streamlined by a digital, cloud-based repository that allows authorized users the ability to self-serve their contracts. This means your employees can access contracts on their own accord, providing an added touch that promotes efficiency and productivity. Contract lifecycle management software also comes equipped with permission-based access features, allowing contract managers to customize contract access to select employees.
#4 Difficulty in locating contracts
A decentralized approach to contract storage can make it difficult to find certain contracts at the times you need them most. One of the biggest bottlenecks that occurs in almost every organization refers to the time spent simply searching for and retrieving contracts. Tons of time is wasted sifting through filing cabinets, shared drives, and other risk-inducing, manual methods of contract storage. With an organized repository, you can securely store all of your contracts in a cloud and leverage advanced text-based search and filtering capabilities to retrieve your documents within minutes.
#5 Unproductive contract collaboration
Meetings can often a huge source of wasted time. Thanks to contract automation provided by your contract lifecycle management (CLM) solution, you can take care of several low-level tasks and save time during your meetings (think generating and distributing monthly contract reports and reminding employees of upcoming auto renewals.) Meetings can certainly remain a helpful component to your contracting strategy, but CLM software can support you in increasing productivity and improving communication, thus cutting down on unnecessary time spent in meetings.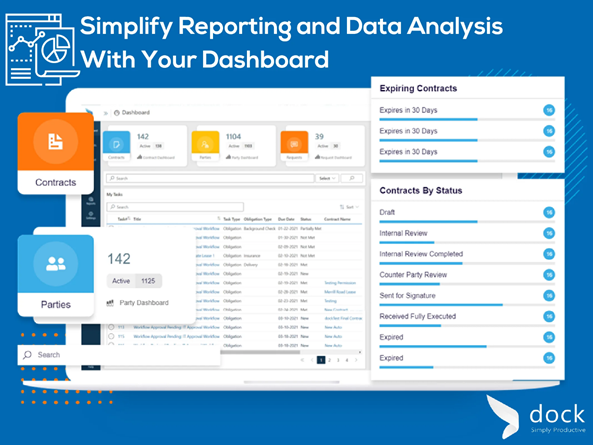 #6 Complicated software features
Contract lifecycle management software is designed to mitigate risk, promote compliance, increase productivity, and reduce contract lifecycle times. However, if you implement a software solution that is not user-friendly, you run the risk of developing avoidable bottlenecks and creating a tendency to repeatedly rely on the technical support team. We suggest that prior to choosing any one software platform, that you confirm the solution offers the specifications and features that fill your organization's needs. You can do so by booking an interactive demonstration of the software with the provider.
Conclusion
We hope you gained some valuable insights on what to look for during contract lifecycle management that might contribute to delays, as well as what contract lifecycle management tools are available to increase the productivity and speed of your contract activities. To extract the most value out of your contracting strategy and to see your productivity rates reach new heights, adopting an intuitive and user-friendly contract lifecycle management platform is the way to go.
Here at Dock 365, we offer a solution that supports businesses in overseeing all contract details and processes, hassle-free. Drafting, reviewing, negotiating, signing, and executing contracts is simpler and more secure than ever with Dock 365. Built onto your existing SharePoint and Office 365 tenant, you can leverage a cost-efficient approach to contract management that feels familiar and is incredibly easy to use. In addition, storing, sorting, searching, and retrieving contracts are all rapid and organized processes that make for a pleasant user experience. For the best there is in contract lifecycle management, look no further than Dock 365.
Ready to learn more about our Dock 365 Contract Management System? Click here.
Interested in Contract Lifecyle Management (CLM) Software? Click here.
Schedule a free demo with us today for an interactive overview of our Contract Management System.