The time it takes for a single contract to complete its lifecycle from contract intake to contract expiration is directly related to your business's results. During the contract approval phase, you might run into the same recurring bottlenecks that slow down your contract lifecycles… You may consistently find that it takes what feels like forever to reach an agreement on a supply deal, or that it feels like time continually drifts on when finalizing documentation from new hires… Whatever the case may be, delays in the contract approval phase can significantly impact your bottom line. By leveraging an intelligent solution for your contract lifecycle management, you can see dramatic increases in business productivity and organizational efficiency that will drive your contracts through their lifecycles at faster rates with increased accuracy and compliance. In essence, you'll finalize and execute more high-quality contracts in less time.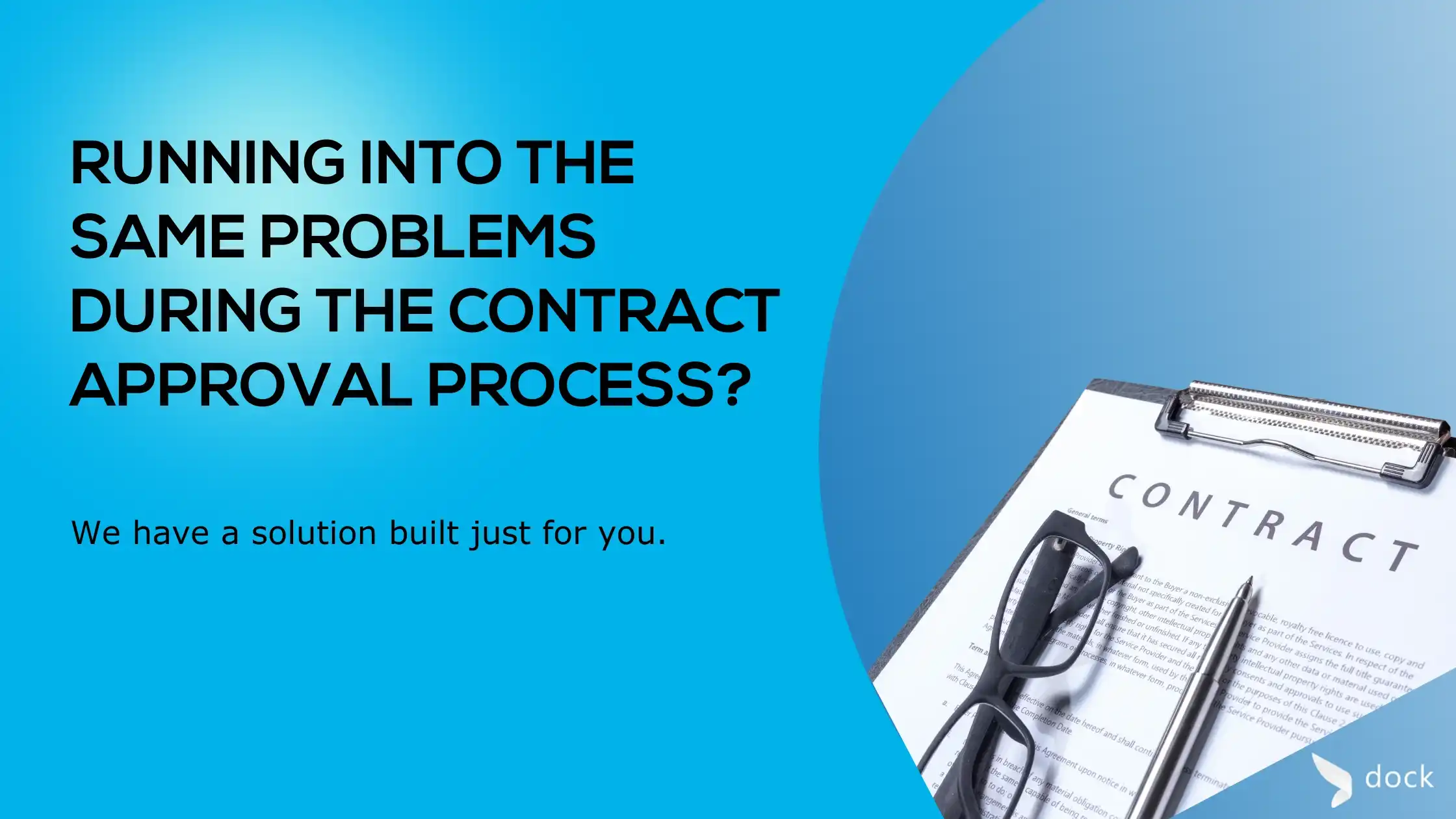 Depending on the complexity of the contract at hand, the approval phase of contract lifecycle management can take anywhere from seven to 16 weeks. In this span of time, you could've implemented the product or service committed to you by the contract. And while it does take a considerable amount of time and careful attention to detail to ensure that your contracts are properly approved, there are certainly some problems during approvals that cause unnecessary delays that are entirely avoidable. So, let's take a deep dive into some of the most common challenges in the contract approval phase and how you can work through these challenges with contract management software.
Challenge #1: Contracts With Outdated Terminology
Standard contracts are still the norm for many organizations today. These contracts are used to address common legal agreements, and many organizations leverage contract templates to do so. However, these templates are often full of outdated phrasing and terminology. This presents several issues, and as time progresses, your contracts should as well. Whether it's the product you offer, the compliance standards you adhere to, or your pricing, an old contract template can potentially create bottlenecks that needlessly slow down your approvals. During a contract review, you'll identify several of these errors and have to spend the time working to correct them. Without spending the time required during reviews to correct these identified issues, you significantly increase the business risks associated with your contracts. Say an error is left unidentified during the approval phase and a high value/high-risk contract is signed, just imagine what negative repercussions could follow.
Here at Dock 365, we provide you with the capability to create comprehensive, preapproved, and legally compliant contract template libraries and contract clause libraries so help you develop a seamless approach to your contract reviews and approvals. We highly recommend building your library of standardized legal agreements that specifically address several contract issues. With your cloud secure, digital contract repository, you can give all authorized users access to contract templates so they can easily access and author contracts with the most current industry terminology and legalese.
Challenge #2: Track Changes and Version Control Errors
Typically, contracts will be read, reviewed, and edited by a wide variety of people within an organization – obtaining the expertise from several contributors in different departments. While beginning a contract approval with an old version of a document is a very common occurrence, another common issue that commonly comes into play pertains to when several contributors change a document at once while playing email tag with the given document. This causes serious problems with document integrity making it difficult to control the intended meaning of the document.
Now, ping-ponging your discussion on a contract is always welcome. Effective collaboration and communication are absolutely essential for successful contract reviews and approvals. However, it is also entirely possible to do so while maintaining version control. With our solution, you can leverage user-friendly collaboration portals in your SharePoint repository, use Chats and Channels in Microsoft Teams, and complete your contract approvals with accuracy. By using your centralized cloud repository, counterparty collaboration is seamless with redlining capabilities, in-text commenting, timestamping, and much more. Gone are the days of accidental overwrites, duplication, and of working on old document versions.
Challenge #3: Slow Communication Due to Email Back-and-Forth
Rather than discuss changes that need to be made to a given contract through email tag, consider how helpful a centralized collaboration portal that keeps all comments in one place could be. Emails are never 100% reliable – from connection problems, discrepancies in spam detection, accidental errors when inputting your recipient's address… you name it, email is less than stellar for communicating your concerns regarding something as vital as a contract.
During contract approvals, replies should be prompt and timely. With contract lifecycle management software, your approvals will become just that, with the added benefit of centralization of all discussion. In addition, your contract lifecycle management software solution allows you to configure automatic reminders, notifications, and alerts to keep your employees in the loop of upcoming auto renewal dates, milestones, contract expiry dates, dates for contract reviews, signing dates, and other pertinent tasks that require timely action regarding your approval phase. In this way, you create a refined, proactive strategy for your contract approvals.
Challenge #4: Contract Signing Delays
Cutting down the turnaround time of your contract signing phase is one of the most beneficial things you could do to save your organization time and money. During a manual contract signing process, you have to print the document and send it to the signer. Then, they receive the given document, sign it, and then scan and email it back or snail-mail it back your way. All the menial tasks involved contribute to a larger issue of subpar productivity, and this manual approach can add several days or even weeks onto your contract approval phase. This wastes an exorbitant amount of time and resources – so why settle when there's a better and more cost-efficient solution?
DocuSign, Adobe Sign, and Sertifi are three examples of leading electronic signature providers that Dock 365 integrates with to provide you seamless contract signing. Signers can take contracts on the go and sign them at any time, any place, on any mobile device with an internet connection. In addition, electronic signatures are efficient, fast, secure, and legally binding per the E-Sign Act.
Conclusion
We hope you gained some valuable insights on how to solve several problems associated with your contract approval process. Are you ready to adopt contract lifecycle management software that prioritizes your unique business needs and objectives while enhancing the contract approval process? Then look no further than our cost-efficient, proven Contract Management System here at Dock 365. Built on your SharePoint and Office 365, you can make the most of your preexisting investments and leverage a centralized contract management platform.
Schedule a free demo with us today for an in-depth and interactive overview of our Contract Management System.