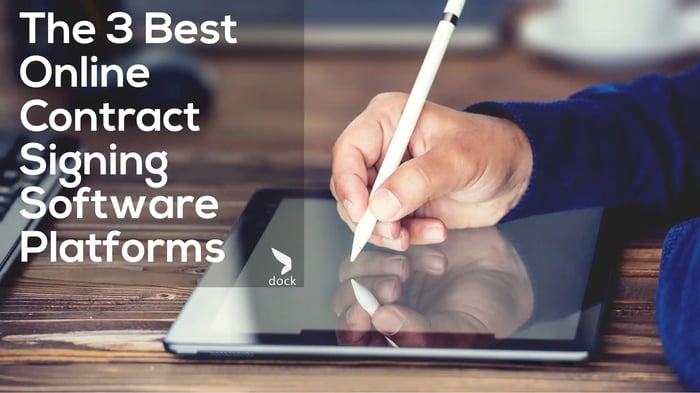 Signing digital contracts and documents online can be a very time-consuming process. The process may involve the downloading, reformatting, and printing of documents. Then, you may have to apply a wet signature, scan the document, and reformat it once again prior to sending it back. However, digital contract signing software was designed to streamline the best e signature software process. These solutions allow users to sign and send documents within seconds to recipients worldwide.
Electronic Signatures Defined
Electronic signatures are digital signatures collected on mobile devices and computers that indicate a party's agreement to a given contract. Electronic signatures support today's fast paced, digitally dominant workplace and business sphere due to their efficiency, speed, and security. E-signature platform simplify signature collection and storage, and many solutions allow users to auto populate saved signatures into documents. It's important to be aware of the legally-binding nature of an electronic signature platform, so be sure to read contract terms thoroughly – frivolously signing any document is never a good idea! If you intended to sign a document or contract and you gave consent to have your signature collected, then your signature is legally bound.
I've heard of digital signatures too. How are they different than electronic signatures?
You may think that digital signature and electronic signature platforms are interchangeable terms, however they are quite different! The main difference here is the "hash". A hash is included in a digital signature, which is essentially a condensed version of a given file or contract. In essence – digital signatures are the encrypted hash itself. The signatory's key is used to encrypt the hash, and the digital signature is validated by decrypting the hash via the signatory's key.
Our Recommendations: The Best Online Contract Signing Software Available
Now, let's go ahead and look at some of today's best digital contract signing app that we use and recommend. By using a proven and trusted virtual contract signing software solution, you increase the security of your contract management operations with added authentication, audit trails, and other risk mitigative and security features.
Recommendation #1: DocuSign
DocuSign is one of the most commonly used electronic signature providers today. As a leader globally in e-signature with over hundreds of millions of users, they offer many incredible features and capabilities to optimize online contract signing app for companies of all sizes, from small businesses to enterprise-level organizations. DocuSign offers 30-day free trials. Following the free trial period, your company can choose from several electronic signature plans ranging from personal plans to business plans.
DocuSign gives users the ability to take contracts on the go and sign any document from their mobile device on the DocuSign mobile app. Now, you can sign and send off your contracts at any time, any place, from any device. Users can easily monitor the status of their contracts and documents sent off for signature with complete status visibility. Using this feature, uses can tag the status of a given document and monitor any changes made and the progress of the document during digital contract signing service and approvals. DocuSign additionally offers multi-language support for 43 languages. Users can implement signing templates, Salesforce, SAP, and Google integrations, and easily collect data with customizable entry fields for any agreement.

Recommendation #2: Adobe Sign
Adobe Sign is another electronic signature provided that is user-friendly, proven, and efficient. If you consistently use Microsoft Office products, then this solution is perfect for you. Adobe Sign seamlessly integrates with many Microsoft Office apps for an added element of productivity. Depending on the plan you select, the features included in your Adobe Sign platform will vary. Today, there are three plans available with Adobe Sign: 1) Acrobat PDF with E-Sign; 2) Acrobat Pro DC with E-Sign; and 3) Acrobat Pro DC with Advanced E-Sign.
With your Adobe Sign solution, you can easily sign and send off documents, PDFs, and contracts for electronic signature. In addition, Adobe Sign offers configurable automated reminders and alerts to stay in the know of the progress of your contracts during signing. Adobe Sign stands out with creation, collaboration, and integration, where uses can effortlessly build and export PDF files to PowerPoint, Word, Excel, and more. Adobe Sign offers PDF tools and collaboration-minded features to use within Dropbox, Google Drive, and Microsoft Office 365.

Recommendation #3: Sertifi
Our last recommendation is Sertifi. Sertifi offers an electronic signature solution called Sertifi eSignatures (Closing Pro) that saves time, money, and resources while supporting your organization in closing deals at record speeds. With this solution, you can easily send and collaborate on legal agreements and associated documents and leverage tools fully branded towards your company. Sertifi additionally offers templates, automated notifications, and cloud security to keep all signing processes compliant and protected.
Some other key features of the Sertifi eSignature solution include automated workflows, document status notifications, custom reporting and analytics, and user-friendly portals with Single Sign-On (SSO). This electronic signature solution allows 5 users to send unlimited documents off for signing. In terms of integrations, Sertifi can be integrated with Zuora, Conga, Salesforce and Salesforce Billing, and many others.
Conclusion
Adopting one of the best electronic contract signing software solutions can support your company throughout the virtual contract signing and execution process as well as several other processes within contract lifecycle management (i.e., contract approvals, reviews, negotiations, etc.) Dock 365 has partnered with the three solutions recommended above so that you can select from the best available e-signature integrations offered today. Now, you can reduce contract lifecycle times, save money and resources, mitigate risks, improve the client experience, and increase contract security with the best electronic signature software for your organization.
Here at Dock, we offer a powerful and productive approach to managing contracts with an Office 365 and SharePoint-based contract management system that can be built on your existing investment.