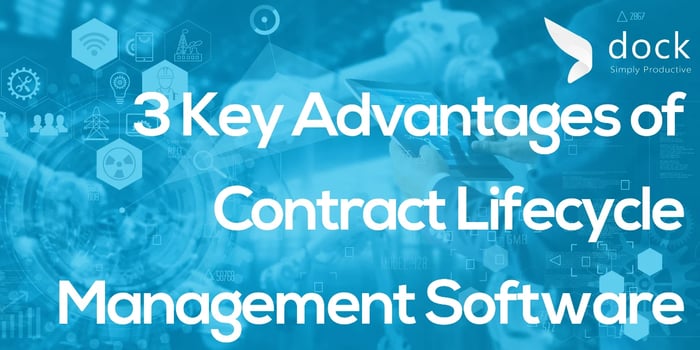 A report published by World Commerce & Contracting demonstrates that successful contract lifecycle management processes are capable of improving annual revenue business figures by up to 9%. To get the most out of your contracts, leveraging a dedicated contract lifecycle management software system is the fastest path to contract success, scalability, and profitability.
However, you might be wondering why contract lifecycle management software can produce such powerful results and if it's the right fit for your company's needs. Let's go ahead and discuss this in depth while we cover three key advantages of adopting contract lifecycle management software.
Key Advantage #1: Securely Store and Easily Retrieve Your Contracts
Many organizations have subpar contract lifecycle management systems with poor storage methods, making them unable to rapidly locate exact contracts and documents when they need them most. Contract lifecycle management software alleviates the frustrations associated with manual contract storage. By storing your contracts digitally, you can leverage cloud security, customizable filters, document tagging, and sorting capabilities to organize and access your documents efficiently. Now, you don't have to store physical contract copies in filing cabinets or among shared drives and excel sheets – everything is kept in a single, secure contract repository, accessible to all of your authorized employees no matter their location. While contract lifecycle management software solves many problems with contract storage, it also stands out for the ease provided in retrieving your contracts.
To optimize contract lifecycle management for your organization, it's imperative to have an effective contract storage method and levels of contract accessibility that are both functional and secure. The reason why it's so important to be able to access your contracts is because you need to be able to refer to contract terms, obligations, dates, and other details whenever needed. Additionally, if a breach of contract occurs, having the contract in front of you to review can assist you in mitigating damages.
Centralization of your contract data reduces time spent locating and retrieving contracts, and saved time equals saved money. SharePoint, Microsoft Teams, Office 365, and other Microsoft business applications can assist your organization by enhancing the contract management communication and collaboration. With these integrations and business solutions, you can easily discuss with your departments all contract details in a single online platform. With contract lifecycle management software, you not only keep your contracts secure and organized, but you make them accessible to authorized users without them having to jump through multiple hoops or sift through several file cabinets to access what they need.

Key Advantage #2: Contract Lifecycle Management Software Protects Your Company
Data breaches become more and more severe with every passing day, and risk management in contract management is absolutely essential to keep your organization safe from the consequences and myriad of negative repercussions that coincide with a lack of security. Your company must place data security high on the list of priorities in order to appropriate protect your client information and your company contracts.
Contracts of all types are composed of highly confidential information that must be kept secured and inaccessible from unauthorized parties. From trade secrets – to personal identification information, all data must be kept safe under all circumstances. Internal and external accessibility to documents can pose many data breach issues, and contract lifecycle management software comes equipped with several configurable settings that can track and mitigate unauthorized access (i.e., permissions and role-based access, audit trails). With your powerful security and contract risk management tools, you can confidently conduct contract management and business operations knowing full-well that your data is protected 24/7. Rather than engaging in a security approach that is siloed from your contracting, leveraging an all-inclusive contract lifecycle management solution with capabilities specifically designed for contractual risk mitigation and contract security is absolutely the way to go. As such, a centralized contract lifecycle management solution embeds security features in your contracting system, which can be used on an automated basis for any files within your contract platform.
Not every contract lifecycle management solution will offer top-of-the-line data and contract security features. Safeguard your contract data from internal and external breaches and have peace of mind with a contract lifecycle management solution that approaches data security holistically with risk mitigation features suited specifically for contracts.

Key Advantage #3: Never Miss A Contract Auto Renewal Date, Expiration Date, Obligation, or Milestone With Automated Reminders
When you fail to deliver upon contracted obligations in the timeframe required within a contract, you can run into some pretty serious negative effects that can cost your company a significant amount of money. And what the kicker to all this? It's the fact that this is completely preventable. And how? With automated reminders.
A common example of this is forgetting to cancel a contract prior to its autorenewal date – then you're locked into another term with a contract that isn't doing your company any favors. Managing all contract dates, deadlines, and milestones can seem overwhelming, but contract lifecycle management software can make it remarkably effortless. Even if your organization works with a high volume of complex agreements, you can keep your teams proactive with automated reminders so that appropriate contractual tasks and activities are completely early throughout your organization.
Now, you'll never miss milestones, expiration dates, or autorenewal dates ever again. You'll take back control of your contracts and all of their obligations simply by having a solution that supports you in remember every detail well in advance. By configuring automated notifications, you can keep the right people in the loop of the key dates and details so that you reduce the risk of letting anything slip through the cracks. When the right time comes, you be automatically notified of exactly what you need so that you maintain a proactive and risk-mitigative approach to contract lifecycle management – company-wide.

Conclusion
Dock 365 offers a powerful and productive approach to managing your organization's contracts with a cost-efficient and intelligent software platform. As a Microsoft partner, our solution utilizes your Microsoft 365 and SharePoint subscriptions to assist your company in all of your contract-related needs. With the a centralized contract repository, cloud security, automated contract workflows, easy implementation, and a user-friendly software interface, Dock 365 is the best modern solution for the most powerful approach to contract management for any organization.
No need to waste any energy, funds, and time on an outdated contract management approach. Instead, centralize and streamline your nonprofit's contracts today with Dock 365.
Learn more about our Dock 365 Contract Management System here.
Learn more about Contract Lifecyle Management (CLM) Software here.
For more information, we welcome you to schedule a free demo with us today.