"Microsoft SharePoint is a collaboration platform part of the Microsoft 365 solutions bundle. Its amazing collaboration and document management capabilities make it ideal for contract management"

Content-
This scattered, unorganized method of contract storage can result in the following:
Organizations with a poor Contract Management System lose 9.2% of revenue every year. Organizations with a SharePoint Contract Management System see a rise in revenue.
An efficient Contract Lifecycle Management System (CLM) is vital for any organization to grow and succeed. Implementing a Contract Lifecycle Management System improves workplace efficiency, productivity, customer and client satisfaction, and saves money in the long term.
Leveraging Microsoft Office 365 and SharePoint for Contract Management is optimal for reaping maximum benefits. These platforms offer unique capabilities and features that set them apart in terms of scalability, collaboration, and security.
For businesses that are deeply invested in the Microsoft ecosystem, utilizing a Contract Management System built on SharePoint and Office 365 provides a noteworthy return. Our Dock 365 SharePoint Contract Management System is one such solution. Our platform is designed to leverage all the inherent capabilities of SharePoint and Office 365 to streamline your contract management processes.
6 Key Advantages of Our SharePoint and Office 365-Based Contract Management System
1.Single Login
Why invest in expensive, complex third-party Contract Management Software when there is a more sensible solution?
With our Dock 365 CMS, you can perform a single login into your Office 365 environment. With the Azure Active Directory single sign-on, users have profile-based access to Office 365 applications. Our system centralizes user account management and eliminates the need to manage multiple user accounts across different software platforms.
2.Centralized Repository
Our Contract Management System ensures optimal contract visibility across your organization. Because our Dock 365 CMS is powered by SharePoint and Office 365, it has a centralized space for storing and managing contract documents, milestones, and other pertinent documents. Users can easily search and filter through contracts on any device at any time, any place.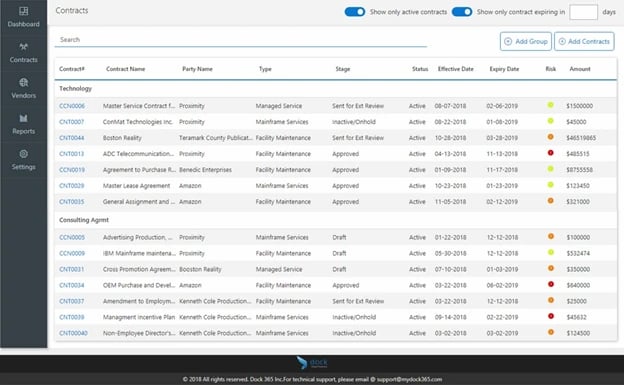 Dock Contract Management System - Contract List
3.Around-the-Clock Availability and Reliability
Office 365 is extremely reliable due to its 99.99% uptime. In the face of natural disasters or calamities, contracts and related documents are always available with SharePoint Backup and SharePoint Restore.
4.Co-Author Contracts | Collaborate Internally and Externally
Our Contract Management System lets employees co-author the same contract document effortlessly irrespective of location, time, or device by using the Microsoft Office 365 interface. Efficient collaborative contract management is possible with internal team members as well as external parties (vendors and suppliers) on our software solution. Through secure guest links, easily share documents and contracts with select individuals and groups.
The Dock 365 Contract Management System enables you to add vendors and additional details (as pictured below):
Vendor#

Vendor Name

Type of Service

Contact Name

Phone#

Email

Status

Rating

Risk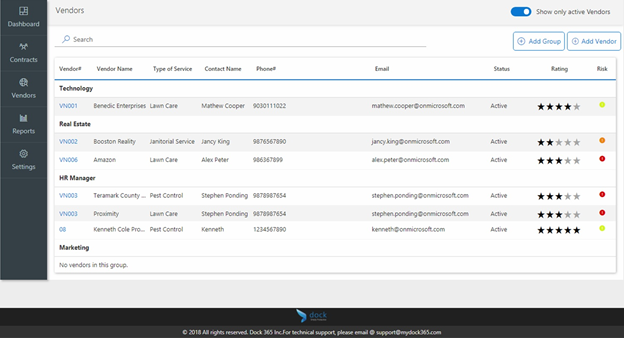 Dock Contract Management System - Vendors List
5.Interactive Reports
Microsoft's Power BI (Business Intelligence) allows you to observe various business analytics and create a personalized dashboard with full reports. By leveraging Power BI, Dock 365 provides a 360-degree view of business data for users. Easily create, publish, and share interactive reports across devices to meet a host of business needs and enhance progress towards business objectives. With detailed graphics, visualizations, and a multi-perspective view, you can derive critical business insights and maximize business results.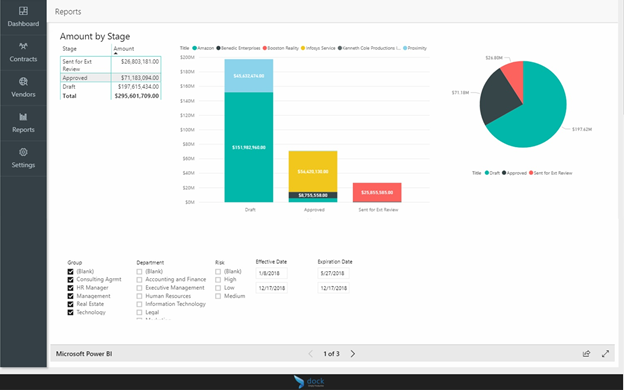 Dock Contract Management System - Reports
6.Highly Secure
Features including multi-factor authentication, encrypted e-mail, data loss prevention (DLP), and security audit trails ensure that SharePoint and Office 365 provide premiere security. Microsoft Office 365 and SharePoint's security make Dock 365's Contract Management System the perfect platform to handle sensitive data like contracts and associated documents.
Microsoft Office 365: The Best Option for Cloud-Based Productivity in Contract Management
Our Dock 365 products and services offer the latest Office 365 applications as a cloud service so that software is always up to date. The software is fully accessible and able to be backed up to the cloud. Use our solutions on smartphones and tablets, and easily install on up to 5 PCs or Macs.
Here at Dock 365, we build company intranet solutions that overlay Microsoft Office 365 and SharePoint tools to improve employee productivity and collaborative contract management. By communicating your business needs to us, we can work together and create a Dock 365 intranet software solution custom to your company.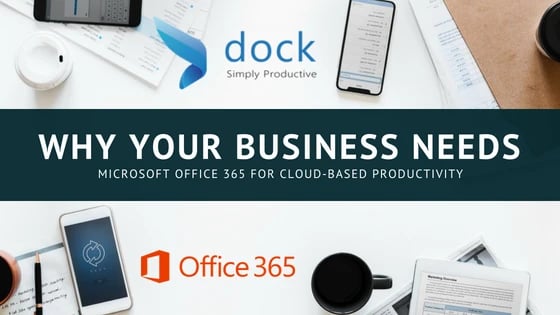 7 Key Features of Microsoft Office 365
The following features are optimal for enterprise-grade services:
1. Business-class email
Use 50GB mailboxes capable of sending 25MB messages. Complete with contacts, shared calendars, and current versions of spam/malware protection. With Exchange email technology, use a custom domain for your professional email address. Outlook can be connected for offline support, and email can be accessed on any web browser. This email system is available on PC, Mac, Windows Phone, iPhone, Android, and Blackberry devices.
2. Online meetings and video conferencing
Meet with up to 250 participants by using various features including screen-sharing, audio and video, virtual whiteboards, polls, and note-sharing. Through an HTML5 browser, your clients and partners can participate in meetings and conferences.
3. Private social networking and collaboration
Create a social network to keep employees connected and collaborative. Share information company-wide, work as teams, improve communication, and make faster, well-informed decisions.
4. Streamline IT management
By improving the infrastructure of your IT department, you can reduce unnecessary headaches. Keep content safe in globally distributed data centers that offer continuous backup and disaster recovery abilities.
5. Online document storage and file sharing
Use 1TB of space in the cloud to store, backup, and share files. Synchronize offline, access files on mobile devices, and use seamlessly without an internet connection.
6. Technical support
Have confidence knowing that your Office 365 subscription comes with 24/7 technical support from a global network of experts with a 1-hour response time for critical, service impacting events.
7. Financially backed service-level agreement (SLA)
Gain peace of mind knowing that your services are available whenever you need them with a financially backed 99.9% uptime service-level agreement.
SharePoint: The Best Option for Contract Management
With a SharePoint-based Contract Management System, you can:
Increase contract management efficiency
Eliminate unwanted renewals
Automate reminders
Curb legal expenses
Improve spend visibility
The Dock 365 Contract Management System powered by Office 365 and SharePoint will reduce your contract management hassles, compliance issues, and contract inaccuracies so you can focus solely on core business activities and achieving business objectives.
Our Dock 365 Contract Management System is SharePoint-based, allowing you to drive contract lifecycle management processes with the collaboration capabilities of both SharePoint and Microsoft Office 365. These platforms are internationally recognized as exceptional options for handling sensitive data such as contracts and other critical business documents.
Because our Dock 365 Contract Management System is integrated with SharePoint, our fully featured contract solution streamlines your contract lifecycle management processes due to customizable workflows according to your business's needs. Our solution offers a contract tracking system that your legal team can rely on. In addition, we can collaborate and help you develop different methods to manage contract creation, set automatic notifications and alerts for deadlines, renewals, and contract expirations, and create custom filters in the search tool for finding specific contracts, clauses, and other contract details that are critical to business transactions.
Standard SharePoint vs. SharePoint-Based Dock 365 Solutions
Standard SharePoint does not have the features that Dock 365 offers that will help your company remove the guesswork in your contract management processes. If you currently use the standard SharePoint intranet portal for document management, you may run into issues with customizing contract management workflows.
SharePoint and Microsoft Office 365 Suite Integration
The greatest advantage of SharePoint to our Dock 365 Contract Management System is the effortless integration with Microsoft Office 365 Suite (Word, Excel, Outlook, etc.). Create efficiency in contract management and improve legal operations by offering your legal department Microsoft productivity tools they are familiar with to draft, review, edit, and approve contracts or associated documents. SharePoint enables employees to work offline on contracts and related documents on any device at any place, any time.
SharePoint Offers Security and Accessibility
Our SharePoint-based contract management system is equipped with advanced security and access control features. Enable restrictions on files or set permissions on levels-based scales to create an optimal security environment for critical documents internally. In this manner, you ensure that sensitive data is protected from unauthorized users.
Conclusion
Create an efficient and reliable contract management solution by leveraging the Microsoft Office 365 and SharePoint features that our Dock 365 Contract Management System and other Dock 365 products offer. Improve collaboration, enhance productivity, and increase return on investment in all your contract management and related processes. If you would like more information, we welcome you to schedule a demo with us today.