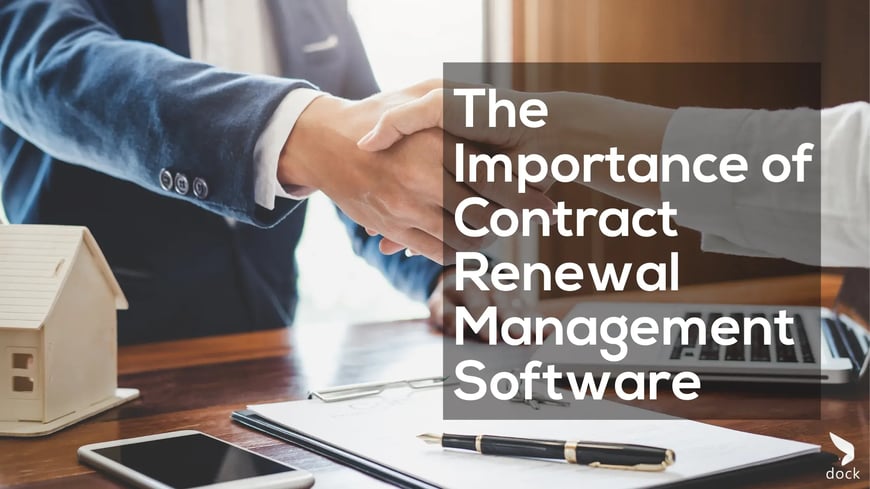 A traditional method of contract lifecycle management relies heavily on manual processes to complete contract-related tasks and activities. In companies that work with a low volume of contracts, perhaps utilizing email reminders, spreadsheets, wet signatures, and other manual processes will not harm their productivity or increase risk substantially. However, in organizations that consistently work with high volumes of complex contracts, manual contract management is only bound to fail. Especially when considering the contract renewal process, you'll encounter several inefficiencies, bottlenecks, and areas of risk potential. Outdated methods of renewing contracts will complicate risk management, so we recommend leveraging a different strategy for your renewals. Let's discuss this in further detail so that you can increase your contract results, reduce risks, and gain control of your contracts with an optimized contract renewal management software platform.
An Overview of The Contract Renewal Process
Contract renewals are central to overall contract lifecycle management. It's necessary to ensure that you only renew contracts that are favorable to your organization's needs and objectives, and contract renewal management software can help you do just that with automated alerts and reminders. At the point within the contract lifecycle, the contract is nearing expiration. Based on contract terms, a counterparty can renew their contract or renegotiate. Many contracts are configured for auto renewal, and with these contracts, it's imperative to review the contract a month in advance before the renewal is active. While auto renewals can increase efficiency and are time savvy, they can cause issues when unfavorable contracts are renewed. In this way, a well-functioning approach to contract reviews can help counterparties mitigate the risk of entering into certain contracts that are longer conducive to their needs.
How Effective Contract Renewals Increase Opportunity
Contract renewals increase opportunity for your organization in a few ways. During the contract renewal stage of contract lifecycle management, counterparties can discuss their concerns with previous contracts and engage in renegotiations to achieve more favorable contract terms moving forward. Oftentimes, contracts will contain renewal provisions, however its important to be prepared well in advance by looking for standardized contract terms and clauses that could have been updated since the time of the initial contract execution. In addition, contract management teams should ensure that all services included in the contract still apply as well as review pricing and goals, as these items can be discussed during contract renewals.
Every company evolves with time in different ways, be it their products and services, budgets, or specific objectives and needs. Contract renewals allow contract stakeholders to improve contract terms in a manner that supports new goals and standards. Furthermore, renewals are the time where stakeholders can renegotiate terms, resulting in saved money, discounts, and improved contract performance. It's also important to keep in mind that even the most minor changes to a contract and lead to large effects on the quality of services of products provided within a given contract.
To maximize your contract renewal process, we suggest leveraging contract renewal management software to assist you and your team in reviewing contracts and in assessing the benefits and drawbacks of potential renewals. Contract renewal management software can help your reduce renewal times, helping your organization increase revenue, meet deliverables and obligations, improve risk management and security, cut costs, and capitalize upon business partnerships.

The Pain Points of A Manual Approach to Contract Renewals
To make the most of your contract renewals, developing an efficient renewal process can help your organization scale and increase contract results. Manual contract renewal methods inhibit your ability to maintain productivity and to renew the most favorable contracts. With spreadsheets, emails, and decentralized contract storage, you'll find that overseeing high volumes of contracts and appropriately managing their renegotiation dates and renewal terms is remarkably difficult. In a manual approach to contract renewals, you decrease the speed and transparency of your renewal process while increasing the possibility of missing important terms or clauses. Manual contract renewals take long amounts of time and several resources from your legal and finance departments to review. Manual contract renewals require even more time to follow-up with individuals who edited the contract prior to renewals. This step is taken to ensure that contract language, terms, and numbers are updated in a timely manner. The most important factor to consider when weighing the pros and cons of a manual contract renewal process versus an automated and software-supported contract renewal process is how a manual approach increases risk, missed opportunities, and a reduction in contract productivity.
Optimize With Contract Renewal Management Software
Instead of dealing with bottlenecks and headaches associated with manual contract renewals, you can leverage a software-supported approach that automates your renewal process. Reduce risk, increase productivity, and finally take control of your contract renewals with contract renewal management software.
The main benefit of contract renewal management software is the ability to support your renewals with contract automation. Contract automation allows organizations to leverage a standardized method to contract renewals that allows them to get more out every contract. An automated contract renewal process improves processes organization-wide. For example, with automated contract renewals, you minimize the need to send documents off to the legal department for review, allowing legal to spend more time and energy on risk management and other processes require their expertise.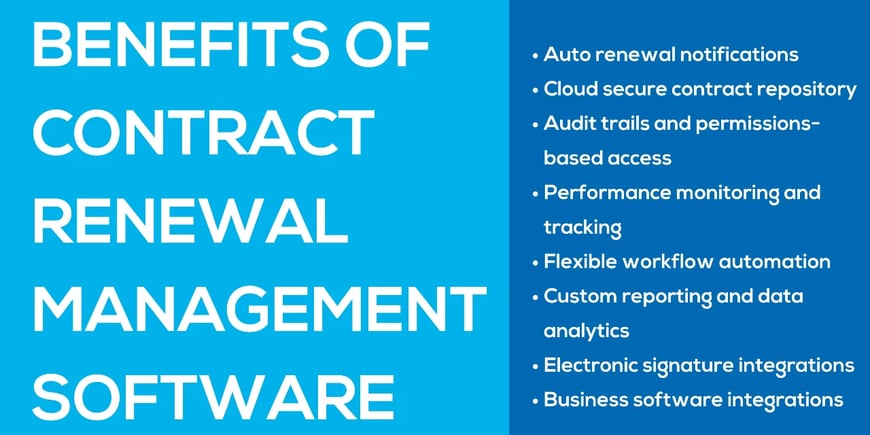 Automated contract management can assist organizations by speeding up contract renewals with a proactive approach that can efficiently work through high contract volumes, ensuring every renewal is completed ahead of time with only the most favorable negotiation outcomes and minimized risks.
Contract renewal management software solutions can support organizations of any size in recognizing new opportunities during the contract renewal process. With contract renewal management software, your organization can assess these opportunities and keep contract stakeholders in the know, allowing for proactive decision-making and reviews. Contract renewal management software solutions are often customizable, easy to implement, and intuitive systems that include full contract lifecycle management capabilities. These systems can support your contract renewal process with the following features:
Conclusion
Contract renewal management software will support your company in taking control of your contracts and in realizing opportunities for success. Streamline not only your contract renewals, but the entirety of your contract lifecycles today with Dock 365.
Learn more about our Dock 365 Contract Management System here.
Learn more about Contract Lifecyle Management (CLM) Software here.
For more information, we welcome you to schedule a free demo with us today.