In our earlier blogs we discussed how important contract management is for an enterprise organization. How much a flawless contract management process can contribute to the growth of an organization is incalculable. From negotiation to renewal, every step involved in contract management is crucial. However, even with close supervision things could go wrong. Humans tend to make mistakes., but mistakes are not affordable in contract management. That is why most companies adopt an automatic commercial contract management system to manage their contracts.
Contract management software plays a significant role in helping sales teams quickly draft up contracts and process them so that they can close deals faster. Closing deals quickly is important because, the more time you delay in closing the deal, the more time you are giving the client in thinking about a second option.
What is
C
ommercial
C
ontract
M
anagement?
Commercial contract management is the process of negotiating formal business agreements between two companies. In commercial contract management, it is the duty of the contract managers to organize the entire process and ensure that all parties involved are aware of their deliverables, rights, and responsibilities. Because this process is a mix of complex business arrangements and legally binding contracts, professionals working in this field need to be highly experienced and skilled. They should be an expert in the trade, that is commercial contract management.
Here are some examples of commercial contract managements,
Agreements related to g

oods &

s

ervice

s

upply

Agreements related to finance and loans

Agreements related to copyright and intellectual property

Agreements in licensing and franchising

Agreements in joint ventures

Agreements among business entities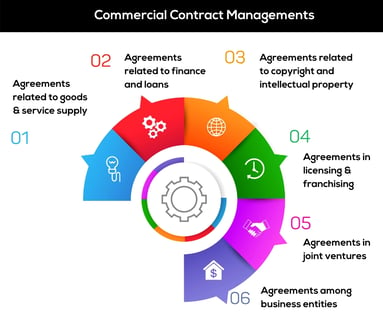 Commercial
C
ontract
M
anagement
P
rocess
From negotiation to termination or renewal, there are several steps involved in the commercial contract management system. Depending upon organizations, this process might be overseen by a single contract management expert or a team of experts. These contract managers handle, not only, drafting and renewal of contracts, but they also need to interpret, manage, and enforce existing contracts.
As we discussed before, contract and commercial management are business agreements between two companies. Obviously, there will be a huge amount of money involved in the process. When there is a huge amount of money involved, companies take extra steps to avoid any mishaps. Not doing so inevitably leads to legal troubles with contractual parties. That is why companies tend to hire only certified professionals.
How to
G
et
C
ertified
in
C
ommercial
C
ontract
M
anagement
?
There are several industry recognized contract management certifications for commercial contract management. The NCMA (National Contract Management Association) provides this certification. According to the area of expertise the designation of the certified professionals can be, the Certified Commercial Contract Manager (CCCM) for professionals in contract and commercial management. For professionals engaged in government sector the designation becomes Certified Federal Contract Manager (CFCM). Certified Professional Contract Manager (CPCM) is experienced and trained in both earlier areas.
If you are looking into becoming an NCMA certified contract management professional, you need to have a graduate degree from an accredited institution, and it is essential that you have completed formal training in respective fields (government/ commercial contract management) and you need to pass an exam. To be eligible for CCCM or CFCM certifications you must have continuing professional education of 80 hours. For CPCM certification that is 120 hours. You can find more information about getting certified on the NCMA website.
An
E
xceptional
C
ommercial
C
ontract
M
anagement System
As the company grows the number of contracts you sign on a monthly base also multiplies. Even with the supervision of a certified professional or even a team of experts, manually handling those contracts, drafting contracts, getting them through each stage, string as hard copies in physical location, can become a challenging task. The possibilities of an error are always there. That is why it is always the right decision to choose an automated solution for contract management.
With an automated solution you can draft contracts easily, get them trough approval stages automatically without any hiccups, store them safely in a digitally encrypted storage location. Imagine the time teams could save in the process, all because of the contract management solution. The automatic contract drafting features enables you to draft contracts faster without having to wait around for legal teams to do that. Also, the centralized storage repository enables the users to access and store the documents effortlessly.
As we said in a previous blog:
"2021 is just around the corner. Now is the time to start looking at your company's processes and looking for ways to improve them. One process that many businesses find rough is contract management. Trying to track and manage contracts throughout their life cycle can be a struggle. That is why you should consider adopting contract management software in 2021."
Conclusion
Commercial contract management is a crucial process for enterprise organizations. Without proper supervision and planned execution, you could be in big trouble. That is why it is important to have the right people managing those contracts. The right people being certified professionals. When certified professionals are empowered with the right tools you achieve the most of out of contract management processes.