Top Features of a Contract Management System
---
It's time to start thinking about the tools you're using in your organization's contract management processes. Consider the results you are currently receiving from your contract management system. Is there room for improvement? Perhaps transitioning to Dock's Contract Management System is the right move for you.
Contract management software is an important part of any business. If your contract maintenance software isn't making contract lifecycle management easy for your company, now might be the time to start looking for a new one. To help you with that, we have developed a list of a comprehensive list of 18 of the most "must-have" features for a contract management system.
Easy-to-Use Dashboard
With a contract management system, having a clean, easy-to-understand dashboard doesn't necessarily mean it's going to be effective; it is, however, a pretty good indication. Users need to be able to log into your solution and get a grasp of what they should be doing. You need a CMS that provides users with a home dashboard that shows an overview of the important information they need. This includes data such as the number of active contracts, the total value, and which contracts are expiring soon. All of this is important so users can know what needs their attention so they can jump into doing their work.
Our well-designed and user-friendly dashboard offers you instant contract insights on demand. Analyzing data and reports in real-time is simple, allowing you to stay in the loop on every detail. An easy-to-use dashboard is a helpful tool that allows you to optimize and appropriately plan ahead in all of your contract management operations.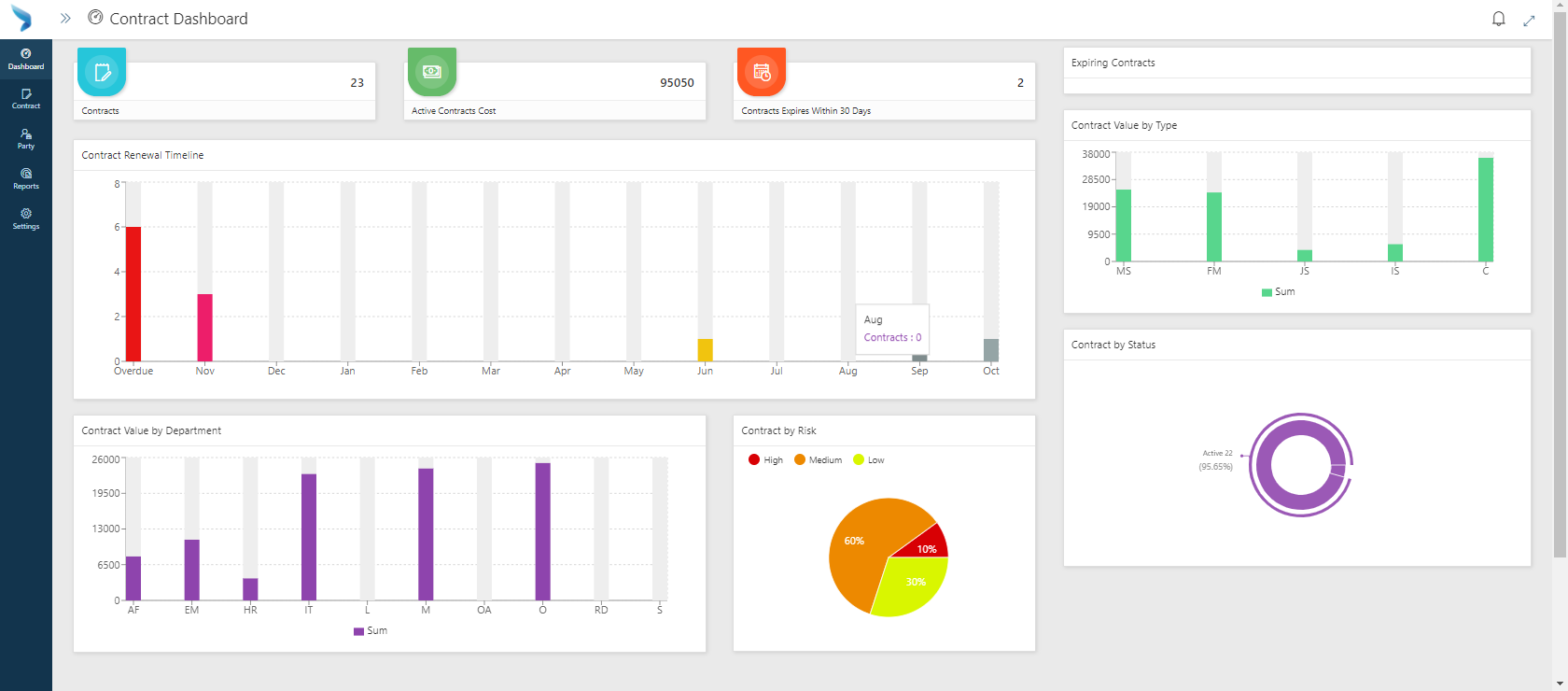 Intuitive Configuration
Does your contract management solution require custom code development every time you want to create new workflows, rules, and fields? Effective contract management solutions will allow super-users to quickly change and configure the application to a new business process, avoiding the need for code changes.
New challenges will be presented to your business and employees when learning a new contract management software system. By setting the intent of having all divisions of your company on the same page with your new software, it can create an easy, efficient transition to contract management software for everyone.
Central Contract Repository
The organization is key for effectively managing all of the different contracts your company works with through their lifecycles. Previous contract management methods utilized physical storage and files for contracts and related documents – a method with a high potential for contract and data loss, misplacement, and tampering. One of the best ways to organize contractual agreements is to use a contract management system with a central contract repository. This offers users quick and easy access to contracts and contracts data. Your team can now spend less time searching through OneDrives and email inboxes and more time working with contracts. This allows users - and your organization by extension - to be faster and more flexible in the work they do.
By leveraging a SharePoint-based contract repository, your business will effectively increase productivity, organization, and visibility within its contract lifecycle management processes. Our central repository allows you to easily conduct customizable, filtered searches so you can find any contract or clause within minutes. We will discuss this function a bit more in-depth below.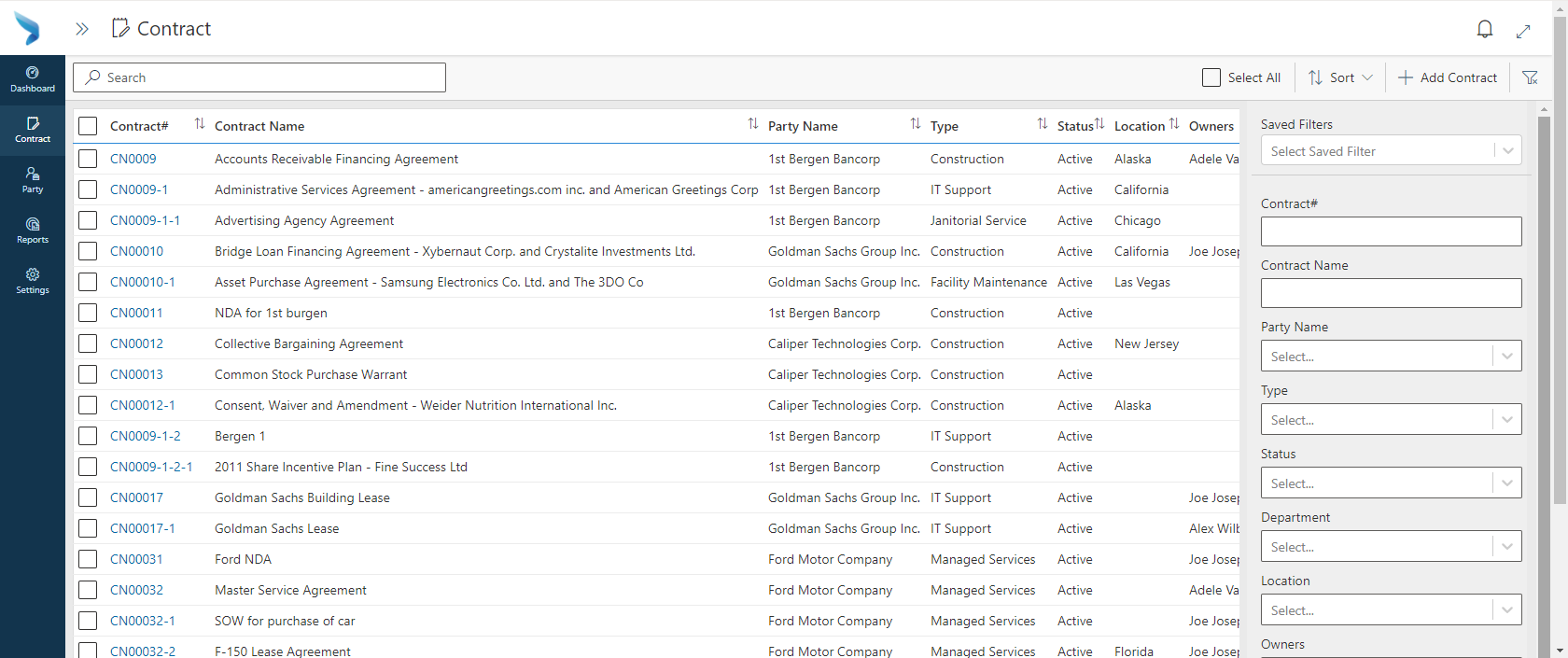 Document Storage and Organization
Contract management goes beyond just the contracts you're working with. It also extends to the documents surrounding the contracts you and your team are working on. This includes things like the Scope of Work (SOW), schedules, cost estimates, and more. It's important that users be able to easily find and work on them. A contract maintenance system that helps you sort and organize your associated documents can be a great help. You should really look for one that allows you to store documents under the contract listing and not just in a document library. This way, you can make finding important contract documents a cinch.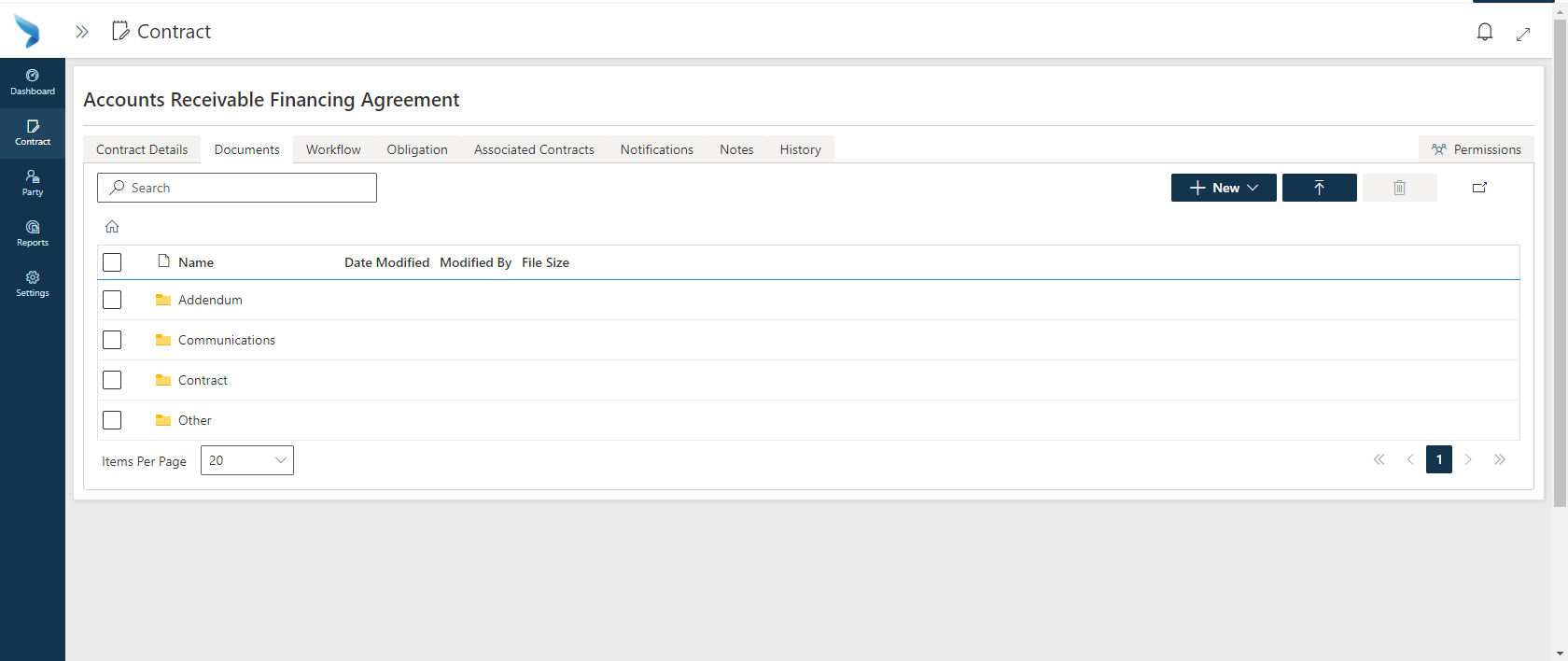 OCR / AI
Depending on what your organization does, you might be working with anywhere from a dozen to hundreds of contracts. It's important that you be able to sort through all of these and find the contracts you're looking for. The latest contract management software has OCR capabilities. OCR stands for optical character recognition. OCR is used when scanning documents into a database. The process involves two basic steps. First, scan a paper document into a computer system. Second, use the data in the document in the same way that a non-scanned document or a saved file on a computer can be used. Edit the scanned document, search, copy, and more.
This is a game-changer for document scanning and for contract management software. The ability of OCR to pull characters, words, phrases, etc. from a document and place them into a database that can be searched later is an example of artificial intelligence (AI) in contract management software. OCR uses AI to perform this cataloging of data from a document to a database in milliseconds. No more scrolling through pages and pages of contracts. Instead, a CMS with search capabilities and OCR can allow you to search for the exact contract and save time. This is certainly a must-have for any company looking to streamline contract life cycle management.

Automated Alerts
It's important that you and your users are up to date with important updates about your contracts. Whether it's about key terms, obligations, or expiration, you need to be in the loop. That's why you need to find a contract management system that is going to alert your users at important times and dates. With automated reminders, alerts, and notifications, you can create increased organizational awareness of critical deadlines, such as renewals and expiry dates. Now, you can enable customized reminder flows to keep the right people in the know. This way, you don't risk running into compliance issues from not fulfilling an obligation or not being prepared as a contract expires. Instead, you'll be fully aware and prepared to take whatever actions are necessary to ensure a smooth contract management process.

Monitoring and Reporting
Just like you want to know what's going on in each of your contracts individually, you also want to be able to know the status of your contracts overall. It's important to know whether your contract management process is healthy and working properly. That's why you need a contract management system that monitors and reports that. The CMS allows your team to manage master service agreements, the value of contracts and complex contractual hierarchies to give you a holistic view of all deals across the entire organization.
With a well-designed digital contract management dashboard, you can analyze reports and data in real time so you can stay up to date on every single detail. You can measure the progress of contract lifecycles and assess where changes need to be made. A clear and customizable reporting facility in your contract management software allows you to identify and mitigate risk as well as understand the results of your current contract management processes. Any system that doesn't offer that isn't worth your time.

Version tracking
Every single change to each document is notated and stored within digital contract management software. In this way, you can collaborate effectively and know who made changes to which document and at what exact times the changes were applied. Version tracking is an additional way to mitigate risk because it safeguards against losing or duplicating data.
Contracts are often edited several times over, so version tracking helps you gain awareness of the various interactions on a specific document or contract. With several people and several changes involved in a single document, gaining insight into the changes made is critical to contract and data accuracy. Contract management software provides a solution to your version control needs during the negotiation process. With version control tools, you can redline, approve, and review documents within your contract management system so you can maintain cohesion and accuracy.
E-Signature Integration
Digital is the way of the future - something that's especially true for the contract management process. The old ways of gathering approvals and signatures are too slow. You need a system that makes it easy for executives and leaders to sign off on contracts and important documents.
Ensure quick and secure contract execution with a contract management system that easily integrates with e-signature solutions such as DocuSign, Adobe Sign, Sertifi, and other electronic signature platforms. This is a fast way to get important figures' consent on contracts and documents. Not only that, but it provides plenty of benefits including security, verification, and full audit capabilities for your business.
Streamlined contract intake and requests
The contract intake and request step is very important to the rest of the contract's lifecycle. By developing a standardized contract intake and request process, you will greatly benefit your contract management system. Email-based contract intake and requests are very inefficient and increase risk.
Customizable contract request forms document all important data prior to launching an automated workflow. Without a well-organized intake and request step, you may miss out on potential leads and encounter delays, bottlenecks, and other errors. To maximize returns and build client and vendor relationships best, we recommend taking a look at how your current contract intake and requests process functions and then considering all the improvements you can make with the help of specialized digital contract management software.
Templating Capability
Creating documents from scratch takes time. You have to dig through them with a fine toothcomb to make sure that you've found any mistakes or issues in the contract. That's why your business should look for a contract management system that can help you move away from this. A CMS system that makes it easy for your company to create and use templates for your contracts can do a lot for your business. Instead of spending time building and tweaking a contract, you can plug the important information into your templates and get going. This is a fast, efficient, and must-have feature you should expect from your CMS provider.
Not only are contract templates and preapproved clause libraries time and cost-efficient, but these revolutionary features also offer a phenomenal risk mitigative advantage in terms of contract administration software. For example, having preapproved, standardized clauses available for rapid and accurate contract building allow you to develop contracts that decrease liabilities and increase compliance.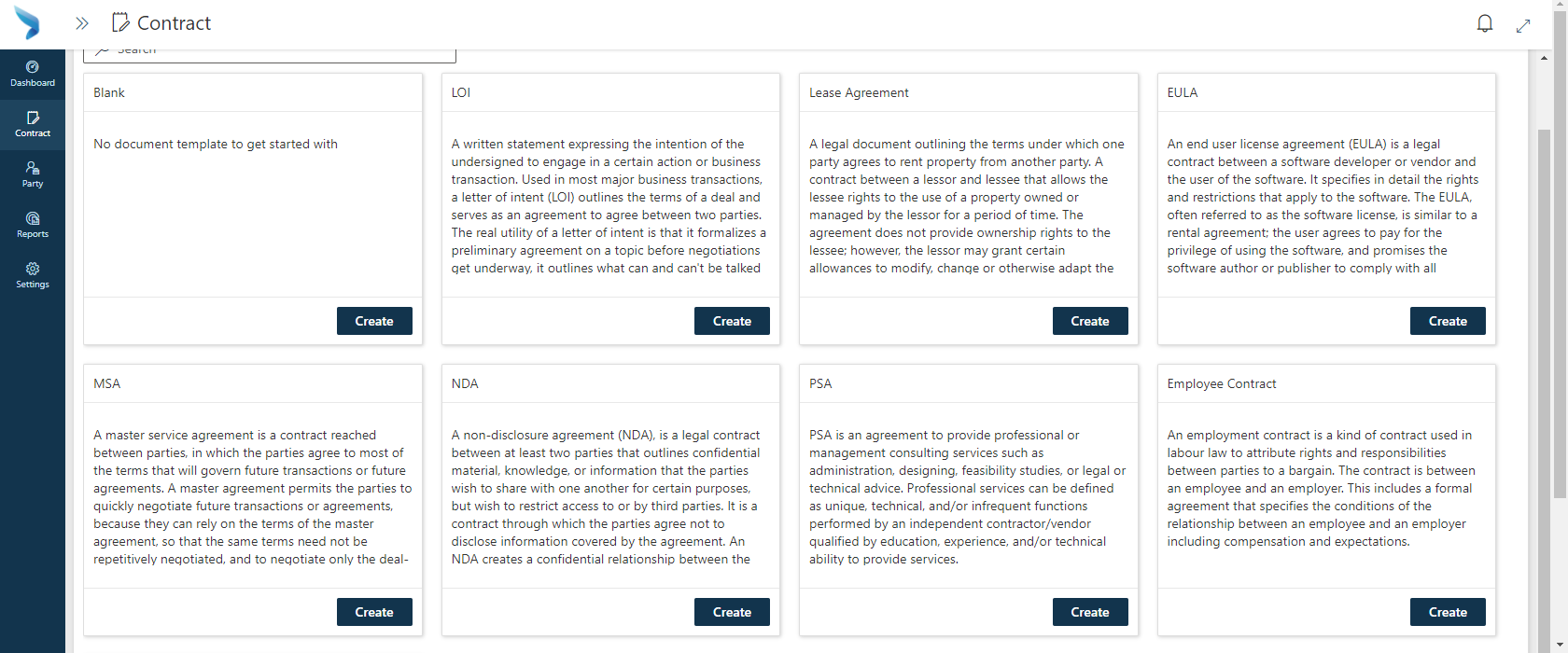 Automated Workflows
Human error is one of the biggest issues that comes up in the contract management process. That's why you need to be on the lookout for as many ways to remove the human element as possible. A contract management system with automated workflows is the best way to do that. Instead of employees manually notifying an approver when a contract needs to be signed, a CMS with workflows will send a notification without the employee having to remember. This can help with any issues with people forgetting aspects of the process and eliminate any handoff gaps you may be having.
Now, your business can use time and resources intelligently with the help of flexible and customizable automated contract workflows. These workflows guide each step with contract lifecycles, allowing you to allocate more manual labor toward other strategic initiatives. Within an automated workflow, a digital contract is sent through a sequence of predetermined steps, notifying select stakeholders along the way of specific and timely actions to take according to the document in question. Workflows can be applied to a single contract or a group of contracts within your cloud-based, centralized repository. Make contract planning, reviews, negotiations, and execution simple with numerous settings available for each flow.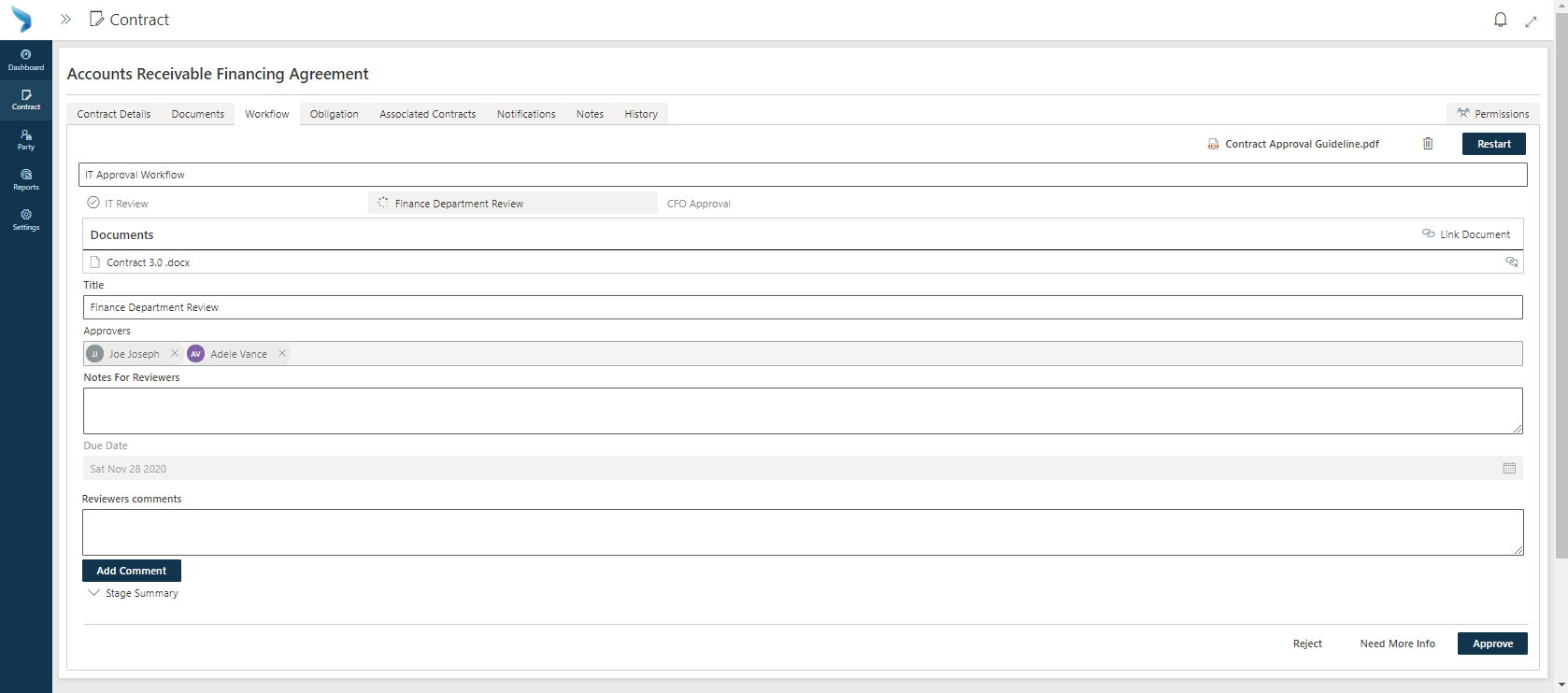 Tool Integration
As we move, it's important that our tools be as modular and flexible as possible. To that end, you need tools that can connect and work with your other tools. A contract management system that doesn't talk to your other solutions ends up wasting more time than it saves. That's why you need to find a CMS that allows you to integrate any internal or third-party tools that you're using.
Integrating with single sign-on (SSO) environments such as company intranets and enterprise content management/knowledge management systems allow end users to have all their tools and solutions in one place. In this way, your organization can streamline workflows and processes by making it easy for users to connect their preexisting business accounts. Contract management software also seamlessly integrates with Microsoft Business Central, Salesforce CRM, and Microsoft Dynamics CRM to facilitate efficient business operations. That way, you can ensure that your data is the same across all platforms. This lets you move seamlessly from platform to platform without having to worry about any issues or discrepancies.
Manageable Deployment
Time Digital projects can prove to be complex and challenging, especially when delayed by lengthy deployment times. Inflexible contract management software that requires technical resources to configure can prolong projects and put them at risk. We suggest looking for a highly configurable and flexible solution that allows you to deploy in weeks rather than months. Dock's Contract Management System can be implemented in one week, saving time, money, and headaches.
Access Permissions Controls
Contract management system administrators (admins) control access to contracts. There are three levels of access:
Owners Group (Full control)
Members Group (Limited control)
Visitors Group (Read-only)
Admins or owners have full control of all settings and uses of the contract management software and can allocate which other individuals or groups can also have full control. Full control users can edit settings such as which data fields will appear on reports, the types of workflows that can be available for other contract management system users, who have E-sign privileges, and more.
Limited control options are governed by those with full control and have edit permission. A typical example of a contract management system user with limited control is the ability to add documents to the contract repository, edit or redline contracts, assign tasks to other users, etc. Limited control users in contract management software can execute every action that a site owner can, except delete a contract/party or access the settings option.
While the C-suite executives, legal counsel, and regional VPs will usually have full control of the organization's contract management software, position holders with limited control may be department managers, team leads, and supply chain personnel that interact with vendors or customers to create contract requests to be approved by managers with full control access. Contract management system users with read-only access or visitors group may consist of new trainees, prospective clients, or third parties. Read-only users can view documents, but only with temporary access granted by a contract management system user with full control.
Unlimited User Support
One of the key considerations when selecting a contract lifecycle management software platform is the level of user support provided. If the software requires hefty amounts of resources and time during implementation, the software provider should most definitely help with the beginning process. The best CLM software providers will go the extra mile to ensure your company's success when adopting their solution.
For example, here at Dock, we help to import your data into your customized Microsoft 365, SharePoint, and Microsoft Teams environments so your entire team can make an easy, seamless transition to our CLM system – at no added cost. We recommend using a software provider that also provides unlimited, complimentary training so that all of your employees can get a handle on the software. Being able to successfully adopt the software is critical, so software providers should be more than willing to train your employees for free.
Advanced Security Capabilities
Secure contract storage is an absolute must-have to protect your business from risks and security breaches. With a cloud-based contract lifecycle management (CLM) system, you're going to want to look for how the software provider protects sensitive data by ensuring there are sufficient security features like data encryption and permissions-based accessibility. Audit trails and electronic signature integrations are additional features that can help keep your contracts and client and vendor information protected. When looking for CLM software, ask about backups, data recovery, intrusion detection, and other features so you can keep your company data safe from cyber security attacks.
Analyze data with audit trails
With a centralized contract repository, you can audit your agreements and contracts. Audit trails allow you to assess compliance and stay aware of organization policies so you can ensure every decision made is the correct one. These audit trails are especially helpful for reviewing contract history so you can stay fully aware and engaged. Audit trails are key for maintaining visibility and transparency in your contract management processes.
Conclusion
Contract management isn't a fun process, but that doesn't mean it has to be a hard process. One of the best ways to make the contract management process manageable is to use a modern, intuitive contract management system that fits your needs. Make sure to look for the features above and you'll be on your way to finding a system that can help you take your business to the next level.
If you have any questions about contract management systems, or you're interested in booking a demo of Dock's Contract administration software, fill out the form to the right to schedule a free, 30-minute demo with our team. We'd love to answer any questions you may have and show you how our system can revolutionize your contract management process.