Many businesses and organizations wish to optimize their contract lifecycle management strategy and are unsure where to start. For many, there's a rapid influx of demand placed on their organization, resulting in the need for more control over their growing contract portfolio. For others, there's a specific mishap that occurred or an event that left the business with less time and money. Commonly, businesses forget about auto renewal dates and let their contracts slip through the cracks, meaning they unintentionally auto renew unfavorable agreements. Many simply lose or misplace their contracts on a routine basis.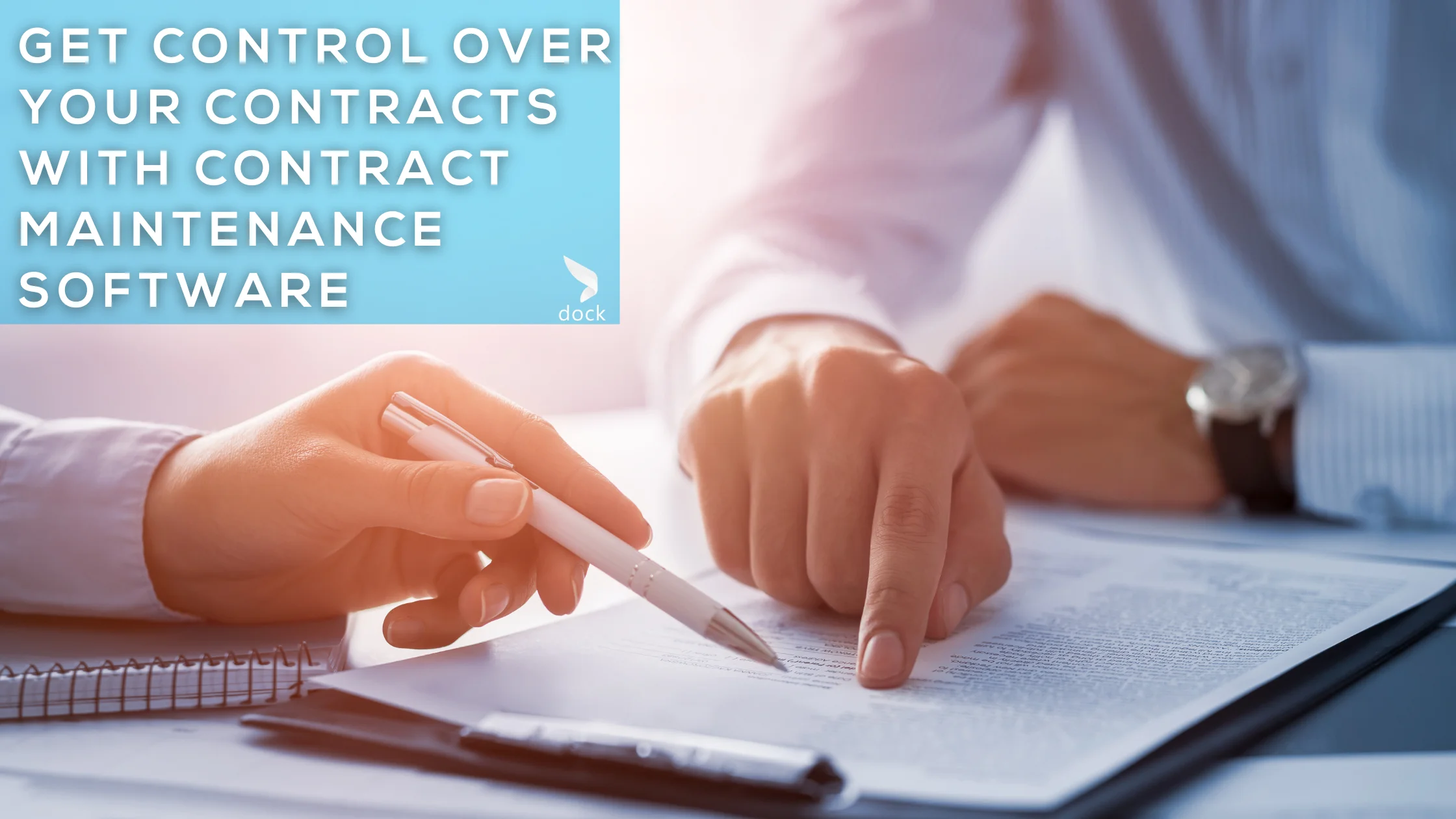 As you can see, there are numerous examples of challenges presented in the process of managing several contract lifecycles simultaneously. However, with the assistance of contract maintenance software, you can manage your contracts seamlessly and alleviate many issues associated with contract lifecycle management.
Let's examine five reasons why businesses are making the move to contract maintenance software.
Content:
1. Access contracts anywhere with cloud-based contract maintenance software
Manual contract management is outdated. Not only is it old news, but it's inherently risky, expensive, and time-consuming. Companies that leverage a manual approach to contract management consistently experience difficulty in finding their contracts within their manual storage system.
With manual contract storage, you keep your contracts in a disorganized system of filing cabinets, shared drives, and email chains, desktops, and in other disjointed means, you immediately increase the likelihood for difficulty in retrieving what you need when you need it.
Keeping your contracts in a cloud-secure digital contract maintenance system guarantees that you can access your contracts within moments with customizable, savable filters and text-based search capabilities. This makes locating and retrieving exact metadata, clauses, terms, key dates, and contracts quick and pain-free. Due to the cloud, your authorized users can access your contracts at any time, any place, on any device. If your business relies heavily on a remote workforce, then having remote access to your contracts should be factored in appropriately when searching for a solution to your contract management needs.
In the case of unexpected events that prevent your team from getting to the office, your team can easily continue working due to the access to contracts they have within the cloud.
2. Boost visibility of your contract activities
General counsel and legal typically hold a significant level of control over a company's contracts. Contract maintenance software enables all of your departments to attain any contract-related answers instantly within their software solution. The ability to rapidly retrieve exact pieces of metadata, clauses, and contracts within seconds from your software platform can improve the experience that your clients and vendors have because you're able to give them accurate answers backed-up by the contract data. In contrast, manual contract management means you increase the risk of giving business partners the wrong answers at a snail's pace.
Basing your contract lifecycle management on manual procedures decreases the visibility of the overall picture of each contract at hand. It becomes challenging and time-consuming to identify which stage each contract is in within its lifecycle as well as how the contract is performing. Without a central source of truth for all of your contract-related data, your team might make detrimental contract decisions due to a lack of knowledge of the current and past contract data. Today, many contract maintenance software solutions have built-in contract data analysis and reporting capabilities so that contract managers, business owners, and other authorized users can glean key insights on their contract data and share these insights with their leadership team.
There's no need to store your contracts in email chains, shared drives, filing cabinets, and desktops. Increase the ease of your contract management once and for all and store all of your contracts and associated data in a cloud-secure, centralized contract repository in your contract maintenance software. Access your contracts 24/7 so you can proactively plan for negotiations, reviews, and approvals. In summary: Contract maintenance software gives users the ability to find exactly what they need at the times they need it most.
3. Save time and increase productivity
Managing contracts manually takes an exorbitant amount of time and is prone to increased risks, human errors, and bottlenecks. However, with contract maintenance software, you can both save time and increase employee productivity rates by automating several activities within the contract lifecycle. Contract maintenance software empowers users to standardize and systematize several elements of the contract lifecycle. In a manual contract management approach, you waste your team's time on low-level administrative tasks that could easily be automated.
Relying on manual contract management procedures and manual contract storage for a large portfolio of highly complex contracts makes it incredibly challenging to not let details slip through the cracks. Managing obligations and key dates like auto renewals and contract expirations becomes time-consuming and disorganized, making it difficult to confidently ensure that your agreements are appropriately fulfilled and delivered upon. Manual contract reviews are also inefficient due to the inaccessibility of contract data, so finding answers takes much longer than necessary. All of these bottlenecks will exponentiate with increased demand on your contract portfolio.
Thanks to contract maintenance software, you can automate several of your repetitive, low-complexity contract lifecycle management procedures. This includes sharing contract status updates with your stakeholders, monitoring upcoming expiry and auto renewal dates, and retrieving clauses and metadata. By automating these tasks, you save your team time on the low-ticket items so they can spend more of their time on contract activities of higher complexity.
4. Gain a proactive contracting approach to maximize revenue and cut costs
All of your contracts should be monitored around the clock so you can make the most data-driven decision when it comes time to renew the agreement. In the case you forget about an auto renewal date and a contract with unfavorable terms auto renews, then you get locked into an agreement that you could've terminated or renegotiated. A manual contract management strategy increases the likelihood of forgetting key deadlines, dates, and milestones that can drive up costs in the fees associated with correcting these errors and missed dates.
By keeping your whole team and involved stakeholders in the loop of upcoming due dates with customizable, automated reminders, you can gain back control of your contracts. No need to use written notes and calendars prone to inaccuracy and human error to keep everyone on the same page. Forgetting key contract deadlines is a common struggle among many businesses and organizations today. With contract maintenance software, you can solve this problem.
Storing your contracts in a contract maintenance software solution can support your team by increasing visibility and access to contract metadata in a single and secure place. This can encourage proactivity towards time-sensitive contract responsibilities. We recommend leveraging customizable reports to share on an automated schedule with your team, including reminders of contracts with upcoming auto renewal and expiration dates.
Shifting from written calendar reminders to digital automated reminders will keep your team aware of approaching contract auto renewal dates and expiry dates at all times so they can prepare ahead for the best deals and make the best business decisions when these dates come.
5. Contract maintenance software supports business growth
Manual contract storage and manual contract tracking might suffice for an organization with a small portfolio of low-risk contracts of minimal complexity. However, scaling such a system is essentially obsolete. To properly manage contracts, it requires diligence, attentiveness, and the effort of many involved stakeholders. Once your contract portfolio reaches a certain volume, manual contract management becomes a hopeless prospect.
If your business has experienced fast growth and is finding it difficult to properly keep up with all of your obligations, dates, and contract-related responsibilities, then it may be time to make the transition to contract maintenance software. Companies of all sizes, from small businesses to massive enterprise-level organizations, should assess all of their current contract management procedures to determine which areas could use optimization and improvement.
Furthermore, transitioning to a contract maintenance software solution can give you the competitive edge when managing a massive increase of contracts in the future. We encourage you to be proactive and make the switch early while you have a fairly manageable, smaller contact portfolio. This will make it much easier to adopt the solution, rather than making the transition when you're working with a rapid influx of new agreements, due dates, and obligations.
Conclusion
Contract maintenance software will help your organization save time and money while maximizing your ROI and mitigating risk. You'll also get instant contract access due to cloud-based software, increase visibility, boost productivity, develop a more proactive contracting approach, and support your future business growth.
Dock 365 offers an intuitive and user-friendly contract management system built on your Office 365, SharePoint, and Teams for cost-effectiveness, easy adoption, and secure storage of contract data.
Learn more about our Dock 365 Contract Management System here.
Learn more about Contract Lifecyle Management (CLM) Software here.
For more information, we would like to welcome you to schedule a free demo with us today.