SharePoint Contract Management is a leading solution that streamlines and optimizes contract lifecycle management for companies of all sizes – from small and midsized businesses to enterprise-level organizations. To maximize cost-efficiency, you can use your existing Microsoft Office 365 and SharePoint subscription as the base of your contract management system. Today, SharePoint offers numerous capabilities making it one of the most highly regarded contract management software solutions.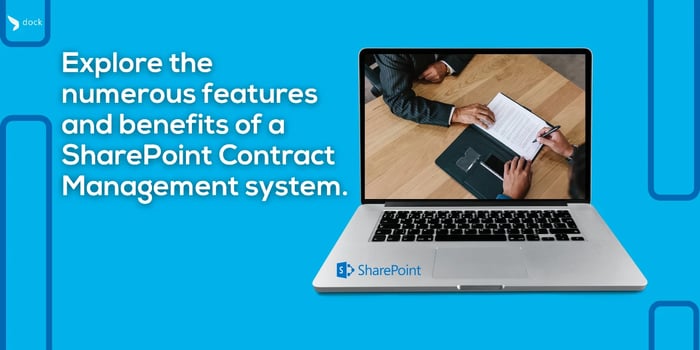 SharePoint Contract Management Defined
You might be wondering what SharePoint Contract Management entails. SharePoint Contract Management is a modern contract management solution that employs the collaborative features of Microsoft Office 365 and SharePoint Online to offer a productive and simplistic approach to managing contracts. These solutions are globally recognized as software platforms capable of storing massive volumes of sensitive data, making these solutions perfect for contract lifecycle management.
SharePoint Contract Management supports an increase of visibility and accountability within your contracting activities, as SharePoint offers users a proactive contract dashboard to review contract lifecycle status updates, approaching key dates (i.e., expiry and auto renewal dates), and remaining contract tasks for any given document. With these insights, you can easily gain clarity on legal implications for reviews and approvals and see exactly who accessed which documents and at what time(s).
On your SharePoint Contract Management System, contracts are easily routed to the right party at the right time to complete various tasks. This is made possible through flexible, customizable contract workflow automation, supporting contract managers in standardizing each stage of the contract lifecycle for optimized approvals, negotiations, and reviews. SharePoint offers the ability to use customizable search filters that users can save for repeated use, making it remarkably easy to locate and retrieve exact contracts, clauses, and associated documentation within seconds when time is of the essence (i.e., during the negotiation phase).
Perhaps the most powerful advantage of SharePoint Contract Management is the ability to systematize and organize all contract-related tasks and activities, meaning you'll save your team time and money while mitigating risk and maximizing efficiency. Contract management software built on SharePoint supports companies with a digital, cloud secure centralized repository for contract storage and ongoing management. In addition, SharePoint provides automation to streamline contract creation, approvals, negotiations, and other processes. This can save your business valuable time when building new contracts, searching for previous ones within your software, and finalizing contracts prepared for execution. Businesses of all sizes are choosing SharePoint Contract Management as their cloud-based contracting solution because it is scalable, mobile-friendly, and easy to implement and use.
Features of SharePoint Contract Management Software
SharePoint Contract Management supports the entirety of the contract lifecycle by automating every stage, from contract authoring to contract execution. Let's take a look at some of the most powerful features of SharePoint Contract Management software.
Contract Template Library
Create and reuse contract templates for specific contract types. This allows users to reuse standardized contract templates for contracts that they most regularly work with, meaning contract drafting becomes faster, more compliant, and less risk prone.
Contract Drafting Automation
In SharePoint, users can automate certain aspects of contract building with customizable questionnaires and auto population of metadata. For example, the addition of entry fields and/or clauses in a given contract draft are dependent upon the answers to the questionnaire, supporting consistency in legal contract language and risk mitigation.
SharePoint offers document check-in and check-out capabilities to ensure that modifications to your contracts are made at separate times than other to help ensure version control, remove miscommunications, and reduce duplication of content. In this manner, your SharePoint platform offers the ability to simultaneously work on contract drafts with several other authorized users.
Automated Contract Approval Workflows
In your SharePoint Contract Management software, routing contract approvals to the right party for approval is simple. Building rule-based, custom approval workflows consisting of a variety of phases is entirely possible in your SharePoint solution.
Advanced Search Capabilities
Conduct searches for exact contract clauses, contracts, and associated documents with searches based on keywords, full text, or specific metadata and filter your results with SharePoint. Build custom filters and save them for future use so you can rapidly find exact documents based on contract type every time.
Automated Reminders and Alerts
Configure reminders and alert to keep your employees in the loop of upcoming key dates so everyone maintains a proactive approach to contract lifecycle management. Using reminders and alerts can support you in gaining visibility and accountability regarding milestones, contract statuses, contract performance, and other key insights. This feature supports risk management by mitigating forgotten auto renewal dates that might result in the renewal of unfavorable agreements.
Customizable Reporting Functions
Generate custom reports and share them to key stakeholders on an automated basis with your SharePoint solution. This reporting feature offers data regarding the most consistently viewed documents, user activities, contract lifecycle workflow updates, and other contract-related information.
Integrations With Electronic Signature Providers
SharePoint Contract Management can be integrated with electronic signature providers like DocuSign, Adobe Sign, and Sertifi eSignature to expedite the signing and execution process within the contract lifecycle. This helps to digitize the entirety of the contract lifecycle while maintaining legal standing.
Centralized Digital Contract Repository
Build, store, categorize, archive, and retrieve contracts in your SharePoint repository. This helps to provide a single source of truth regarding the location of your documents while enhancing the security of your sensitive data with role- and permission-based access control capabilities.
Key Advantages of SharePoint Contract Management
Take a look at the following advantages of SharePoint Contract Management that support small, midsized, and enterprise-level organizations globally.
Familiarity
Organizations can use their existing SharePoint and Microsoft Office 365 investment to seamlessly collaborate throughout the contract lifecycle. Not only will SharePoint be familiar to your team, but it's also the most cost-efficient option available to you!
Easy To Use
An intuitive, visually dynamic user interface makes SharePoint one of the most user-friendly contract management solutions available. To get started using SharePoint, there are several training resources available online for new users. Because SharePoint is so simple, it typically requires minimal time to train employees on, meaning organizations can allocate more time and effort on business initiatives instead.
Conducive To Scaling Your Business
SharePoint supports business scalability by offering various options to increase document volume.
Ability Integrate With A Variety of Business Software Solutions
Integrate with Office 365 out-of-the-box, electronic signature software, and other CRM and business solutions. Navigate between multiple online integrations easily by accessing your integrations within your SharePoint to save time.
Increased Compliance And Security
SharePoint provides topnotch security capabilities to ensure all of your sensitive contract data and private client information remains confidential. For example, SharePoint offers data encryption in transit and at rest, DLP, multifactor authentication, compliance monitoring, audit trails, and other advanced security measures to give you and your team the confidence in the security of your contract activities at all times. Due to these capabilities, SharePoint is considered one of the most secure contract management solutions available today.
Saves Money
SharePoint Contract Management is very cost-efficient. Based on a subscription model, users can plan ahead for their contract management expenses.
Conclusion
SharePoint Contract Management supports businesses and organizations of all sizes to confidently create, manage, and store contracts with advanced software tools that simplify drafting, approvals, negotiations, and execution. In addition, SharePoint provides top-of-the-line digital security and access controls to give users and contract managers peace of mind. Many businesses opt for SharePoint Contract Management because it is a cost-efficient, proven contract management solution with powerful security and compliance capabilities and the ability to integrate with other business solutions.
Learn more about our Dock 365 Contract Management System here.
Learn more about Contract Lifecyle Management (CLM) Software here.
For more information, we would like to welcome you to schedule a free demo with us today.