How Do I Select The Right Solution For My Company In 2022?
A cloud-based contract management system can include various specifications and features unique to the industry that the platform is designed for. Each industry will leverage different processes and procedures, fit to adhere to various compliance policies and regulatory standards. To adopt a solution best equipped for your organization's needs and contracting objectives, then take a look at the following questions to support you as you evaluate your software options going into 2022.
Content-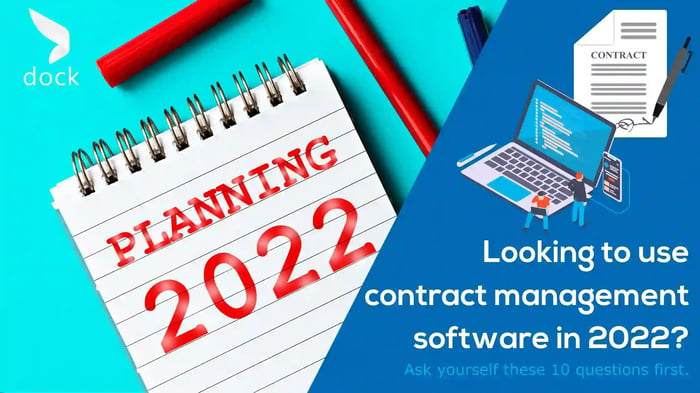 1. What security features does the software use?
Data protection and security is one of the most critical components of any contract management system. Does the solution have an established, reliable server infrastructure, and is the platform compliant with your industry's standards and regulations? What protections are in place for data loss?
For example, a contract management system built onto SharePoint might leverage SharePoint Backup and SharePoint Restore in the case of document recovery when unforeseen circumstances interfere with your data. To protect against data loss, you should ensure the platform has a systematic process for data replication and that it regularly automates data backups. Various security procedures should be repeatable and independent as well.
2. Can I easily transfer my current contracts into the platform's centralized repository?
A centralized digital repository is one of the key reasons that many businesses today have transitioned to online contract management software. In your digital repository, you can easily store, categorize, search for, and retrieve documents. Contract management solutions will offer varied amounts of contract storage and user access.
We recommend finding a solution that doesn't limit you by user costs. Does the solution support all the file and format types you need? This will help you determine if you can migrate your contract data into the platform. Does the software provider assist you during this process? Here at Dock, we support you by uploading all of your documents and contracts into the contract management system for you.
3. Are there filtered search features and custom report generation capabilities?
Advanced text-based search and customizable filters can help users retrieve contracts, clauses, and contract content within seconds. For example, you can search by vendor name or contract type to find documents associated with these characteristics.
Does the solution include a proactive, user-friendly contract management dashboard? With your dashboard, you can generate reports, analyze data, and share your findings with others. A dashboard can improve contract visibility and accountability regarding obligations, deadlines, and contract expiry and auto renewal dates. Users should be able to easily export key contract information (i.e., a list of finalized contracts) to necessary stakeholders within the organization.
4. Is this cloud-based platform conducive to the scalability of my business, and will it alleviate present problems?
A software solution built on a cloud is inherently scalable, so you should find growing your business to be no problem with this type of software. The solution should make it incredibly simple to add additional users as your organization expands. The best available contract management systems include features that support multiple departments and/or locations under the umbrella of a single software platform, meaning you have complete visibility into your company in one place.
We also recommend that you gain an appropriate understanding of the costs associated with the solution in the long-term. Are there additional expenses pertaining to user support, upgrades, and contract migration that you should plan ahead for?
5. Can this solution integrate with my existing apps and solutions, and is it user-friendly?
Today, many organizations leverage a whole host of tools for data analysis, internal communication and collaboration, and more. An all-in-one contract lifecycle management solution allows your organization to integrate it existing solutions and apps into one place.
Here at Dock, we offer integrations with business tools and electronic signature tools like Microsoft Dynamics 365, Microsoft Teams, Microsoft Power BI, SharePoint, Yammer, Planner, Microsoft Exchange, DocuSign, Adobe Sign, Sertifi, and more. The advantages of your contract management solution are accessible to everyone within your organization, meaning you can cultivate a more productive work environment, resulting in improved negotiations, enhanced collaboration, and faster closing rates.
6. Is there a streamlined approach to system implementation and does the provider offer user training and support?
The software solution you choose should offer a tutorial or user guide for software implementation. The provider should also support you with user training and support, where they stay in communication with your team to ensure success and smooth transition to their solution.
During implementation, the provider should ensure that users can properly use their new solution and that the solution is configured with customization per their company's branding. Some providers might offer webinars and document migration services to further support the implementation phase for new users. We recommend looking for providers that offer these services at no extra cost.
7. In comparison with other solutions, what features does this one offer that will support my business more than others?
There are heaps and heaps of contract lifecycle management systems available today, but what factors separate the best from the rest? Consider the needs of your business. Is expediting the turnaround time of the contract signing phase one of the biggest needs? Then leveraging a solution with electronic signature integrations is the way to go.
Needing to get better results from your contract negotiations? Choose a solution that offers user-friendly portals for negotiations that offer redlining, commenting, and other features that support streamlined negotiations. We suggest leveraging a solution with flexible, automated workflows to support approvals, reviews, and negotiations. By comparing the available solutions, you can narrow your search and pinpoint which features are an absolute must and which ones you could do without.
8. Does this solution support my organization in saving time and money, and in what ways does this solution increase the value of my contract management?
Contract management solutions offer companies unique features that support a time- and cost-efficient contract management process, and this is especially so for solutions that offer contract automation capabilities. A dedicated CLM solution can support your company in creating standardized, compliant, and reliable procedures for your contract creation, reviews, approvals, signing, and negotiations.
In addition, you'll find the increased visibility and transparency into your contract activities to be seriously advantageous, giving you peace of mind and an increased sense of control over your processes. A library full of preapproved clauses and contract templates can help you during drafting and negotiations, ensuring that only compliant legal language is included in your agreements. One of the best things about CLM software is the fact that you eliminate manual processes that are inherently risk and error prone. All in all, contract management software can support your organization in developing increased rates of productivity while maximizing your return on investment.
9. Can this solution adapt to my company's branding and does it offer customizations suited for my company's objectives and needs?
Your contract management software should include a custom dashboard that displays key dates and other critical contract information. Your solution should be easily accessible to authorized users, equipped with configurable user permissions.
In addition to your dashboard, your solution should allow the contract administrator the ability to collaborate with your software provider to customize your solution based on your organization's needs and goals. These customizations will include permission levels, role-based accessibility, and access rights. This will help you ensure that only the right hands have access to your sensitive data at all times.
10. Does the solution include robust version control capabilities?
Does the solution allow you to review detailed timestamped histories of every document? How about auditing? Whenever a document is edited, does the system automatically save a digital note of each action? Your legal department should be able to easily monitor any change to any document, at any time. Your solution should automatically save every document version whenever a document is edited, accessible at all times, even post-execution.
To increase compliance, we recommend finding a solution that offers configurable editing rights based on user permissions so that contract administrators can provide legal more authority over contracts.
Extract The Most Value Out Of Your Contracts Today (And In 2022) With Dock 365
Maintaining the highest level of contract security while ensuring compliance with data and privacy standards within a cloud-based contract management infrastructure is one of the most prominent concerns of legal departments. However, the cloud itself directly supports a proactive and insightful strategy towards security and compliance. Your cloud-based infrastructure can actually be the key to finally boost efficiency, productivity, and results.
With your contract lifecycle management platform built onto a cloud, you can easily integrate your contract data and use its robust features right away. A cloud solution can support you in scaling your business and maximizing your return on investment right away.
Here at Dock, we use your current Microsoft Office 365 and SharePoint subscriptions for a cost-efficient approach to contract lifecycle management. Our contract management system supports all your teams, from legal and operations, to HR and procurement, in all your contracting activities.
Ready to learn more about our Dock 365 Contract Management System? Click here.
Interested in Contract Lifecyle Management (CLM) Software? Click here.