Your vendor relationships drive operations and play a direct role in revenue, so it's crucial to ensure the health of these relationships. Effective vendor management can increase the likelihood of your third-party relationships developing into long-term, profitable relationships. In addition, by prioritizing your vendor management strategy, you can improve outcomes. This might look like leveraging a contract management system that centralizes all of your organization's documents, data, and communication.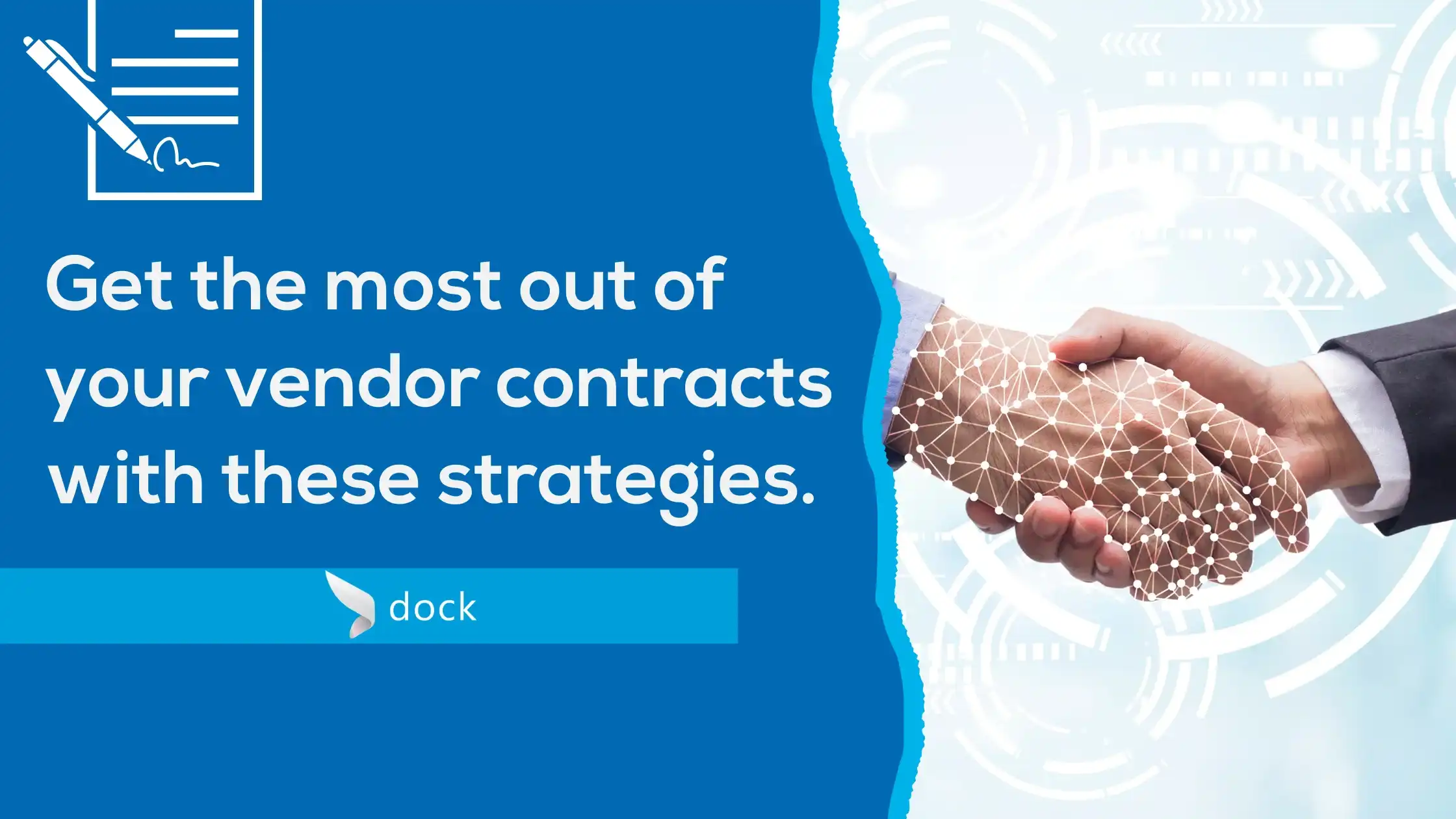 Contract lifecycle management (CLM) software has significantly increased in popularity and is trusted by many of today's business and industry leaders. These solutions support vendor contract management throughout every stage of the contract lifecycle, allowing users to oversee a variety of contracts that span across the business. End-to-end contract lifecycle management software solutions improve turnaround times, contract accuracy, productivity, and organizational efficiency. In addition, a CLM software solution can support your business in mitigating risk, increasing compliance, saving money, and improving business results. By implementing CLM software and developing a comprehensive vendor contract management strategy, you can properly manage risk and increase the value of your vendor relationships.
Ready to learn how you can improve your vendor contract management strategy and maximize the value of these relationships? We take a deep dive into this topic below.
How To Improve Vendor Contract Management
1. Construct a vendor contract management strategy.
Creating a vendor contract management plan that oversees contract authoring and management supports your organization in avoiding compliance problems, missed dates, document inaccuracies, and a host of other issues. Employing a CLM software solution provides your organization the ability to monitor and extract contract performance data according to configured metrics and KPIs, giving you increased visibility of which agreements are most conducive and favorable to your business objectives. Throughout the vendor management process, you can easily view any version and draft of a given contract to review changes made during negotiations.
2. Create clear communication channels with your vendors.
Negotiating and drafting your vendor contracts requires a substantial amount of communication. And while these processes involve lots of discussions, it's imperative that you create a clear understanding of expectations, objectives, and priorities. Vendor management involves analyzing contract performance at the completion of the contract lifecycle to assess whether to renew, terminate, or renegotiate the contract. This step supports you in determining which contracts to continue to work with in the future. We recommend communicating with your vendors throughout the many stages of the contract lifecycle.
A positive vendor contract management strategy means that you provide your vendors with the transparency they need to effectively meet the expectations of the partnership. When third-party vendors properly understand the objectives and priorities of the business they are working with, there's a higher likelihood to develop a mutually advantageous business partnership. You might also increase the amount of successful renegotiations in the future.
3. Think in the long term.
Building long-term relationships with your best vendors can result in results-driven renegotiations and an increase in quantity of high value contracts. With long-term vendor relationships, you can drive favorable contract terms, so what's not to love? In today's market, the best contract management software solutions available include vendor performance monitoring and vendor scorecard ranking capabilities. Within your cloud secure centralized repository, you can easily monitor your vendor contracts, their statuses, and their performance to analyze contract trends. In this manner, you can pinpoint exactly which contracts perform at optimal levels as well as how your vendors perform with particular contracts. Analyzing vendor performance against your performance metrics can help you make intelligent, data-driven decisions regarding which vendor relationships to hold tight and which to let go of.

4. Negotiate fairly and effectively.
Prepare in advance for your negotiations by ensuring there is a clear understanding of your vendor and by identifying where potential risks may exist when entering the business relationship. The negotiation should address these risks while opening up communication to hear the point of view and perspective form your counterparty. With a collaborative, open-minded, and fair approach to your negotiations, you can appropriately problem solve and start your working relationships off on the right foot.
You'll know a successful negotiation has taken place when you and your vendor leave satisfied, knowing that the contract at hand will drive profits and work to reach goals on the part of each party involved. We highly recommend that your procurement team enters into negotiations with goals pertaining to service, quality, pricing, and other areas relevant to your unique business needs. With contract management software, you can provide your procurement department with the best-possible negotiation tools, supporting you in creating the contracts that will lead to business results and achieving goals that benefit your organization and your vendors.
Contract Management Software Is The Key
Here at Dock 365, we know how challenging it can be to successfully manage vendor contracts and vendor relationships. Using our solution built onto your Office 365 and SharePoint, you can digitally store and manage an unlimited quantity of legal agreements within your cloud secure centralized repository, making your contracts accessible to authorized employees at any time on their mobile devices. By keeping your contracts and associated data under one umbrella, you can easily monitor their status and performance in relation to your vendors. You'll also never have to stress about paying your vendors late or missing key dates, milestones, and obligations thanks to automated alerts and reminders. The number #1 way to build thriving relationships with your vendors is to ensure that everyone is on the same page regarding objectives, terms, and expectations, and CLM software can support you in doing just that.

Conclusion
Get the head-start on optimizing your vendor contracts with Dock 365. We'll support you with an intuitive, user-friendly contract lifecycle management (CLM) solution that will drive revenue, mitigate risk, and increase the value of your vendor relationships. If you're ready to experience the benefits of contract management software for your business, then we're here to help you at Dock 365.