Chief Procurement Officers (CPOs) are oftentimes bombarded with numerous tasks to fulfill on a daily basis, and the every-changing nature of the procurement process only makes their job that much more demanding. Today, several software solutions exist to support CPOs in completing daily procurement activities, and contract management software is one such solution. But before making any initial investments into a contracting platform, CPOs should gain a clear understanding into some key aspects of contract management software.
Now, let's go ahead and dive into the 7 procurement-related questions every CPO should evaluate prior to purchasing a contract management system.
Content-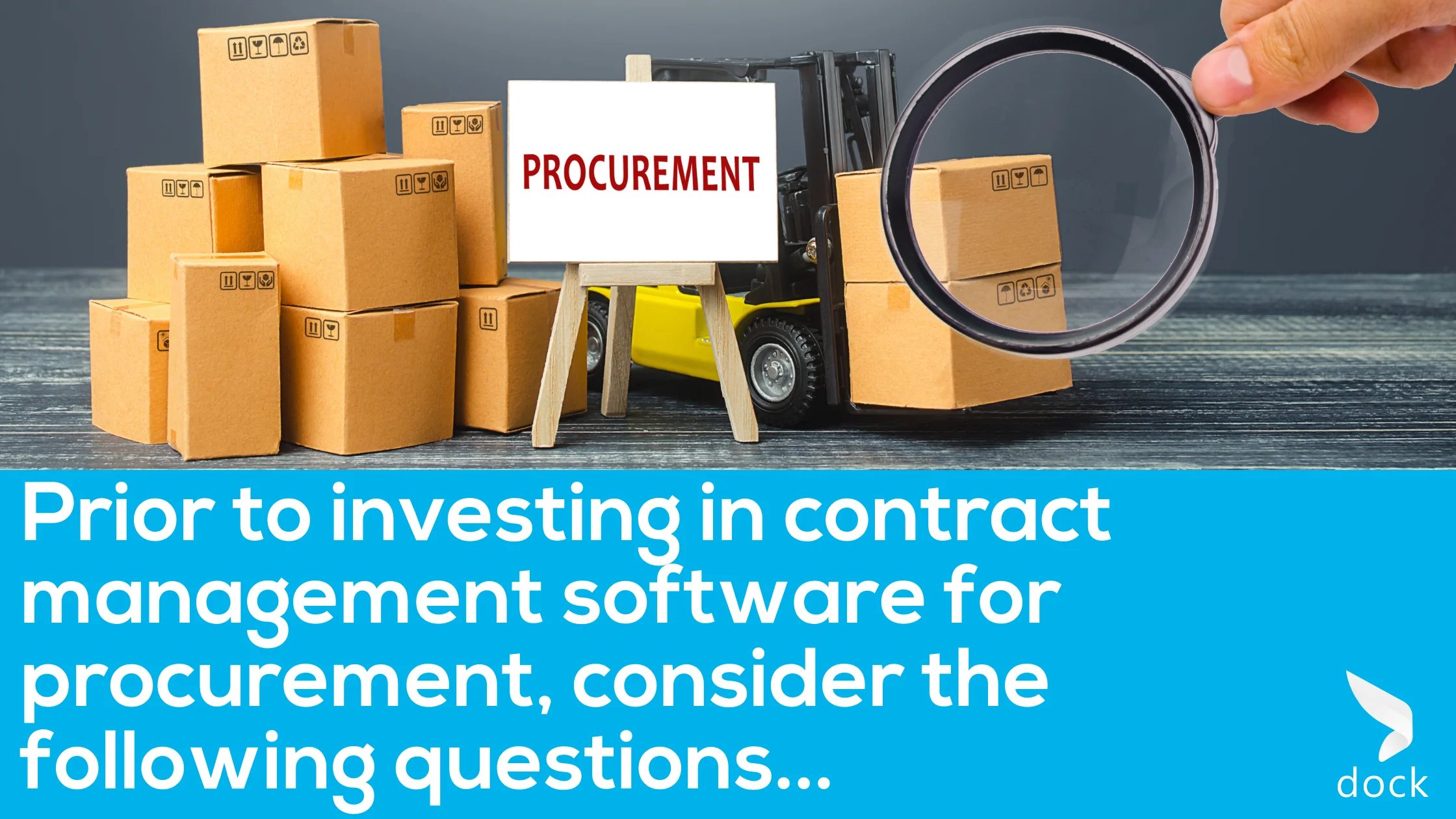 Question #1: Does the contract management software include features specifically for procurement contract management?
A contract management system should consist of a few key features to support your organization in procurement contract management:
Collaboration features to streamline negotiations
Audit trails and reporting to measure compliance
Automated workflows to automate contract authoring and approvals
Question #2: Will this software support contract lifecycles in maintaining compliance to procurement standards and policies?
All contracts, including procurement contracts, are developed through the contract lifecycle. The contract lifecycle consists of contract authoring, reviews, approvals, negotiations, signing, execution, and renewal or expiration. The contract lifecycle is essentially the active duration of a contract and its contracted term.
A contract management software solution employs automated alerts and notifications to support contract managers in keeping up with key dates and obligations. This means that as your organization grows and as contract volumes increase, it can be increasingly difficult to effectively oversee your company contracts during the different contract lifecycle stages. To ensure compliance throughout the entirety of contract lifecycles, you can leverage contract management software to monitor compliance on-demand with proactive dashboards and reporting. With subpar contract management, you run the risk of exposing your organization to a hefty amount of legal and financial risks.

Question #3: Does this contract management software use AI and can AI help?
Some contract management systems leverage AI, while others conduct extremely successful contract management without AI capabilities. If you happen to find a contract management system that offers AI features, oftentimes, the same (or very similar) features will also be found in a software solution that does not use AI capabilities. For example, many dedicated and proven contract management software solutions allow users to automate workflows and author accurate contracts, utilize their contract library within the digital repository, and systematize contracts with preapproved templates. In addition, AI-enabled software solutions and contract management systems without AI both offer the following features:
Integrations with Microsoft Apps (Excel, Word, Outlook, etc.)
Secure cloud storage for unlimited files
Contract workflow automation
Advanced text-based search with custom filters
Performance monitoring with custom reporting and dashboards
Electronic signature integrations
Question #4: Which procurement processes are supported by contract management software?
Procurement professionals can improve operational efficiency, the mitigate risks, standardize buying procedures, and increase the value of their procurement processes with the contract management software. A contract management software solution will provide support during every stage in procurement contract management, assisting procurement professionals in gaining visibility and accountability into their processes. With vendor management features, you can assign vendor performance scorecards and monitor spending behaviors comprehensively.

Question #5: Does the contract management software utilize workflow automation?
Flexible and customizable contract workflows can provide your organization some serious advantages by way of task management, productivity, and efficiency. In the context of procurement, contract management software helps support procurement processes in developing, storing, monitoring, and managing contracts during every step of the contract lifecycle. For example, many of today's contract management systems are equipped with preapproved contract templates, collaborative portals, permissions-based access, and automated reminders for milestones and key dates.
Question #6: Will implementing contract management software replace my organization's legal team?
While management contract management software solutions offer self-service contract capabilities – no, a software platform certainly will not take the place of your legal team. Procurement involves legal to oversee legal terminology and compliance to various laws and industry regulations. A contract management software solution supports your teams in optimizing contract lifecycles through automating many tasks, freeing up time for your sales, legal, and finance teams to work on other high-priority activities that would benefit most from their expertise. Contract management software supports your teams by increasing efficiency and productivity across the board, leading to increased results.
Question #7: Can contract management software support task and document management?
Contract management software uses a cloud secure contract repository that makes it easy to secure store, organize, and share your company's contracts. In addition, these solutions offer version control features that help keep track of document drafts to maintain accuracy. Tracking contracts prior to signature and post-signature is also possible with these solutions, where you can oversee supporting documentation like invoices and purchase order files. You might also find your employees saving tons of time due to a drastic reduction in compliance bottlenecks stemming from vendors or clients. This is due to the user permissions settings relating to version access, approval routing, and audit trails.
Conclusion
Have you ever considered a digital approach to managing contracts to assist your organization's procurement processes? Look no further than Dock 365 to help. Here at Dock, we offer a powerful and productive approach to procurement contract management that helps you make the most out of every contract. The Dock 365 Contract Management System is built onto your company's SharePoint and Office 365 investment, making it easy to adapt and learn. Gain full transparency into your contracts, mitigate risk, effectively maintain compliance to industry standards. Our Contract Management System will support you in accurate and approved document authoring with a full clause library and contract template library, allowing you to rapid draft compliant contracts. Get started today with Dock 365 all-in-one contract lifecycle management.
Interested in our Dock 365 Contract Management Software? Click here.
Want to learn more about Contract Lifecyle Management (CLM) Software? Click here.
Schedule a free demo with us today for an in-depth and interactive overview of our Contract Management System.