Contract risk management is one of the most critical functions of a successful and secure approach to contract lifecycle management in any business or organization. By improving your contract risk management, you open yourself up to incredible opportunities by minimizing the fears of potential risks.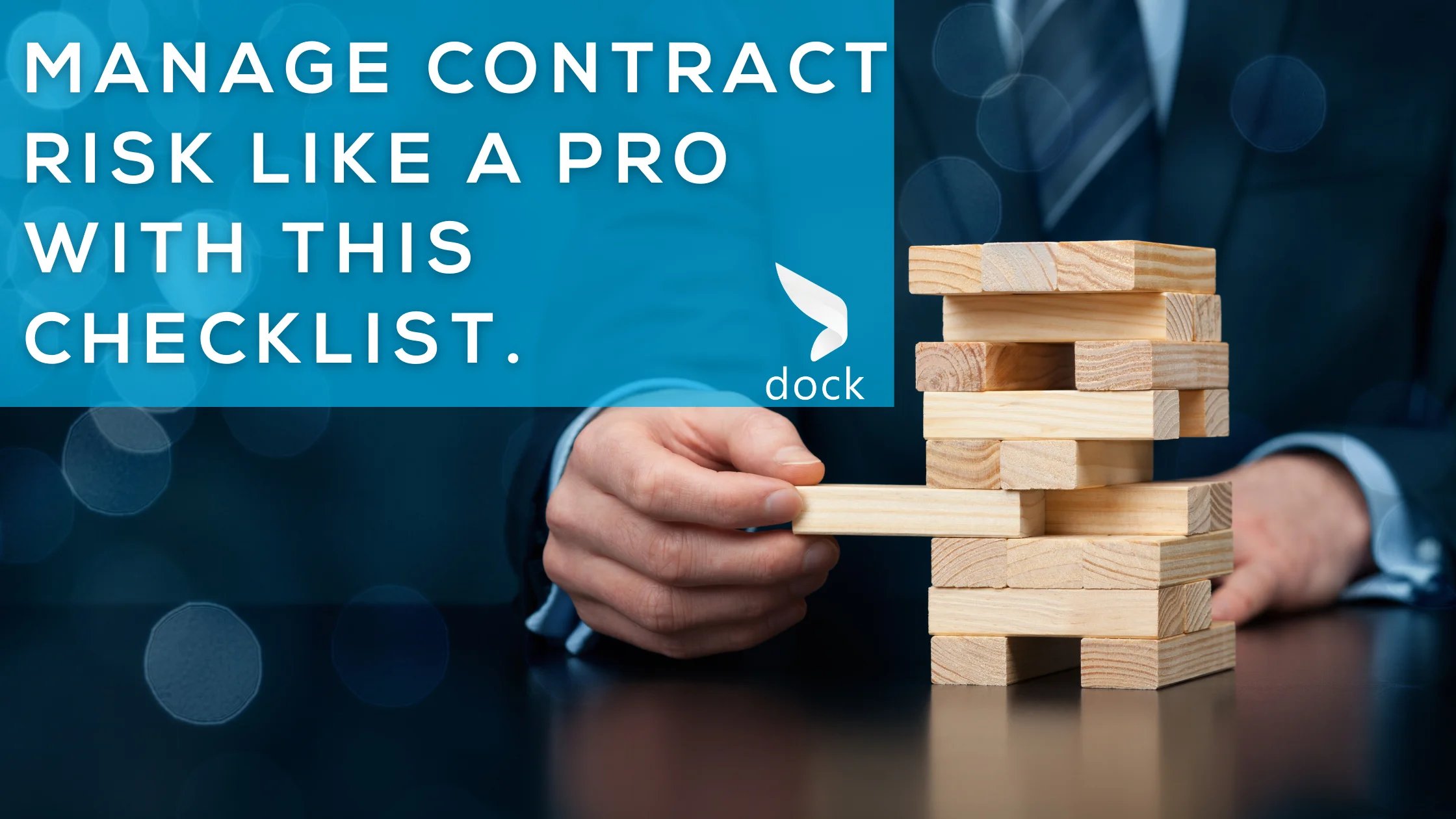 Before learning about our contract risk management checklist, we'd like to inform you of different types of contract risk to be aware of.
4 Contract Risk Types
To effectively manage the potential risks that your contracts may encounter, your team needs to have the knowledge that supports them in pinpointing when these risks are present.
Legal Risk
Legal contract risks occur when there is a breach of contract that results in possible litigation or legal action. There are a couple subcategories of legal risks as well, and they include dispute, regulatory, and contract noncompliance risks. In the context of contract risk management, legal risks might arise when contracted obligations are left unfulfilled or when regulatory and industry-based compliance policies are not adhered to. Other actions that increase legal risk include infringements of intellectual property, contract conflicts and disputes, inappropriate use (or lack thereof) of legal clauses in contracts, and disclosures of confidentiality.
Learn about the top legal contract management features here.
Financial Risks
Financial risks are contract management risks that coincide with monetary losses, irrespective of the effect it may have on your organization's bottom line. In light of contract management, these financial risks are often caused by forgotten deadlines and key dates (i.e., contract expiry and auto renewal dates) leading to the continuation of an unfavorable contract due by forgetting to terminate a contract prior to autorenewal or by failed business partnerships. Financial risks are also often referred to as equity and credit risks. Another way that financial risk increases is through contract termination with coinciding milestones, warranty issues, and delivery dates that are missed and left unfulfilled.
Brand Risks
A brand risk refers to the risks associated with poor customer reviews, pessimistic employee morale, and negative public opinion. Brand risks typically occur after problems associated with security, legal, and finance. Eliminating brand risks is essential, especially given how fast a negative review can travel through social media. So be sure to take your brand's reputation seriously by managing brand risk appropriately, as the detrimental effects of a damaged reputation can wreak havoc on the financial performance of your contract strategy.
Security Risks
Security risks are associated with some of the most detrimental repercussions for your business or organization. Security breaches in the context of contracts lead to added legal and brand challenges. Risks in contract security arise when you leverage a manual approach to contract management and storage by storing contracts in several places that lack security (i.e., filing cabinets, physical copies of contracts, shared drives, computer desktops, email chains, etc.). Other scenarios that increase contract risk include the following: even levels of contract access within your organization (a lack of role-based access control), unencrypted data in transit and at rest, communicating and collaborating on contracts via email.
Learn more about leading security features in contract management software here.
It's evident that contract risk management should be prioritized to protect your business from the negative financial and reputational repercussions of risk-prone contracting. Your approach to contract risk management should be standardized, continual, and detail oriented. We recommend reviewing your contract clauses throughout the year each quarter to ensure they are accurate, compliant, and still appropriate for your contracts with current business partners. After evaluating and pinpointing the contract risks that exist within your practices, your team can then work to eliminate and significantly reduce these risks.
Contract Risk Management Checklist
Ready for a step-by-step guide to better manage contract risks? Take a look at the checklist below to support your team throughout the process of managing contract risks.
#1 Locate contract risk management problems throughout every department
We recommend having select individuals in every department (i.e., operations, legal, finance, procurement, etc.) involved in contract lifecycle management to examine every contract for potential risks. Contract management software can greatly assist your team in task and obligations management, standardization of the contract lifecycle, task assignments, and secure contract storage.
#2 Estimate the likelihood of potential challenges in contract risk management
Assess where contract risks are present as well as the likelihood of them occurring. Then notate the consequences associated with these risks.
#3 Employ risk defense strategies
Establish an acceptable risk threshold to filter out the higher-level risks to reject throughout the contract lifecycle.
#4 Actively reduce risk
Review your clientele and vendors. Select the ones below your threshold for acceptable risk, then choose projects that make sense from a financial and legal perspective.
#5 Outsource
Share risk by outsourcing or subcontracting with an expert in risk management. The support of an expert can support your organization in corroborating your due diligence.
#6 Manage risk by using insurance
Control contract risks by confining possible losses with an insurance plan.
#7 Use clauses to transfer, eliminate, or bear risks
Build new compliant contract clauses or modify your current ones for improved accuracy. With a library full of compliant and preapproved clauses, you can successfully mitigate potential contract risks. Here at Dock, we offer unlimited contract storage, contract templates, and clause template libraries.
#8 Neutralize risks
Neutralize contract risks by confirming that every party to a contract accepts the proposed contract clauses, then modify the clauses on a case-by-case basis.
#9 Monitor risks
Configure your contract management software with automated reminders and alerts to keep your whole team up to date on upcoming key dates and deadlines (i.e., milestones, auto renewal dates, contract expiry dates, etc.) so you can prepare ahead and get the best deals possible while cutting down on potential risks. Email notifications and customizable calendar reminders will support cross-department communication and collaboration throughout the contract lifecycle.
#10 Use accurate, compliant contracts and provisions
It's essential to both create and use your compliant and legally accurate clauses and contracts. This will lead to standardization in your resulting contracts, which cuts down on risk potential. Comprehensive preapproved contract template and clause libraries increase efficiency, speed, and risk management within every contract lifecycle. In addition, we recommend employing custom reporting features provided by your contract management software to reduce inaccuracies in contract language.
Conclusion
Risks exist in nearly every activity. However, it doesn't have to be this way with your company's contract lifecycle management. It's possible to reduce risk and increase results by employing a detailed and intentional contract risk management strategy. In this manner, you work within acceptable risk thresholds and create an approach to minimize detrimental impacts and financial losses. With intuitive, cloud-secure contract lifecycle management (CLM) software, you can design a unique risk management strategy to support your business or organization.
Our Dock 365 Contract Management System is built on your existing Microsoft Office 365 environment for streamlined adoption and implementation. Leverage automated reminders to never forget about contract expiry and auto renewal dates, store contracts securely in a searchable, cloud-based SharePoint contract repository, and remove tension from your legal department with contract management made easy.
Learn more about our Dock 365 Contract Management System here.
Learn more about Contract Lifecyle Management (CLM) Software here.
For more information, we would like to welcome you to schedule a free demo with us today.