Most procurement teams utilize outdated contract management systems. This might look like relying on shared hard drives, email chains, and Excel spreadsheets to oversee the various stages of your contract lifecycles. By using these methods for managing your contracts, you ultimately decrease efficiency and increase the potential for risk exposure and human error. With contract management software, you can easily get insights into all contract details within seconds. Finding answers regarding contract expiry and auto-renewal dates, supplier performance, fulfilled obligations, payment terms, and SLAs is made incredibly easy.
In today's digitally dominant environment, procurement departments should leverage an online approach to contract management. A cloud-secure, all-in-one contract lifecycle management solution provides procurement departments with a way to increase accountability, transparency, and understanding of organizational processes in relation to contracts. Leveraging contract lifecycle management software assists procurement departments and organizations in several ways. For example, contract lifecycle management software will increase organizational compliance, manage risk, oversee vendor relationships, and reduce costs.
Content-
The Relationship Between Contract Management and Procurement
Contract management is instrumental to every procurement cycle within any given business or organization. This is because the modern contract functions as the cornerstone of expectations and requirements for a successful business relationship. They define how processes will work between vendors and suppliers, and to extract the most value out of your procurement process, it's absolutely essential to strategically plan and standardize how you will manage contracts during the procurement process.
It's no secret that an outdated contract management system is oftentimes the root of avoidable bottlenecks, inefficiencies, lost opportunities, and headaches. Many procurement departments still use subpar methods to oversee contracts during procurement cycles. Does your procurement department use email back-and-forth, Excel spreadsheets, shared hard drives, computer desktops, physical copy contracts, filing cabinets, and paper calendars to track and manage contracts? If so… then you run the risk of incurring some very detrimental (and preventable) challenges that can cost your company hundreds of thousands in the damages that result from the risk exposure. Why settle for inefficiency when there's an opportunity to invest in optimization and risk mitigation?
The best investment you could make is in a dedicated contract lifecycle management software solution. With a CLM, you can gain insights into all of your supplier and vendor contracts – on demand. Have questions about fulfilled and unfilled obligations? Or are you interested in refreshing your memory on contract terms and payment timelines? Maybe you need to write down an auto-renewal or contract expiry date. All of this and more is readily available in your user-friendly contract management solution.
Because of the massive shift to a digital marketplace, we suggest that your company and procurement department adopt a CLM to increase the security and productivity of your contract lifecycles in a cloud-protected environment that provides procurement professionals with an online solution to contract transparency and accountability, particularly within the procurement process. This looks like boosting contract and organizational compliance with industry policies and regulations, risk management, vendor and supplier management, and cost efficiency.
Now, let's go ahead and take a deep dive into how you can transform your contract management in your procurement department.

The Definition of Procurement
Procurement is the process of ordering and receiving products, goods, and/or services from an external vendor through tendering or bidding. Often confused with the common purchase, procurement involves many more intricacies. While purchasing plays a role in modern procurement, procurement encapsulates a wider scope of processes that require careful strategy and planning. Market research, contract negotiations, and contract execution are often key parts of procurement. In addition, companies will generally use an evaluation procedure to determine which vendors to work with, ensuring that who they select is conducive to meeting the present and potential needs of the business. Procurement involves a dedicated strategy to obtaining the products, goods, or services needed for the fulfillment of business needs and objectives. On the other hand, purchasing is simply the procedure by which one party buys a given product, good, or service from another party. Items often sourced in the modern procurement process are essential to the creation of a given product or service that is being sold by a company. In contract items that are purchased are typically used entirely by the consumer. Think of procurement items as being obtained in the middle of the given item's lifespan, and purchase items as being obtained in the final stage of the given item's lifespan.
Best Practices in Procurement
A manual approach to contracts and procurement (think spreadsheets, shared drives, physical storage like filing cabinets, etc.) only increases risks and the likelihood of avoidable bottlenecks. Managing contracts pre- and post-award with these manual processes only results in a risk-prone, constantly delayed contract lifecycle management process. With this in mind, it's crucial to develop a standardized and reliable process for contract management in your procurement department. With the following list of best practices, your business or organization can maximize contract value while maintaining contract security and productivity during the procurement process.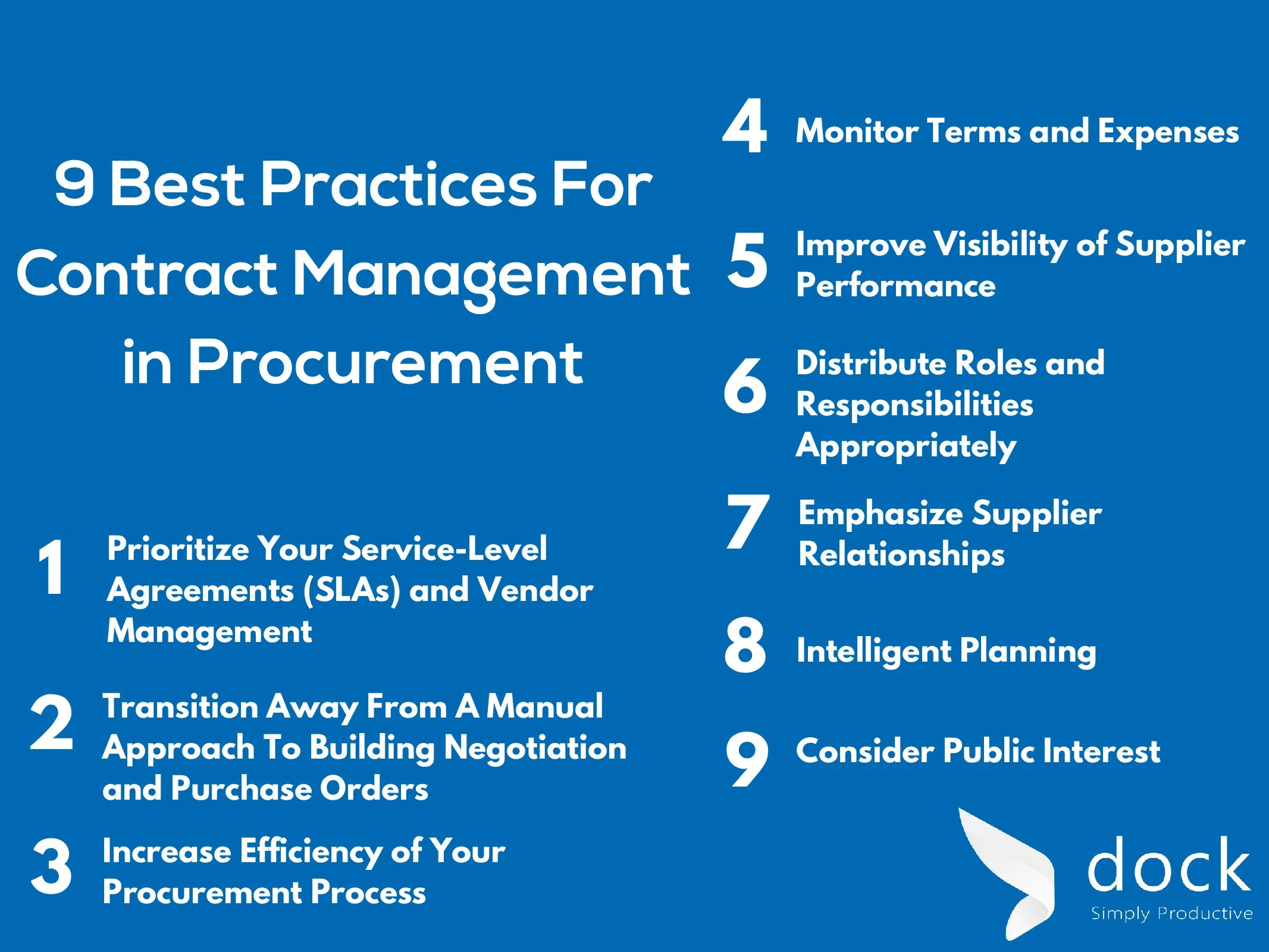 1. Strategize Vendor Management and Service-Level Agreements
With effective planning, research, and an appropriate amount of visibility, you can improve contract results in your procurement department. We recommend that you consistently monitor your vendors and suppliers in terms of how they are performing against standards and expectations. The support of a contract lifecycle management (CLM) software platform makes it possible to optimize vendor and supplier relationships with insightful, user-friendly data analysis, vendor scorecards, and reporting capabilities so you can improve business outcomes.
Contract management software is an excellent tool for digital procurement management, allowing you to maintain complete control and visibility over all stages of contract lifecycles. You can instantly gain access to contract reports and metadata, review the progress and performance of any given contract, and identify trends in your contract management and procurement procedures. With readily available contract data on demand, your organization can have full confidence in its choices when selecting which vendors and suppliers to start and continue business relationships with. The software makes it easy to pinpoint which vendors and suppliers are meeting and exceeding expectations, and meeting obligations, and which ones are consistently failing to deliver upon their promises.
2. Transition Away From A Manual Approach To Building Negotiation and Purchase Orders
Prior to the negotiation phase, an effective procurement procedure will first qualify suppliers. It's best for a company to optimize supplier data collection and monitoring to support them in ensuring organizational compliance. Once supplier qualification data is collected, then you'll choose the best suppliers presented. Following this, you can build purchase order templates that include the supplier data and an approved supplier list.

Current contract information must only be used to build purchase orders in your contract management software. Within your software, you can leverage automated approval workflows, contract templates, and preapproved clauses to support your procurement team to expertly execute contracts. In this manner, you'll cut down on the expenses that arise from fixing problems caused by manual errors.

Taking a comprehensive look at your supplier proposals and collecting all of them can take a substantial amount of time and effort. To that end, we suggest automating your negotiations as well as how you select suppliers. Contract lifecycle management (CLM) software equipped with a cloud-secure digital contract repository empowers procurement managers and professionals to pinpoint the best suppliers and build negotiation documents with ease. In your repository, you might review pricing and service-level agreements (SLAs), for example. With advanced CLM technology, you can maintain compliance with organizational approval guidelines, with no problem.
3.

Increase the Efficiency of Your Procurement Process
In your centralized contract repository, your procurement team can easily organize, search, and retrieve contract data thanks to the cloud-based platform. In addition, contract lifecycle management (CLM) software is oftentimes equipped with automation, allowing your teams to cut down on time spent completing low-level tasks. Automation also supports your organization with a user-friendly and efficient way to search and retrieve supplier and contract information. With this in mind, you'll likely cut several costs from procurement while increasing productivity.
4. Monitor Terms and Expenses
Creating spending transparency in your procurement department can help increase the opportunity for additional savings and increased operational effectiveness. Contract-related expenses with your suppliers and vendors can be monitored at any time with your contract lifecycle management software. This also means you'll no longer have to use disorganized spreadsheets, bound for user error and missing data. This can support your procurement professionals in attaining the contract answers they need, exactly when they need them. CLM software is also wonderful for generating, scheduling, and distributing contract reports that are relevant to supplier performance. In addition, CLM solutions are often built with intuitive, proactive contract dashboards that display key contract and performance data and key dates.

Employing a cloud-secure, centralized repository for your contract data is perfect for easy contract monitoring and management, helping you ensure every contract is compliant. A library full of preapproved clauses and a template library also makes contract authoring incredibly simple because any contract built will only use preapproved legal language. Now, your procurement team can rapidly search, retrieve, and report on contract data pertaining to specific terms and clauses used with a certain supplier.
5. Improve Visibility of Supplier Performance
Ever worry about your suppliers and vendors missing the mark on performance? Thankfully, you can leverage automation to swiftly pinpoint problems early on before they manifest into disastrous problems. With constant visibility and monitoring of your suppliers and vendors, you can gain peace of mind and analyze performance in comparison to expectations. Review purchase histories, performance metrics, and more so that your entire team can be proactive and solve any potential problems quickly. With all the data at your fingertips, you can choose to work with the best vendors and suppliers that have proven to perform well against expectations. Get the most return on your investment and work with the best! When using a data-driven strategy to select which vendors and suppliers to work with, you'll likely cut costs and any financial repercussions associated with poor vendor/supplier partnerships. It's also worth mentioning that contract lifecycle management software offers all the tools you need to improve vendor management and increase efficiency. You'll be able to maintain several vendor and supplier relationships, leverage vendor scorecards, and improve your working relationships. In your digital repository, you can also oversee key dates (i.e., contract expiry dates, auto-renewal dates, etc.) and configure automated reminders so everyone stays on top of time-sensitive contract management tasks and responsibilities that directly impact your company's procurement. With data analysis and contract reporting capabilities, as well as compliance management features, you can gain the most visibility into your contracts and easily monitor vendor and supplier activity and performance.
6. Distribute Roles and Responsibilities Appropriately
A centralized system isn't the end-all-be-all for the optimization of your contract management in procurement. To monitor supply chains and manage vendors precisely, you'll want to have the support of professionals – especially when you're concerned with many different vendors. The last thing you want to is mismanaging vendors and create avoidable confusion. The best way to gain efficiency in your contract management in your procurement is by delegating various roles and responsibilities evenly.

Breaking down your procurement process into various categories and assigning tasks and responsibilities based on these responsibilities can boost your contract administration and efficiency. Think in terms of responsibilities including the following: managing supplier contracts, data collection, and analysis, managing purchase orders, logistics, etc. And with several modern contract management tools at your fingertips, contract managers and procurement managers alike can designate roles and responsibilities optimally.
7. Emphasize Supplier Relationships
Getting the most value out of your vendor and supplier relationships starts with building from the ground up. Establish the foundations of a successful business partnership by putting your best foot forward and developing mutually beneficial, results-driven, and communicative relationships with your vendors and suppliers. By giving supplier and vendor contract management the attention it rightly deserves in your procurement department, you'll derive increased results on both sides of the agreement. Improving vendor and supplier relationships with the support of modern contract lifecycle management tools can lead to easier acquirement of sourcing materials, better deals in pricing negotiations, improvements in conflict resolution, and much more.
8. Intelligent Planning
Developing an intelligent approach to planning is key to staying proactive and prepared for every scenario that may come your way. And what drives the procurement process? Client receptivity to company products or services and the number of sales. This necessitates strategic, intelligent planning of your contract management and procurement, where you consider factors like vendor pricing, places to source materials, competitor analysis, business trends, client preferences, and much more. Engaging in procurement without intelligent planning increases risk, so make sure you plan by taking all of these aforementioned factors into account.
Gain proactive and prepared contract management in your procurement department by using past and present data metrics to determine what the best possible strategies are to obtain the best deals and to analyze which suppliers and vendors provide the best performance. In this way, you can drive your organization's procurement procedures by working with clients, suppliers, and vendors that are receptive to the quality of products, goods, and/or services, as well as the number of sales. With poor planning, you'll only increase the likelihood of risk in your procurement process, so we recommend safeguarding your procedures with standardization and planning ahead.
9. Consider Public Interest
Take a popular concept like sustainability, for example. Companies far and wide have made a push for more eco-friendly, sustainable sourcing of materials and systems to help support a healthier environment. And this attracts the eyes of many customers. Now, when we take a concept like this and recognize its connection to contract management in procurement, it's clear that vendor selection will influence the type of supply chain you acquire goods from. A best practice is to select sustainable supply chains to reduce negative environmental implications. You can improve your brand reputation by listening to the consumer and taking public interest into account when you choose which suppliers and vendors to do business with.
Ways Contract Management Software Supports Procurement
Leading businesses and organizations far and wide are employing contract management software to optimize their procurement procedures and extract the most value possible. But were you aware of all the was that contract management software increases efficiency, productivity, and overall business results in procurement? Let's take a look at some of the key ways that contract management software accomplishes this.
Better Vendor and Supplier Management
Contract management software increases visibility into all of your critical contract lifecycle activities. A dedicated CMS allows authorized users to view contract progress and performance data, on demand. Curious as to which phase in the lifecycle a contract is currently in? You can find the answer instantly thanks to contract management software. This will give you a better grasp of your agreements with vendors and suppliers so you can make the most informed, proactive business decisions. It's essential that every organization develops an appropriate level of both transparency and visibility into their business practices for authorized individuals to glean insights from. In the context of your procurement team, a healthy amount of contract visibility can support internal business decisions relating to vendor and supplier partnerships and performance. A contract management system additionally equips users with current contract data regarding obligations and vendor and supplier activities.
Monitor Spending Efficiently
Make it easy for your procurement department to track spending in vendor and supplier contract management. In proactive, customizable contract dashboards, users can analyze the most current contract and vendor data, where they can generate and share all-inclusive contract reports within the organization. In this manner, procurement can find exactly what they need at the times they need it most so they only use the most accurate and up-to-date contract data. With contract automation, you can set your contract reports on an automated schedule to be shared with select stakeholders and upper-level management on a routine basis. Now everyone can be keyed-in on spend metrics, deliverables, obligations, and all other vendor and supplier data in an automated, standardized way – eliminating spreadsheet-based, error-prone reporting.
Furthermore, a user-friendly contract lifecycle management solution will boost compliance and security of your procurement procedures. We also recommend making the most of preapproved contract templates and clauses so that you easily build the most risk-preventative, accurate, and results-driven contracts. You'll find the support of a contract template and clause library to be extremely helpful in standardizing contract legal language when you undergo contract review, amendments, and the contract authoring phase. These libraries are also instrumental in increasing the rate of compliance with internal standards and industrial regulations.
Develop a Targeted Strategy Towards Budgeting
Contract management software built for procurement is essential to effectively oversee how your contracts are performing in real time. The contract management solutions available today offer a cloud-based infrastructure and security, meaning you can have full confidence in data protection in a centralized digital contract repository. With instant access to all of your contract data, your procurement team can organize its budgeting strategy without any hassles.
If you're interested in changing your organization's budget to adapt to a certain contract or grouping of contracts that deal with a specific service or product? This is made remarkably simple with a contract lifecycle management software solution. Looking to review the monetary value of your contracts? Find exact numbers in your CMS within seconds. Your internal teams can find exactly what they need at the times they need it to strategize their next move. Another critical way that contract management software supports procurement is by reminding teams of upcoming auto-renewing contracts. By gaining awareness of agreements configured for auto-renewal, you can be proactive in deciding whether or not to cancel certain agreements that aren't the most favorable for your business needs and goals at the time.
Improve the Client Experience and Customer Satisfaction
Give your customers the best possible experience by investing in contract management software that streamlines and optimizes processes. You can give your clients all the support with a system that simplifies the management of every phase in the contract lifecycle. The improved business efficiency and productivity provided by modern contract lifecycle management software enable a faster, higher-quality contract experience for your clients. Let's take the contract intake and request phase of the contract lifecycle for example. During this phase, you can leverage custom, digital contract intake, and request forms to support the standardization of contract intake. This allows for accuracy in data collection from the jump at each contract, meaning that you'll document important client and contract information in a manner that eliminates risks.
The centralization provided by a CMS means your software becomes a one-stop-shop for all things contracts: from internal collaboration and communication portals to in-document commenting and redlining, to electronic signature, contract lifecycle automation, and much more… With greater transparency and visibility into the progress, status, and performance of your contracts, you'll have absolutely everything that you need to answer all contract-related questions for your clients, vendors, and suppliers right away.
Prepare Effectively for Auditing
By implementing contract management software into your procurement department, you can monitor all file versions and contract drafts, meaning you can gain a comprehensive history of all contract drafts during the whole contract lifecycle. With a timestamped history of contract drafts at your fingertips, as well as information regarding which individual(s) made which changes to certain documents, you can have all you need for complete preparation ahead of your compliance audits.
Adapt Seamlessly to New Requirements and Policies
Document security and centralization within your cloud-secure contract management platform, along with the ease of efficiency in document search and retrieval makes it possible to cultivate hassle-free, productive contract lifecycle management that your procurement department will certainly appreciate.
With customizable filters, you can create and save filters for specific contract types to be used again on a regular basis. Your filtered keyword search capability means users can find items pertaining to new organizational or industry-based regulations, requirements, and policies to ensure that you conduct compliant contract procedures during the procurement process. This means you can find information pertaining to which contracts will be influenced by any changes in compliance requirements or a shifting regulatory landscape.
Gain Control Over Deadlines
Contract management software provides users with the ability to configure automated alerts and reminders of contract expiry dates, upcoming autorenewals, obligations, milestones, and other time-sensitive contract activities. Easily design automated reminders to keep all of your teams in the know of autorenewal dates. For example, you can customize your alerts to remind you of a contract's auto-renewal date 30 days ahead of time so that you have enough time to prepare and decide to let the contract roll over into auto-renewal or cancel. It's important to note that by keeping tabs on due dates, obligations, and milestones, you remove the costly repercussions and compliance penalties associated with missing these key dates and items.
Take Risk Management to the Next Level
Contract risk management is an element that is oftentimes overlooked. Because contracts serve as a cornerstone for expectations and guidelines between an established business agreement for two or more parties, they hold contracted parties accountable to contract terms in order to protect parties on each side of the agreement. Risk exists in all business dealings, and with poor contract management practices, especially in the context of procurement, you'll substantially drive up risk.
Contract lifecycle management software assists procurement teams and professionals in accurate, secure contract management. With access to protected, collaborative portals for your negotiations and approvals, your procurement and legal teams, as well as HR, operations, finance, and others, can seamlessly collaborate and add to contract terms while managing risk in the process. User-based access roles and permissions configurations make it easy to determine which stakeholders (internally and externally) to grant contract data access to. Backups, data restoration, and encryption at rest and in transit additionally support a robust approach to contract risk management and mitigation.
Due to the sensitive, legal nature of contracts, it's no surprise that they contain business-critical information and terms that if found in the wrong hands, can be extraordinarily detrimental. In the case that unauthorized users are able to access contracts, then a breach of contract is generally inevitable. Due to this phenomenon, contract security in procurement should be considered of utmost importance. Companies that leverage modern contract management solutions gain peace of mind and confidence in their software's ability to keep all sensitive contract and client data protected at all times within the cloud infrastructure. Due to features like audit trails, data encryption (both at rest and in transit), cloud security, backups, user and role-based permissions configurations, and other security capabilities, your contracts will be kept safe. Have you ever heard of vulnerability scanning? How about penetration testing? With these features, you ensure that your digital agreements are protected from hacking attempts and malware.
Conclusion
By taking a digital and modern approach to managing your contracts, you can increase the likelihood of contract success for your procurement department. Contract management software allows procurement to increase effectiveness and efficiency due to streamlined vendor management, internal client support, enhanced risk mitigation capabilities, and much more. Dock 365 offers a modern, user-friendly approach to contract management that can assist your organization's procurement department today. Dock offers affordable and results-driven contract lifecycle management software that uses your existing Microsoft 365 and SharePoint subscriptions.
Let Us Introduce Ourselves
Dock 365 is a Microsoft Gold Certified Partner that works to support business productivity and efficiency with our contract lifecycle management solution. Get robust contract results, enhance internal collaboration and communication, and achieve a productive and initiative-taking workplace environment geared towards contract success. Headquartered in Jacksonville, Florida, the Dock team is accessible and available to help you with your contract management inquiries and concerns. The Dock 365 Contract Management System is user-friendly with several Microsoft 365 tools that your team will likely be remarkably familiar with. Because our solution is built on your Microsoft Office 365 and SharePoint infrastructure, you can stretch your Microsoft investment and get increased user acceptance. The Dock 365 Contract Management System is customizable, allowing you to design the solution for your unique branding.
Manage contract lifecycles like a pro from the contract intake and request phase, all the way to contract renewals and expiration. Here at Dock, we provide all the tools and features you need for rapid contract generation. These features include the following:
A secure contract storage system in a centralized, cloud-based digital repository
A library full of preapproved contract templates
A contract clause library of current, compliant clauses
Metadata auto population capabilities
Customizable, flexible contract workflow automation
Rapid approval routing
Version control
On-demand contract insights and reporting
Sharable reports
Vendor performance metrics and scorecards
New AI features
Integrations with leading electronic signature providers (DocuSign, Adobe Sign, and Sertifi)
And much more!
For more information, we would like to welcome you to schedule a free demo with us today.
To stay in the loop of the latest contract management news, helpful tips, and updates to Dock 365, then we suggest subscribing to our YouTube channel and checking back on our blog each week!