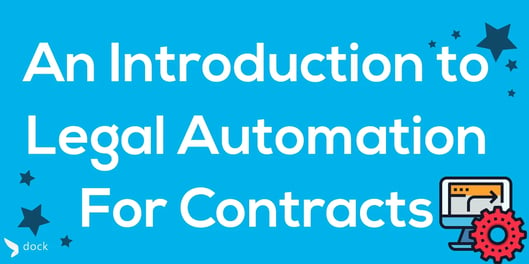 Contract automation is an incredible software capability that several industry leaders have leveraged to improve productivity and organizational efficiency. The legal industry has especially gained a myriad of benefits from legal automation for their contracts, and we'll discuss in further detail exactly what the purpose of legal automation is, what processes that legal automation software can help address, and what benefits it can provide your organization and legal department.
What is the role of Legal Automation?
With legal automation, companies will utilize software to automate manual tasks that lawyers are typically responsible for completing. Legal automation is great for freeing up lawyers' time from the pains of the regular and routine tasks – giving them the time they need to focus on other things that require a more hands-on approach and legal knowledge.
Things like printing documents and copying/pasting content is exactly what legal automation is for. The low-ticket, low-value items are taken care of by legal automation so that lawyers can shift their efforts towards the work that will yield major results. For example, in a law firm, legal automation can be used to automate stages of contract lifecycles such as the contract review stage. This means stakeholders won't have to waste their time either by sifting through emails to find a given document for review. Legal automation also serves well in the contract authoring and drafting process with preapproved contract templates and flexible, automated workflows that predetermine a sequence of events for a contract to go through.
The main idea? Legal automation gives lawyers the ability to focus on important tasks by taking care of the lower-value, more mundane ones. Because legal technology is constantly evolving, there are several software solutions available that exist to fulfill various needs and solve several of the problems that legal departments and organizations face.

Processes that legal software solutions address include:
Electronic contract signing: Electronic signature solutions have catapulted contract and document automation due to its security and efficiency.

Contract automation

:

Contract automation

helps legal teams systematize their contracts by configuring customizable contract workflows that save money, time, and resources.

Contract review

:

Contract review

software helps legal teams that run into bottlenecks during the reviewing stage. Such software solutions can help uncover what unstructured data exists within a company's contracts.

Workflow automation

: With

workflow automation, legal teams can sequence and standardize manual tasks allowing them to both scale the workflows and save categorized workflows. Workflows can be created and automated for common legal processes like

contract intake

and

request

to help with prioritization of all legal affairs.
Billing management: Automated billing management will help organizations oversee spending on outside counsel – and this is particularly important for in-house legal departments. Today, there are several providers of proven automated billing solutions that can help with cutting down costs.
Automated risk management: Companies can track and control potential risk exposure and assess compliance with modern risk and compliance management software solutions.

Obligation management

: After a contract signed is where the real work begins – and obligation management solutions can streamline many of your post-signature tasks. Businesses of all sizes can benefit from automated obligation management solutions, as they can help

mitigate risk

and save time.
Legal contract automation helps to improve productivity and to ensure that legal professionals spend their time of high-value work and processes that demand their knowledge and expertise. Legal automation is key for taking care of the low-value, mundane tasks.

The Benefits of Legal Automation
Legal contract automation essentially increases productivity and saves time. However, here is an overview of some other incredible advantages of adopting legal automation software:
#1: More time
With more time, legal professionals can work on higher-value processes instead of allocating time to the menial tasks that don't require as much brain power and legal expertise. Paperwork and administrative processes are largely taken care of with legal automation software so that lawyers can focus their attention on the things they went to law school for.
#2: Reduction of duplicate work
Automating your processes means less time spent manually repeating the same process. By automating contract templates, you'll no longer have to rewrite or copy and paste similar contract draft types – you can simply use automated contract template generation and auto population capabilities to complete your contract authoring.
#3: Improved customer experience
By automating the lower-value processes, you can allocate the saved costs to create a better customer experience. In this manner, your internal and external customers can enjoy the time spent working with your company's legal department.
#4: Data accessibility
Manual contract reviews, traditional wet signature capture, and other traditional and manual processes tend to capture little to no data. This means it can be difficult to document the ways that you can learn about your processes and identify the trends in your company's legal contracting data. Legal automation allows you integrate the software with other solutions to gain a comprehensive overview of how your organization is performing based on what the data says. With legal automation, you can analyze this data to build a better strategy moving forward for your contract workflows and other workflows.
#5: Capitalize on your current infrastructure
With legal automation, you'll find that you can accomplish more tasks and complete more processes easier and more efficiently than ever before. For example, by automating your contract building with preapproved contract templates, you can save money by avoiding the need to hire additional employees for this specific drafting stage. In essence – legal automation greatly supports and organization's desire to scale.

Conclusion
Many legal professionals and legal departments have leveraged legal automation software for their contracts to increase productivity, automate tasks, and save time and money. Legal automation has catapulted change in legal departments for the better, allowing them to develop more productive working environments that produce results. If you are currently in the market for legal automation technology, we suggest learning more about our Dock 365 Contract Management System that will assist you and your legal team throughout the entirety of every contract lifecycle. Contract lifecycle management can be a very labor-intensive process that legal departments are consistently involved in, and we offer several advanced features and solutions available within our Contract Management System that makes contracting easy for your legal team.
Investing in a cost-efficient and proven contract lifecycle management software is one of the best decisions you could make to get the competitive edge on your contracts. Here at Dock 365, we help you manage your contracts by leveraging your existing Microsoft 365 and SharePoint platforms, as they function as the base for your contract lifecycle management system. If you're currently in the market for a contract lifecycle management system, we would be happy to offer you a complimentary demo of our system so you can see it in action.
For more information, we welcome you to schedule a free demo with us today.