Contract management is an essential component of the procurement cycle within any business or organization. Contracts are fundamental to the business relationships between a given business or organization and suppliers, external service providers, clients, and vendors. Leveraging a digital approach to overseeing your contract lifecycles can support you in saving time, energy, and money while maximizing productivity rates and producing more high-value contracts. To maintain competitiveness in today's digitally dominant business landscape, we suggest implementing a contract lifecycle management (CLM) solution to support an efficient, organized contract management strategy.
content-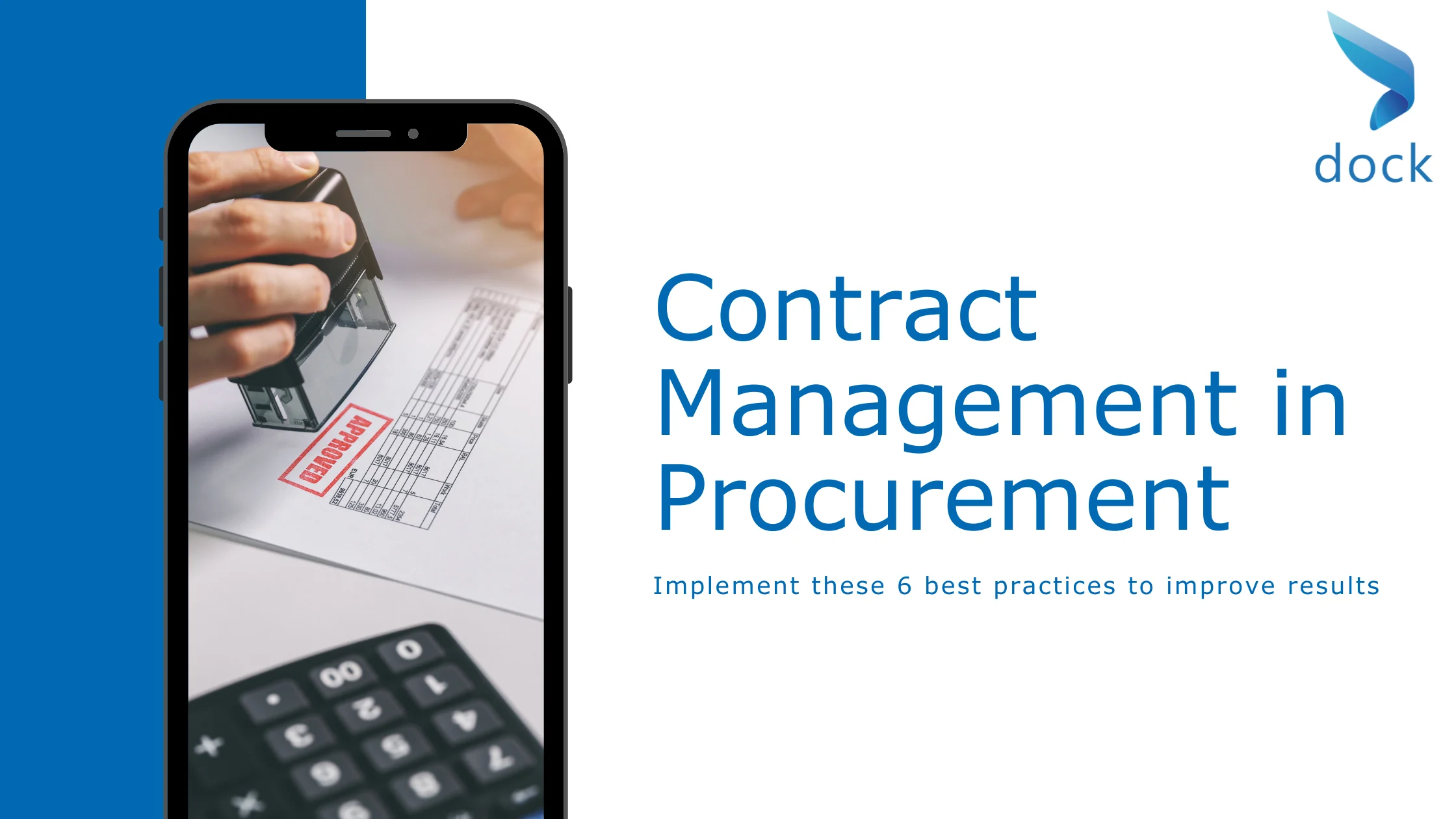 A manual approach to contracts and procurement (think spreadsheets, shared drives, physical storage like filing cabinets, etc.) only increases risks and the likelihood of avoidable bottlenecks. Managing contracts pre- and post-award with these manual processes only results in a risk-prone, constantly delayed contract lifecycle management process. This in mind, it's crucial to develop a standardized and reliable process for contract management in your procurement department. With the following list of best practices, your business or organization can maximize contract value while maintaining contract security and productivity during the procurement process.
Now let's take a look at some of the best practices for contract management in procurement.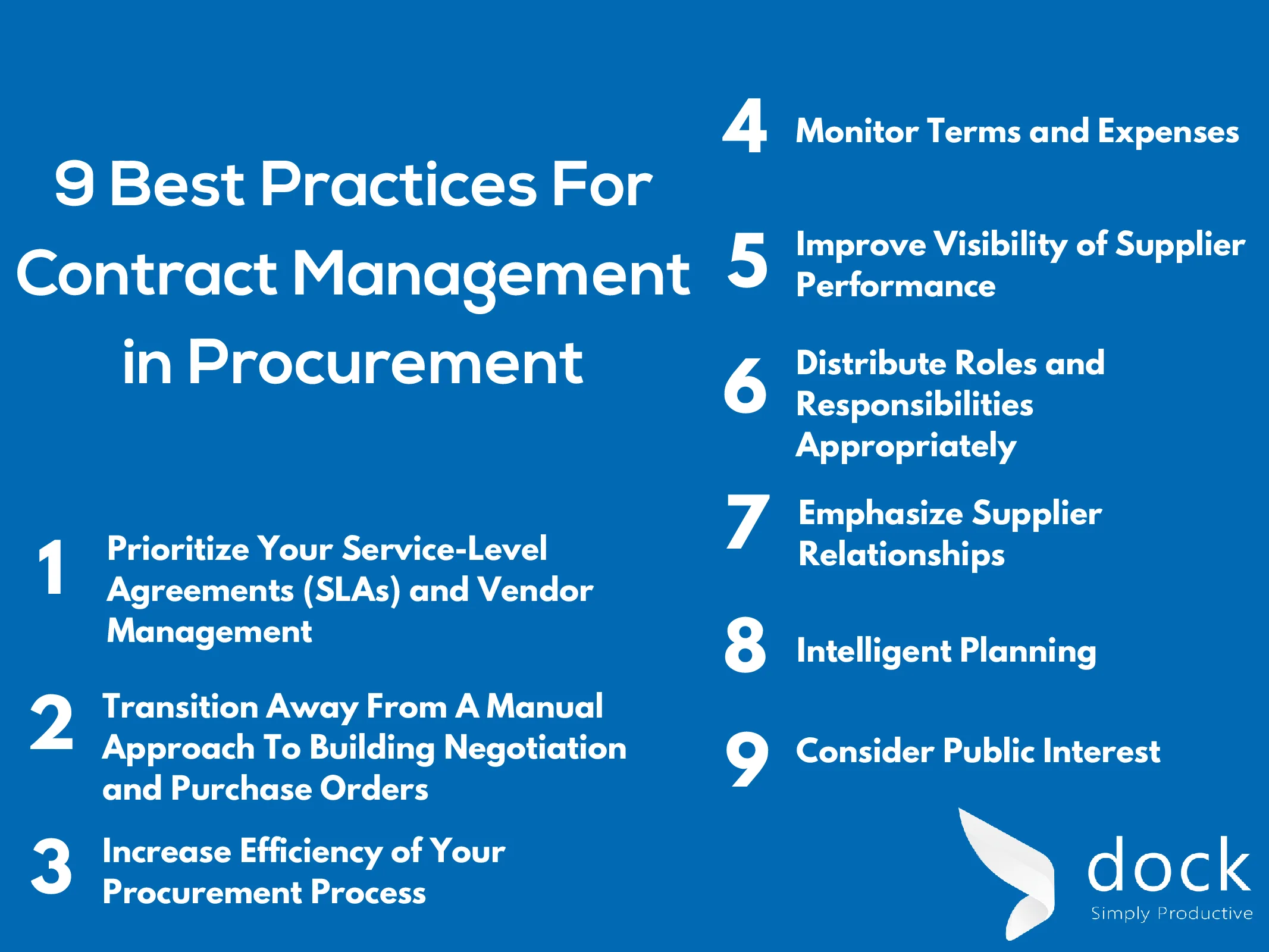 1. Prioritize Your Service-Level Agreements (SLAs) and Vendor Management
Improving contract management in the procurement department comes down to proper planning and strategy. To extract the most value out of your contract management, we recommend placing significance on gaining visibility and insights into your supplier relationships and vendor performance. Effective analysis and management of procurement performance while intentionally working to improve vendor relationships can support your business in reaching outcomes. This is only possible, however, with the inclusion of a contract lifecycle management (CLM) software platform.
With such a platform, you can maintain complete visibility of every stage of the contract lifecycle, where contract data is available for constant monitoring of contract dates, terms, obligations, deliverables, vendor and client information, contract and vendor type, etc. Having contract data available on demand allows organizations to gain peace of mind and see which suppliers meet obligations and which suppliers fail to deliver.
2. Transition Away From A Manual Approach To Building Negotiation and Purchase Orders
Prior to the negotiation phase, an effective procurement procedure will first qualify suppliers. It's best for a company to optimize supplier data collection and monitoring to support them in ensuring organizational compliance. Once supplier qualification data is collected, then you'll choose the best suppliers presented. Following this, you can build purchase order templates that include the supplier data and an approved supplier list.
Current contract information must only be used to build purchase orders in your contract management software. Within your software, you can leverage automated approval workflows, contract templates, and preapproved clauses to support your procurement team to expertly execute contracts. In this manner, you'll cut down on the expenses that arise from fixing problems caused by manual errors.
Taking a comprehensive look at your supplier proposals and collecting all of them can take a substantial amount of time and effort. To that end, we suggest automating your negotiations as well as how you select suppliers. Contract lifecycle management (CLM) software equipped with a cloud secure digital contract repository empowers procurement managers and professionals to pinpoint the best suppliers and build negotiation documents with ease. In your repository, you might review pricing and service-level agreements (SLAs), for example. With advanced CLM technology, you can maintain compliance with organizational approval guidelines, no problem.
3. Increase Efficiency of Your Procurement Process
In your centralized contract repository, your procurement team can easily organize, search, and retrieve contract data thanks to the cloud-based platform. In addition, contract lifecycle management (CLM) software is oftentimes equipped with automation, allowing your teams to cut down on time spent completing low-level tasks. Automation also supports your organization with a user-friendly and efficient way to search and retrieve supplier and contract information. This in mind, you'll likely cut several costs from procurement while increasing productivity.

4. Monitor Terms and Expenses
Creating spend transparency in your procurement department can help increase the opportunity for additional savings and increased operational effectiveness. Contract-related expenses with your suppliers and vendors can be monitor at any time with your contract lifecycle management software. This also means you'll no longer have to use disorganized spreadsheets, bound for user error and missing data. This can support your procurement professionals in attaining the contract answers they need, exactly when they need them. CLM software is also wonderful for generating, scheduling, and distributing contract reports that are relevant to supplier performance. In addition, CLM solutions are often built with intuitive, proactive contract dashboards that display key contract and performance data and key dates.
Employing a cloud secure, centralized repository for your contract data is perfect for easy contract monitoring and management, helping you ensure every contract is compliant. A library full of preapproved clauses and a template library also make contract authoring incredibly simple because any contract built will only use preapproved legal language. Now, your procurement team can rapidly search, retrieve, and report on contract data pertaining to specific terms and clauses used with a certain supplier.
5. Improve Visibility of Supplier Performance
In your procurement department, automation can be one of the best technology tools. With automation, you can easily identify issues at the earliest stage before they develop into full-on problems because you can constantly oversee supplier compliance in reference to contract terms. In addition, you can oversee purchasing histories with supplier performance data, empowering your procurement team to solve problems that occur early on and transition to suppliers that perform optimally. In this manner, having an increased level of supplier performance visibility enables you to maximize your ROI by working with suppliers proven by the data to be the best. This might result in a reduction in the expenses used to not only maintain multiple suppliers, but also money spent on improving supplier relationships. Your centralized repository, flags key dates like auto renewal and contract expiry dates to keep your employees in the loop at all times, safeguarding against missed deadlines.
To increase visibility of the performance of your contracts, you'll want to ensure your contract lifecycle management platform has intelligent data collection analysis features, reporting capabilities, compliance management triggers, and audit trails. An advancement CLM solution supports businesses in overseeing supplier performance and uncovering best practices for their contracts.
6. Distribute Roles and Responsibilities Appropriately
A centralized system isn't the end-all be-all for optimization of your contract management in procurement. To monitor supply chains and manage vendors precisely, you'll want to have the support of professionals – especially when you're concerned with many different vendors. The last thing you want to is mismanage vendors and create avoidable confusion. The best way to gain efficiency in your contract management in your procurement is by delegating various roles and responsibilities evenly.
Breaking down your procurement process into various categories and assigning tasks and responsibilities based on these responsibilities can boost your contract administration and efficiency. Think in terms of responsibilities including the following: managing supplier contracts, data collection and analysis, managing purchase orders, logistics, etc. And with several modern contract management tools at your fingertips, contract managers and procurement managers alike can designate roles and responsibilities optimally.

7. Emphasize Supplier Relationships
If you want to extract the most value out of your contracts, then it's time to prioritize your supplier contract management within your procurement department. By communicating with and building relationships with your suppliers and vendors following procurement, you can develop positive working relationships that will inevitably support your organization in activities such as the procurement of required materials, in pricing negotiations, in conflict resolution, and many other things.
8. Intelligent Planning
Developing an intelligent approach to planning is key to staying proactive and prepared for every scenario that may come your way. And what drives the procurement process? Client receptivity to company products or services and the quantity of sales. This necessitates strategic, intelligent planning of your contract management and procurement, where you consider factors like vendor pricing, places to source materials, competitor analysis, business trends, client preferences, and much more. Engaging in procurement without intelligent planning increases risk, so make sure you plan by taking all of these aforementioned factors into account.
9. Consider Public Interest
Eco-friendliness and sustainability are considerably "in vogue" these days. Many companies have adopted systems that contribute to a healthier planet, piquing the interest of many customers. In the context of contract management in procurement, one of the best practices to implement during the procurement phase is to choose vendors that intentionally work to develop a supply chain connection that is sustainable, working to leave less of a footprint on the environment. And while working to satisfy public interests isn't necessarily the most conventional approach, it is a concept with the potential to improve your organization's brand reputation while helping the environment.
What Your Business Has To Gain From Using CLM Software In Procurement
Leveraging CLM software in procurement helps your organization standardize its contracts, increasing contract consistency, accuracy, and compliance. In addition, you'll streamline processing and alleviate problems associated with supply chain continuity.
Your business should employ the above best practices within its procurement department to reduce turnaround times and improve productivity. This can allow you to cut costs and save time while increasing your bottom line. Enterprises that adopt a centralized contract lifecycle management platform, complete with integrations and automation capabilities, will often experience improvements in negotiations and sourcing. CLM software can support procurement management as well as each stage of the contract lifecycle.
Dock 365 Offers Efficiency in Procurement
Procurement has evolved into a foundational business component, often used to assess performance within a company. Businesses that transition to a centralized, cloud secure contract management solution, equipped with technology that supports the procurement process, supports them in maximizing contract value while cutting costs, mitigating risk, and increasing results.
Companies that implement solutions such as the Dock 365 Contract Management System can see improvements in their contract management approach that also support effective supplier management, spend visibility, time- and cost-efficiency, and money other items. In this way, procurement professionals can gain several advantages that will boost their competitiveness in these specific sectors of business.
At Dock 365, we offer a cloud secure contract management system built of enterprise-level organizations and small businesses alike. Our solution is proven to assist business in cutting supplier expenses, manage risk, improve spend and sourcing management, boost productivity, and build positive vendor and supplier relationships.
Ready to learn more about our Dock 365 Contract Management System? Click here.
Interested in Contract Lifecyle Management (CLM) Software? Click here.