Is there a single "best" contract management software tool? Today, there are several advanced tools to support contract managers and business owners in developing a seamless, productive approach to contract lifecycle management. Below, we will highlight the utility of automated reminders and discuss how they can optimize your contract lifecycle management.
Content-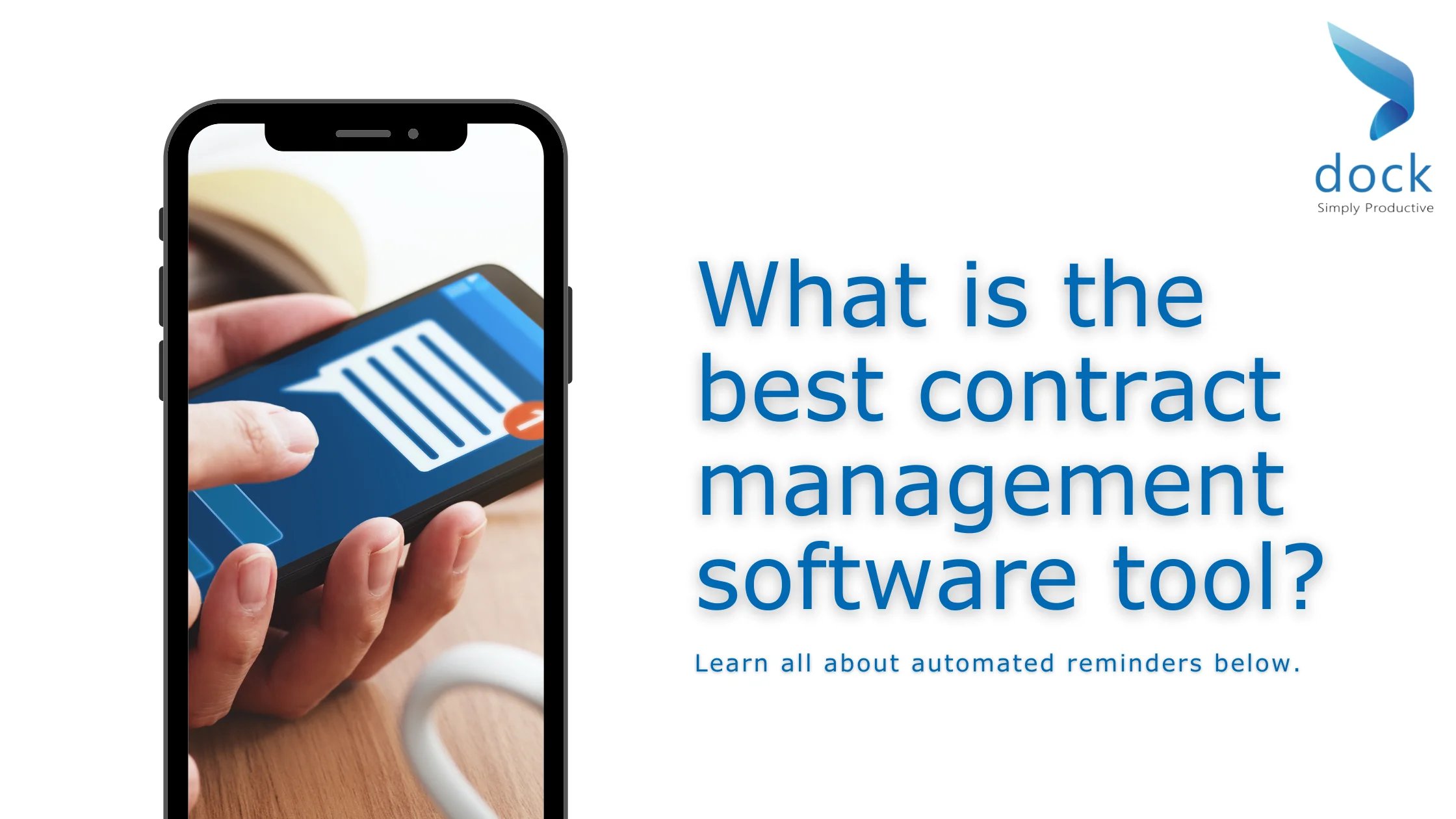 While there are several incredible capabilities that contract lifecycle management (CLM) software solutions can provide to businesses and organizations of any size, automated reminders are one of today's trending contract management software tools that serve to solve several issues. Ever miss an auto renewal date and forget to cancel the contract, locking you into yet another term of an unfavorable agreement? Say no more to this phenomenon thanks to automated reminders of your upcoming auto renewals. Is it also difficult to keep tabs on all of your key deadlines like expiration dates within your organization? Then configure automated expiry reminders to keep everyone in the loop.
Contracts are the cornerstone of all businesses and organizations. One missed deadline can mean significant avoidable financial repercussions for your business. With the support of automated reminders to keep tabs on contract auto renewals, expiry dates, and time-sensitive obligations, you'll never have to worry again about missing key dates. Automated reminders have the ability to save your business thousands in avoidable penalties.
The workday is typically full of numerous contracts and associated projects, which can make it difficult to remember your auto renewals and expiring contracts. With intuitive, user-friendly contract management software, you'll get control of your contracts once and for all while avoiding penalties and unfavorable renewals.
The Importance of Automated Reminders in Contract Management
The majority of organizations manually keep tabs on their contract lifecycles, giving individual employees the responsibility of overseeing different phases of the lifecycle or the entirety of the lifecycle of a given contract. The issue with giving such a responsibility to an individual person is risk potential. Manual contract tracking and management is inefficient and prone to human error.
However, automated reminders provided by contract lifecycle management (CLM) software empower contract managers and business owners to reduce risk and remove the inaccuracies associated with manual contract management and deadline tracking.
The Advantages of Adopting Contract Management Software
Contract management software provides many capabilities that assist the modern business owner in increasing productivity, efficiency, and results. Through automation of essential contract-related processes including workflows, contract authoring, and reminders, businesses can complete more tasks in less time with higher rates of accuracy and compliance. In addition, you'll increase the standardization of your contract procedures, which supports risk mitigation by default.
Now, let's take a look at some of the many advantages of a contract management system with configurable automated reminders.
Benefits of Automated Reminders in a Contract Management System
1. Increased organization and accessibility of contracts
A major advantage of contract management software is the ease in locating any keyword, clause, contract, or associated documentation. With text-based search, savable filters, and a cloud-secure digital contract repository, you'll be able to sift through hundreds of thousands of documents effortlessly in seconds. Gone are the days of manual contract storage in filing cabinets and shared drives. Now you'll keep everything in one place digitally, serving as a single source of truth for all of your employees to go to.
2. Easy data extraction
Data collection is made easy with contract management software. With built in data capturing and processing capabilities, you can navigate through contracts with ease and locate key data points without the hassle.
Simplified contract data extraction allows for rapid retrieval of all of your contract data points. As a result, you'll be able to build customizable, sharable reports according to any data point(s) you wish to analyze. And what does this? You save an exorbitant amount of time that you'd otherwise be spending sifting through thousands of pieces of data and files.
3. Renew contracts on your own terms
Accidentally renewing contracts with unfavorable terms in one of the most common sources of revenue leakage. Instead of forgetting about auto renewal dates and unintentionally allowing subpar agreements to auto renew, you can make sure you get the best deal possible by being reminded of the upcoming auto renewal date. Now, you can give your team enough time to prepare for auto renewals by engaging in a review process before renewing to ensure you've made the most well-informed, data-driven decision to continue working with your suppliers and vendors. Configure automated reminders to automate this process and keep your team in the loop of all upcoming auto renewal dates.
4. Increase awareness of key dates
Manual monitoring of key dates is only prone to human error. Key in the wrong date, forget to create the reminder, or use a piece of inaccurate information, and you completely defeat the purpose of the reminder in the first place. Contract auto renewal and expiry reminders support contract management teams in tracking contract terms and due dates in a digital and standardized manner. Customizable contract reminders will give your team the confidence that no deadline, milestone, auto renewal, or expiry date will ever slip through the cracks again.
Save Money with Automated Reminders
In addition to increasing efficiency and productivity, contract management software offers several advantages that can save you a remarkable amount of money in the long run. Once a contract expires, if one party doesn't realize that the expiration date has passed, they'll be billed a higher payment in the future simply because they're unaware that the contract had expired. And what does this mean? The party that'd forgotten about the expiry date unfortunately rushes to negotiate the contract back to its initial terms. As they negotiate both under stress and under a time-constraint, they fail to negotiate the most favorable terms and get locked into a costly agreement.
In contrast, the other party has been aware of the upcoming expiry date for months in advance, where they reviewed the contract in detail before the renewal date and found select terms to negotiate a better deal with their vendor. With their detailed contract analysis, they entered into the negotiation fully prepared, leaving with a superior contract than what they'd started with.
The Necessity of a Centralized Digital Contract Repository
A cloud-secure digital contract repository ensures that all of your contract data stays protected at all times, while being accessible to authorized employees at any time, any place, on any device thanks to the cloud. Accurately tracking, monitoring, archiving, retrieving, storing, and extracting data from your contracts is made simple with a digital repository.
A digital contract repository centralizes your contracts and associated documents, allowing users to upload contracts and related metadata to one place. Instead of settling for outdated, manual contract management that inherently increases risk and time wasted, adopt a contract management software solution to make your contracts work for you rather than against you.
Conclusion
It can be tricky to maintain all of the important dates associated with your contract portfolio while completing the never-ending tasks and activities that come with the contract lifecycle. Instead of feeling burdened by feeling like it's impossible to get control over your contracts, you can adopt a solution that makes contract management easy.
Never lets a contract deadline slip through the cracks ever again, and never fret about the financial repercussions that come with missing your key dates. Now you can plan ahead for your auto renewals and develop the most favorable terms and deals possible. With the best contract management software, you can take your business to the next level and improve your contract lifecycle management strategy.
The Dock 365 Contract Management System contains a cloud-based digital contract repository built on your SharePoint to ensure your team never misses a milestone, deadline, expiry date, or auto renewal date ever again. Leverage customizable automated reminders to keep your entire team in the know of all approaching key dates and deadlines. Automate your contract procedures, integrate with electronic signature solutions and business software applications, and gain confidence in your contract management approach to increase your compliance rates, accuracy, and overall value of your resulting contracts.
If you're interested in a secure contract repository built on your Microsoft 365 and SharePoint tenant, and you're ready to save time and money in your contract management approach with a user-friendly and collaborative software system, then feel free to schedule a demo with us today.
Learn more about our Dock 365 Contract Management System here.
Learn more about Contract Lifecyle Management (CLM) Software here.
For more information, we would like to welcome you to schedule a free demo with us today.