Procurement plays a foundational role within any organization, as it serves in the process of sourcing goods and services. When a company purchases a product or service, the purchase undergoes a procurement procedure. While "procurement" mainly refers to the purchase itself, the overall procurement process is what ensures compliance and product/service quality through specialized management. A procurement management strategy with a base in contract management is conducive to an efficient procurement process, and this is because businesses are required to use contracts to maintain internal and external accountability.
Content-
What is the procurement process?
Contract management is composed of several stages to properly oversee contract lifecycles. And in a similar way that contracts require different stages, the procurement process does as well. Let's take a closer look at seven steps involved in procurement.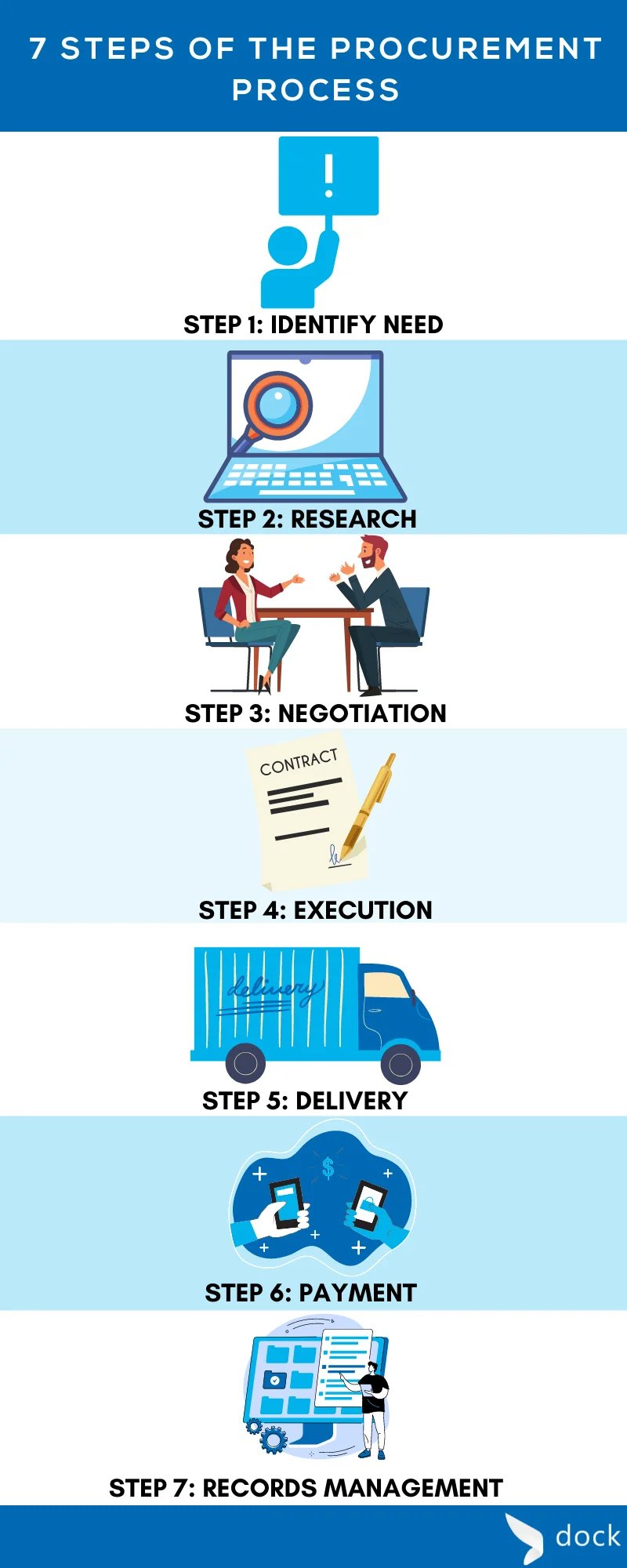 Step 1: Identify Need
Prior to buying a particular product or service, businesses must consider what the need is in the first place. If your business needs to purchase a specific office product for example, it's key to capture as much relevant information as possible regarding the exact product needed, as this will streamline the procurement process. For example, by notating the functions required of the particular product as well as additional costs regarding continued management of the product, then you can inform your purchase decisions with accurate information.
Step 2: Research
After identifying the need, take an appropriate amount of time and consideration to research different suppliers. During your research, we suggest compiling a list of potential suppliers that fit your needs, and then slowly cut down on your list by assessing which supplier offers the most competitive pricing, add-on features, or other capabilities that would additionally serve your business. A dedicated research procedure can support you in making intelligent, data-driven decisions while reducing risk. This way, you can determine which supplier will offer the best value and is the most reliable.
Step 3: Negotiation
Now that you've selected a supplier, you can begin negotiating prices, timescales, and other factors that might influence your legal agreement. In the case of a large purchase quantity, some suppliers may offer deals and other flexible perks.

Step 4: Execution
Once an agreement is made with your supplier regarding obligations and terms, it's time to execute the purchase order. During this step, you authorize your agreement and begin the purchase process. This is where contracts come into play, with purchase order contracts between your business and your chosen supplier. Purchase orders will outline conditions, obligations, contracted terms, timescales, and costs for the procurement of the product or service. A contract is then executed after each party has accepted and signed the contract.
Step 5: Delivery
When the product or service is delivered, your organization should assess the product/service quality and make appropriate notations prior to authorizing the acceptance of the product/service. This is key to risk mitigation, as identifying problems with the product/service at the outset will make things much easier in the long run. Why accept an inadequate product initially that failed to meet expectations and terms detailed in the contract? It's far easier to refuse a poor product from the beginning rather than raise issues down the road.
Step 6: Payment
During this step, the invoice and payment are processed. This payment procedure is oftentimes influenced by the contracted term of the supply. Depending on the contracted terms, this step involves your organization's finance and accounting teams to ensure payments are successfully processed. Additionally, you will reconcile purchase order documents to support you in identifying potential problems prior to submitting payment.
Step 7: Records Management
The final step is perhaps one of the most important, as every business should securely store procurement documents following a purchase for effective auditing and accounting. The storage of these documents must maintain compliance with various financial and data regulations. Storing these documents securely will additionally support your business in future procurement processes.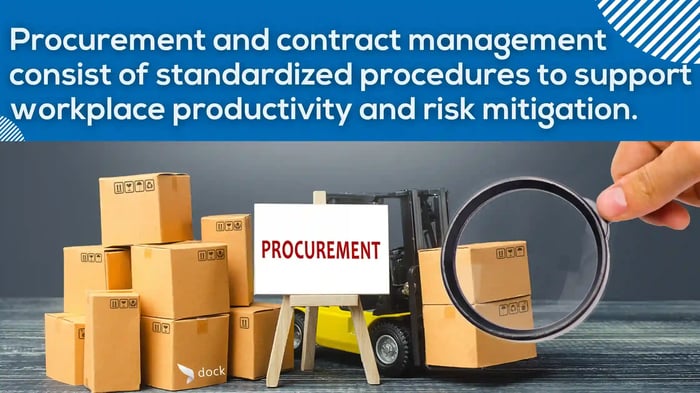 Procurement and Contract Management Software
By gaining a clear understanding of the procurement process itself, we can appropriately identify the need for contract management software. Whenever a business makes a purchase, an associated contract follows. A dedicated contract management system can streamline business operations and increase productivity by automating and standardizing contract processes. Contract management software supports the procurement process with risk mitigation tools, increased visibility, and compliance management.
With contract management software, businesses can effectively maintain third party relationships. This is because each contract represents a partnership between the business and the chosen supplier, which can yield vulnerabilities if standards are improperly followed. In this way, it's crucial to select suppliers that are reliable and that respect the contracted terms and obligations. Suppliers must maintain their own compliance, risk, and processes.
Effective procurement and contract management must consist of standardized procedures that mitigate risks and increase productivity. It's notably important to develop a business-wide strategy for your contracts and to successfully implement and deploy a contract management software solution that is easy for your employees to use. End-to-end, cloud-based contract lifecycle management solutions that covers the entirety of the contract lifecycle are the absolute best way to go. Here at Dock, we offer a Contract Management System that will serve your procurement department and the rest of your organization with a powerful, productive, and cost-efficient approach to contract management.

Take a look at the following contract management tools that support procurement:
Centralized Cloud Secure Repository
A cloud secure contract repository keeps all of your organization's legal agreements and associated documents protected in a single location that is accessible to authorized users from any mobile device. Your repository serves as a single source of truth, meaning any and all current and previous contracts and their draft versions are stored within one place. When ensuring your due diligence during the procurement process, archived documents, custom reporting, and data analytics tools are remarkably useful and are accessible on demand. Your centralized repository also supports rapid and accurate contract authoring by way of a preapproved contract template and clause library to increase standardization of all contract types. In the context of procurement, template and clause libraries are particularly helpful in standardizing expectations in various procurement procedures.
Risk Management of Third Parties
Risk management is one of the most critical elements of contract management. The legally binding nature of contracts and risk potential that contracts hold leads professionals to leverage software solutions to assist in risk mitigation. Contract management software offers several incredible capabilities and risk management tools. Your contract management software utilizes risk assessments and profiles to develop background checks on various businesses to gain insights that will support your future decision-making.
User Permissions
A cloud-based contract management system is equipped with permission-based access features to ensure that only authorized users can view and edit select documents. In this manner, your employees can securely work in any location. When considering the links with procurement, business purchases can continue with ease while reducing the carbon footprint, improving security, and ensuring a reduction in procurement cycle length.
Electronic Signature Integrations
Electronic signatures are highly secure, efficient, and have the ability to reduce turnaround times. A contract management system allows for rapid procurement contract authoring, speeding up procurement cycles as a result. In addition, electronic signature integrations keep your confidential data protected due to the technology behind digital signatures.
Contract Automation
Contract automation is one of the star features of modern contract lifecycle management solutions. With automated workflows, you standardize the sequence of steps each procurement contract takes to ensure they are sent off to the right person at the right time, to take the right action. This eliminates the risk for human error due to the configured scheduling of various tasks. When considering procurement, an automated contract workflow can expedite the procurement cycle by moving a given purchase through standardized stages accurately and efficiently.
Audit Trails
Compliance is key to procurement and contract management, and audit trails assist in maintaining compliant procedures and activities. Audit trails log and timestamp all activities to increase both performance and accountability. Furthermore, as the procurement process reaches stages that necessitate assistance from accounting and finance, any data needed for reconciliation of documents is readily available.
In Review
Contract lifecycle management is central to effective business processes – from small businesses to enterprise-level organizations. By employing an appropriate contract lifecycle management strategy, your business can increase its return on investment and improve internal processes through automation and standardized, risk-mitigative procedures. A proper contract management method can protect your organization and support it in scaling, ensuring you capture potential opportunities whenever they are presented. However, it's critical to place a considerable amount of emphasis on your procurement department. A contract management system can increase efficiency and productivity organization-wide, supporting your procurement procedures through every stage.
We recommend leveraging an approach to contract lifecycle management that assimilates with every department of your organization. In this manner, procurement will require heavy reviewing, almost to the same degree as required by HR or legal for example.
For a cost-efficient and proven approach to contract management, we're here to help you at Dock 365.
Interested in our Dock 365 Contract Management System? Click here.
Want to learn more about Contract Lifecyle Management (CLM) Software? Click here.